Working From Home Is a Literal Pain in the Neck
(Bloomberg Opinion) -- A disturbing 71% of those working from home due to Covid-19 have experienced a new or exacerbated ailment caused by the equipment they now must use.
According to an online survey of 20,262 people in 10 markets by the technology company Lenovo Group Ltd., the most common symptoms are back pain, poor posture (e.g., hunched shoulders), neck pain, eye irritation, insomnia and headaches.
Adding fiscal insult to physical injury, their employers aren't necessarily footing the bill for new equipment: Of the 70% of employees who purchased new technology in order to work remotely, 39% were not fully compensated. The average sum spent in the surveyed countries was $273; the highest country averages were $339 in Great Britain, $340 in Italy, $348 in the U.S. and $381 in Germany.
So it's perhaps a little surprising that 52% of respondents report they intend to continue working from home "more" or "much more" than before, if and when their workplaces reopen. Only 9% said they will not work from home "unless forced to."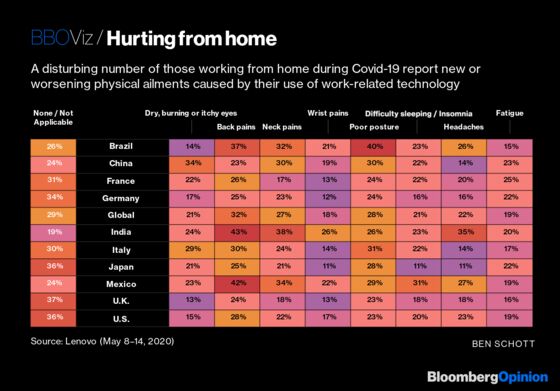 This column does not necessarily reflect the opinion of the editorial board or Bloomberg LP and its owners.
Ben Schott is a Bloomberg Opinion visual columnist. He created the Schott's Original Miscellany and Schott's Almanac series, and writes for newspapers and magazines around the world.