5G Carriers Covet Your Comcast Bill
(Bloomberg Opinion) -- TV commercials for America's biggest wireless network operators depict a world of lightning-fast, mobile 5G connections zipping around us wherever we go. More likely, though, this upgrade won't be so revolutionary for the average smartphone user. Carriers are gearing up to pitch a version of 5G that's neither lightning-fast nor mobile after the Covid-19 pandemic moved our most data-intensive needs indoors and away from offices. The result is that the latest industry buzzword is more of an early-2000s throwback: broadband. You may know it as home internet. 
"Broadband" was mentioned more than 100 times during last week's investor presentations by AT&T Inc., T-Mobile US Inc. and Verizon Communications Inc. These companies are betting they can get millions of Americans to ditch home internet providers such as Comcast Corp. and Charter Communications Inc. over the next few years. There are two basic ways they're seeking to do this, depending on where you live: One is the expensive process of running miles of fiber-optic cables in underground trenches or on telephone poles. The other is something called fixed wireless, a way to beam signals over a carrier's airwaves to a home antenna. (T-Mobile's setup doesn't even require a technician.) They are by no means targeting every home, but probably enough to make cable giants look over their shoulders.
Some of these efforts predate the pandemic when both mobile and broadband data were already on the rise. But what changed during lockdowns was our data-usage whereabouts. "Traffic leaving the house and going back up into the network saw a very large increase as a result of Covid," Scott Mair, president of AT&T network engineering and operations, said in a phone interview. "That's a function of people using Webex, Teams, Skype, Zoom — data that was typically not done in homes previously at the same rate," he said, referring to various videoconferencing tools.
Zooming, booming home office setups and the rise of streaming-video services present a potential source of new customers and the chance to bundle services to extract more profits from each subscriber. (AT&T bundles HBO Max with its wireless and fiber plans, while certain Verizon plans include Disney+ and Discovery+; ditto for T-Mobile and Netflix.) Industry spending — such as Verizon's deal with Corning Inc. to make small 5G antenna boxes for co-working office spaces — suggest they don't see Covid trends completely reversing with vaccinations.
Wireless plans have also become commoditized, with barely perceptible differences among the three networks. Each quarter plays out like a game of Red Rover in which carriers trade customers depending on which had the most aggressive promotions. That's not much fun for the companies or their investors. It'd be more fun to pilfer cable's profits. The average forward 12-month Ebitda multiple for AT&T, T-Mobile and Verizon is 32% lower than the average valuation for Comcast and Charter, and that's a larger discount than over the last five years.
This is especially frustrating for shareholders of Verizon and AT&T because the debt needed to cover heavy 5G investments puts their lavish dividends in question. Both have been on a borrowing binge after bidding an eye-watering $45 billion and $23 billion, respectively, in a government auction of mid-band spectrum. The insatiable appetite for mid- and low-band airwaves — as opposed to the less practical, blazing-fast millimeter-wave frequencies — shows how most consumers' 5G experience won't live up to the future that carriers allude to in ads (although there are other unsung 5G benefits, and more to come as products are invented around 5G).
But what the pandemic showed is that home internet is where the biggest need is right now. Nearly 38 million U.S. households switched their internet service last year — a 46% increase from 2019 — in search of faster speeds and savings, according to BroadbandNow. They spent $34 billion in the process.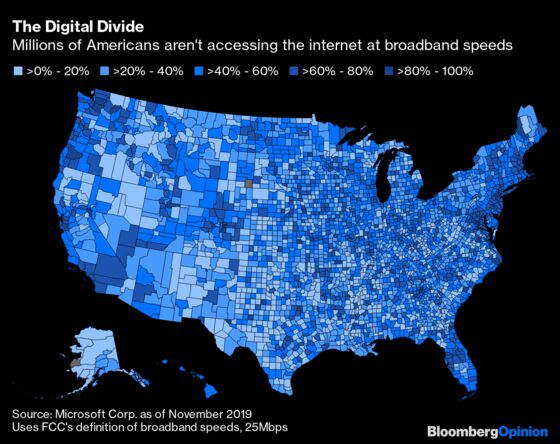 President Joe Biden's infrastructure-spending plan, expected to be extraordinary in size and scope, may include significant funds for broadband in an effort to close the country's digital divide. Wireless giants such as AT&T are eyeing those broadband funds as a way to pick up customers in areas that otherwise wouldn't yield a high enough return on the cost of reaching them. With respect to potential legislation, AT&T CEO John Stankey said last week: "There's no reason to assume that AT&T can't participate in those things moving forward if I do my job right in getting those points of view on policy out there, and they ultimately get adopted in some way that we think is acceptable."
It's too soon to know how substantive this broadband expansion will be for wireless carriers. The stock market certainly isn't willing to give them credit for it yet. But there's a gaping coverage hole in the U.S. that demands to be filled, and it's one more way the carriers can try to get investors and consumers amped up for 5G.
This column does not necessarily reflect the opinion of the editorial board or Bloomberg LP and its owners.
Tara Lachapelle is a Bloomberg Opinion columnist covering the business of entertainment and telecommunications, as well as broader deals. She previously wrote an M&A column for Bloomberg News.