AT&T Steals Some of Netflix's Sheen
(Bloomberg Opinion) -- AT&T Inc. is looking better already, and all it took was shuffling some numbers around. 
The company's traditional pay-TV business, which is anchored by the DirecTV service, lost 620,000 customers in the first quarter, bringing the total exodus for the past two years to 7 million — millions more than any of its competitors including Comcast Corp. Normally, this would be casting a cloud over otherwise pretty good quarterly results, leaving a sour taste in investors' mouths and adding to the apprehension they have about the wireless giant's costly gamble on streaming with HBO Max.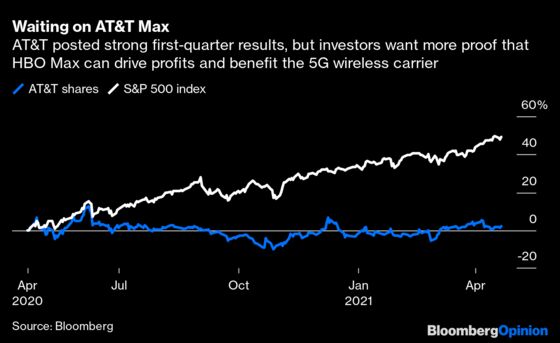 But in February, AT&T did something kind of genius: It "pretended" to divest — as analysts for New Street Research LLP put it — this DirecTV-led unit. As a result, the cringeworthy pay-TV results didn't even make an appearance in AT&T's earnings announcement Thursday and were relegated to the "Corporate & Other" section of its quarterly filing. And wouldn't you know it, shares of AT&T jumped more than 5% (they often fall on earnings day). The move was in celebration of the company adding 2.7 million U.S. HBO Max and HBO subscribers as well as 823,000 regular wireless customers.
AT&T is separating the pay-TV assets into a new entity called New DirecTV, partly owned by private equity firm TPG Capital. As part of the transaction, TPG is paying AT&T $1.8 billion and receiving preferred equity that pays a 10% coupon. In other words, AT&T is essentially just replacing one form of debt with another. Still, it accomplished plenty simply by putting the business out of sight and out of mind.
There are other challenges ahead. Netflix Inc. was  punished this week for its slowing growth, and while HBO Max and HBO are growing more quickly in the U.S., they have a lot of catching up to do. Ideally, HBO Max (excluding legacy HBO) would have more people signing up heading into this post-pandemic summer, which may see consumers paring back on home entertainment subscriptions as they return to socializing and travel. As of now, Netflix, Disney+ and Amazon Prime are considered the most essential TV services, with HBO Max trying to break out from the group of streaming afterthoughts. The soon-to-come more affordable, advertising-supported version of HBO Max and international launches should help, as will all the Warner Bros. theatrical films that are being simultaneously released on HBO Max this year.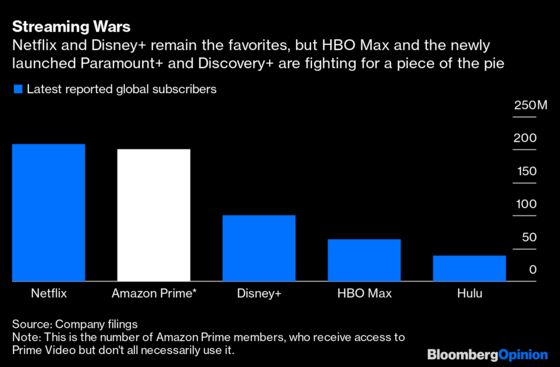 In 5G, AT&T is generally considered to have a better spectrum standing than Verizon Communications Inc., yet both are playing runners-up to T-Mobile US Inc., whose acquisition of Sprint last year really turned the tables. To the extent that the most exciting applications for 5G lie in the business realm — whereas past network upgrades were tailored to consumer smartphones — AT&T and Verizon would seem to have an advantage because of their existing footprints among business customers. However, Dish announced Wednesday a partnership with Amazon.com Inc. to run its own 5G network over Amazon's popular AWS cloud software. It's the deal Dish needed to alter its perception in the market from notorious spectrum hoarder and bluffer to legitimate 5G contender.
On Thursday's earnings call, AT&T CEO John Stankey also pointed to the potential threat of the supply-chain disruptions that are being felt across industries, including 5G expansion efforts: "Global supply chains are stressed right now across the board," he said. "People will give you comfortable answers, but I'm a little skittish."
That aside, AT&T is able to focus more intently now on 5G and streaming, and the benefits of that are already becoming apparent. The next step is finding a "Game of Thrones"-like smash hit to inspire more people to make the leap to HBO Max. 
And so given that the deal has no impact on AT&T's leverage and only a small impact on profitability, any meaningful value would have to come from a subsequent deal that would see New DirecTV merge with Dish Network Corp.,New Street's Jonathan Chaplin and Spencer Kurn wrote in a March 4 report.
This column does not necessarily reflect the opinion of the editorial board or Bloomberg LP and its owners.
Tara Lachapelle is a Bloomberg Opinion columnist covering the business of entertainment and telecommunications, as well as broader deals. She previously wrote an M&A column for Bloomberg News.