AT&T's Identity Crisis Isn't Over
(Bloomberg Opinion) -- AT&T Inc. is the most indebted company in the world to not operate its own bank. That's why the wireless carrier is raising eyebrows with the additional $14 billion of debt it's reportedly raising to upgrade its network to 5G technology. To be clear, this is the absolute best use of money for AT&T, given that it relies on the wireless business for 80% of its profits.
The problem is that AT&T already saddled itself with a boatload of debt it didn't need — to buy a dinosaur of the satellite-TV era, then a bunch of cable-TV networks and a film studio, and then build a streaming-video app. Now, it has to spend like heck to feed that entertainment business and the wireless one. As for the latter, AT&T and its peers recently bid a combined $81 billion to get some more mid-band spectrum — the kind that's ideal for 5G — in a recent record-setting auction. It's not yet known who bid what exactly, but analysts suspect AT&T's portion of the tab could be north of $20 billion.
All this spending (with little to show for it yet) explains why AT&T shares initially slumped some 3% in early trading Wednesday after what were decently strong fourth-quarter results for its main wireless business. The company added 1.2 million customers, showing up Verizon Communications Inc. for the period. "We wouldn't be surprised to see investors wait to get these numbers out of the way, before punishing AT&T for the anticipation of a higher auction spend," Jonathan Chaplin, an analyst for New Street Research, accurately predicted in a note to clients on Tuesday. 
Analysts really don't know what to make of the company. Heading into Wednesday's earnings, their share-price targets ranged from $24 to $43, and each has good reasons for arriving at their respective calculations. But that means AT&T shares are poised to either drop 20% or rise 45%. And, well, so far they're dropping.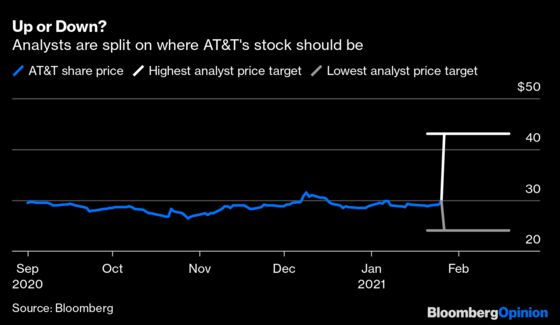 AT&T also disclosed a $15.5 billion impairment charge tied to its video business, where it has lost an astonishing 7.4 million subscribers over the last two years and recently stopped selling its virtual live-TV package called AT&T TV Now to new customers. As CEO John Stankey works to pay down debt, the company is said to be in talks with private equity firms to sell a stake in DirecTV. The bids that came in reportedly valued DirecTV at little more than $15 billion; AT&T acquired it for $49 billion plus debt less than six years ago.
HBO Max, the Netflix-like service AT&T launched last year, now has 41 million U.S. subscribers following the Christmas release of "Wonder Woman 1984" and a key distribution deal struck with Roku Inc., the most popular streaming platform. HBO Max is adding users faster than AT&T expected, but it also set a pretty low bar. Disney+ is expected to report more than 90 million subscribers globally.
The decision to release "Wonder Woman 1984" on HBO Max the same day it hit theaters — and to do the same with all 2021 films — is costing AT&T dearly. Its Warner Bros. studio had to pay the film's star, Gal Gadot, and director Patty Jenkins each more than $10 million for the change of plans, according to the New York Times. It's likely having to renegotiate with the casts of other films, too. But putting all its best content on HBO Max is the only way to catch up at this point. Netflix now has more than 200 million subscribers and is generating enough cash that it no longer needs to tap the debt markets. 
It should help that HBO Max is planning to introduce a cheaper version of the app to be subsidized with advertising revenue. Still, a Netflix standard plan costs $14 — just $1 less than HBO Max — and a Netflix premium subscription is $18. People are willing to pay for those. 
Randall Stephenson, who led the purchases of DirecTV and Time Warner and is responsible for the phone company's stunning transformation, quietly retired as chairman last week. Years after he pursued those megamergers, the company still struggles to explain why. 
This column does not necessarily reflect the opinion of the editorial board or Bloomberg LP and its owners.
Tara Lachapelle is a Bloomberg Opinion columnist covering the business of entertainment and telecommunications, as well as broader deals. She previously wrote an M&A column for Bloomberg News.