AT&T's HBO Divorce Isn't Its Last Hurdle
(Bloomberg Opinion) -- AT&T Inc.'s turnaround — an exacting mission that has involved selling nearly everything acquired under its former chief executive officer — is finally showing signs of working. But this long-awaited progress on the business front comes as the Dallas-based wireless giant's public image takes a bruising. It has come to be seen by some as the corporate villain behind both the Texas abortion controversy and the rise of a pro-Donald Trump media network that has spewed baseless claims of a stolen election. 
AT&T's stock price, which opened 1% higher Thursday before erasing those gains, remains near an 11-year low. The company posted a third-quarter profit that beat analysts' expectations and added almost twice as many wireless customers as analysts predicted. While the industry's aggressive free-phone promotions of late helped, AT&T has said that a renewed focus on that business and a combination of moves to improve customer service are reviving the brand. It didn't matter that subscriber growth at its HBO Max streaming-TV business was tripped up by the decision to break from a distribution relationship with Amazon.com Inc.; with AT&T already agreeing to sell HBO and the other WarnerMedia assets to Discovery Inc. next year, investors now only care about the performance of the 5G wireless and home-internet businesses.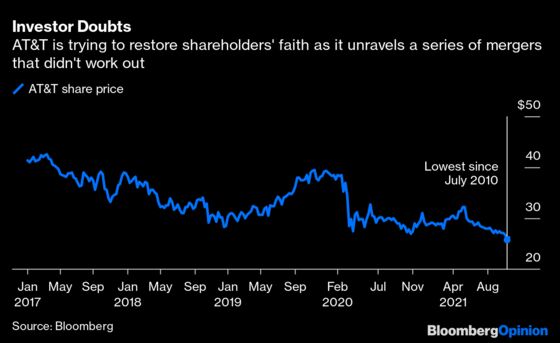 It was only a year ago that investors could still hear AT&T executives defending the company's debt-fueled buying spree, even as it was clear from the outside that the story was becoming too complex. They painted a future in which owning HBO Max would help the wireless business sell phone plans and retain customers, owning DirecTV would give it a bigger consumer base to draw from and owning an advertising-technology business would allow it to profit from valuable customer data. But by mid-2022, if all goes according to current CEO John Stankey's plan, AT&T won't own any of those subsidiaries anymore.
The goal is for AT&T to revert back to its telecommunications roots without distractions or other businesses draining crucial resources and threatening its all-important dividend. Building a data network isn't cheap. But that also promises to be a much more reliably profitable investment in the long run than the razor-thin margins of streaming and the dying satellite-TV market. 
Things are playing out differently in the public arena, though. AT&T came under fire after it was reported that the company was one of the top donors to the politicians who sponsored Texas's new law banning abortions for pregnancies as early as six weeks. The wireless carrier is now the target of a Democratic super PAC, which unleashed an ad campaign against the company. If that weren't enough, a Reuters article recently detailed how AT&T also helped build One America News, the conservative network that has embraced former President Trump's conspiracy theories. Ninety percent of OAN's revenue came from a contract with AT&T-owned TV platforms including DirecTV, the report said, citing sworn testimony by an OAN accountant. Other leading pay-TV providers such as Comcast Corp. don't carry OAN, which has limited the channel's reach and helped Fox News remain dominant. 
AT&T has said that it doesn't take a public position on the issue of abortion, and corporate America as a whole has been frustratingly quiet on the Texas law that threatens to undo generations of progress in women's rights. It's hard not to wonder how a largely male leadership at many of America's biggest companies including AT&T influences decisions around these cultural moments. That said, AT&T's WarnerMedia did join other Hollywood studio owners including Walt Disney Co. and Netflix Inc. in threatening to stop doing work in Georgia in 2019 when the state pursued its own highly restrictive abortion bill.
This time around, only crickets can be heard from the business world, save for a couple of outspoken employers such as Salesforce.com Inc., which has offered to relocate employees from Texas. When Jamie Dimon was asked about the matter during an Axios interview on HBO, the JPMorgan Chase & Co. CEO said: "I get a lot of stuff to take positions on, and some we do, some we don't, and some we can't." But can't and won't aren't the same thing. Companies may not get to duck the abortion issue for long.
As for OAN, the sale of DirecTV might allow AT&T to skirt further scrutiny. And there is little sign so far that the reputation issues are hurting results. Still, it shows how much work Stankey has to do if he truly wants to fix AT&T's image and make it relevant with younger people. The CEO is nothing if not frank, telling investors during a conference last month: 
I'm not satisfied as to where [the AT&T brand] stands right now. I'm not sure the brand is positioned well for the next 10 years in terms of a new generation and what's shifting. I think we need to do some work to reposition and update it.
Selling assets that aren't making AT&T better will certainly aid that mission. But speaking out on issues that matter to employees and customers — the majority of Americans support abortion rights — at a time of heightened competition for both is just as good a place to start. 
Additionally, the company has sold its Latin America pay-TV business and the Crunchyroll anime brand.
This column does not necessarily reflect the opinion of the editorial board or Bloomberg LP and its owners.
Tara Lachapelle is a Bloomberg Opinion columnist covering the business of entertainment and telecommunications, as well as broader deals. She previously wrote an M&A column for Bloomberg News.