AT&T's 'Debt Towers' Flatten With the Yield Curve
(Bloomberg Opinion) -- AT&T Inc. is once again ahead of the yield curve.
The world's largest nonfinancial borrower, with about $169 billion of debt, is back in the corporate bond market looking to swap out some of its outstanding high-interest securities with cheaper longer-term obligations. Specifically, proceeds will fund a tender offer for 21 series of debt maturing through 2025, including some that carry interest rates as high as 7.85%. Obviously, its yields are nowhere near that level now, so refinancing is something of a no-brainer for the company to hold firm to its pledge to slim down.
AT&T did the same thing on May 21, issuing $12.5 billion of unsecured bonds, including a a 40-year security that yielded 250 basis points more than U.S. Treasuries. This time around, amid a ferocious rally in investment-grade debt, the wireless carrier's 40.5-year obligations are starting out at a spread of 245 basis points above Treasuries, and if history is any guide, that will probably narrow by the time the sale is finalized. That would put the highest yields at 3.6% or less.
It's not just the company's own credit risk that has moved in its favor, however. The much-watched Treasury yield curve from five to 30 years has flattened significantly during the past several weeks, retreating from the steepening trade that was effectively the Wall Street consensus just a few months ago. To put it plainly, that means it's the best opportunity since early May for a company to extend its debt maturities.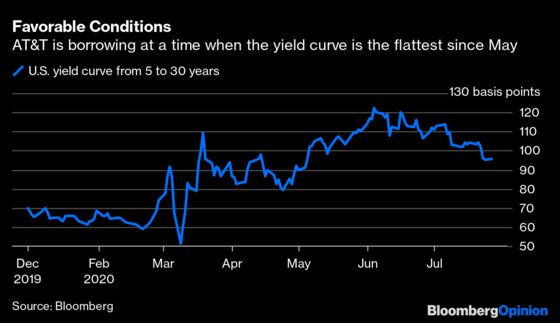 When AT&T last borrowed, it was just one day off from otherwise perfect timing when it comes to the yield curve. After reaching 103 basis points on May 22, the spread between five-year and 30-year Treasuries remained wider than that through July 8. Now, at about 95 basis points, strategists are reconsidering when — or if — long-term U.S. yields can rise from near-record lows.
Again, this is low-hanging fruit for a company with such a gigantic balance sheet. John Stephens, AT&T's chief financial officer, effectively said during a second-quarter earnings call that he and other executives are dialed into the day-to-day moves in the bond market to smooth out AT&T's "debt towers":
"We've been really successful in managing the debt towers and managing the cost of our debt that we did about $17 billion of issuances in the last month and using that to retire previously issued debt at better interest rates with better timing and spreads, much more manageable towers. So we're very active. And quite frankly, the bond market has responded quite well. Our yields are as competitive for us as I've ever seen. So I would tell you, we're very active in the capital markets just managing the debt side, and I think the markets have responded well to that. So I'd just add that in, and that's been a real focus and it will continue to be a focus of ours."
I wouldn't necessarily go so far as to say AT&T's timing suggests the U.S. yield curve is as flat as it can go. But it should bring even more attention to the drastic repricing of the longest-dated Treasuries and corporate bonds in recent weeks. It might just be a last-ditch attempt for fixed-income investors to lock in yields at or above the Federal Reserve's 2% inflation target. As I noted earlier, all signs point to the central bank suppressing "real" inflation-adjusted rates below zero in the years ahead.
Although that kind of policy seems destined to encourage excessive leverage across corporate America, it also serves as a boost to AT&T and other companies looking to stick to a  "debt diet." It appears that under new Chief Executive Officer John Stankey, who started this month, AT&T is continuing to make prudent moves around managing its balance sheet and quell any lingering concerns about its 12-digit debt stack.
This column does not necessarily reflect the opinion of the editorial board or Bloomberg LP and its owners.
Brian Chappatta is a Bloomberg Opinion columnist covering debt markets. He previously covered bonds for Bloomberg News. He is also a CFA charterholder.