AT&T-Discovery Deal Shows Blue-Chip Credit Always Wins
(Bloomberg Opinion) -- Even by today's market standards, AT&T Inc.'s accumulation of $190 billion of debt over the past several years looked like a glaring example of how historically low borrowing costs could lure a blue-chip company into taking on excessive leverage it couldn't handle.
Under former Chief Executive Officer Randall Stephenson, AT&T's credit slid three notches at S&P Global Ratings to just two steps above speculative grade as it embarked on an acquisition spree. Seemingly every year since then, the company has pledged to go on a "debt diet" only to find itself spending and borrowing more for business necessities like expanding its 5G network. As a result, S&P revised its outlook on the company's BBB rating in March to negative from stable, citing "the heightened risk that AT&T could underperform our current base-case forecast," which called for a smaller leverage ratio starting next year. Fitch Ratings, the last of the three biggest credit-rating agencies to have AT&T in the single-A tier, downgraded it to BBB+ that same month. Its analysts also worried that leverage would remain higher than expected.
AT&T quickly changed course this week by agreeing to shed its WarnerMedia operations in a deal with Discovery Inc. The move will cut net debt by some $43 billion, which Bloomberg Intelligence's Stephen Flynn says will position the company to reach its leverage goal by the end of 2023, a year ahead of schedule. It serves as a crucial reminder to investors that for all the consternation about companies like Amazon.com Inc. and Apple Inc. borrowing money they don't even need, to say nothing of a telecom giant like AT&T, these brand-name behemoths also have a number of options to stay on track.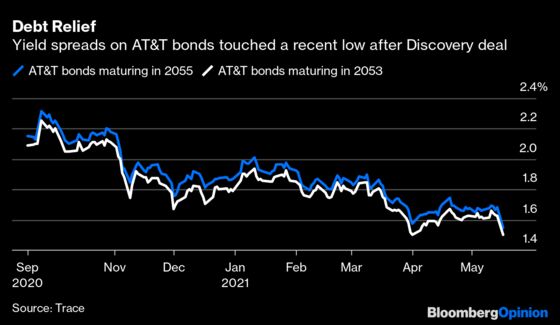 Predictably, credit investors are elated by this suddenly brighter outlook for AT&T's balance sheet. The yield spread on the company's debt due in September 2053, the ninth-largest component of the Bloomberg Barclays U.S. Corporate Bond Index, narrowed 12 basis points from Friday to 145 basis points, the least since it was issued last year. The spread on securities that mature two years later, the 10th-biggest position in the index, tightened about 20 basis points from a week earlier. Given the company's triple-B credit ratings and high debt load, AT&T bonds had commanded some of the highest yields in the $6.7 trillion high-grade index. At least for now, that premium is starting to come down in a hurry.
The rally in AT&T's bonds was so extreme, in fact, that it practically single-handedly offset declines across the rest of the corporate bond market on Monday and kept the broad index close to a milestone. The average U.S. investment-grade bond spread is 86 basis points, just a basis point away from matching the record low since the Great Recession began in December 2007. The all-time low since daily data begin is 76 basis points, set in March 2005.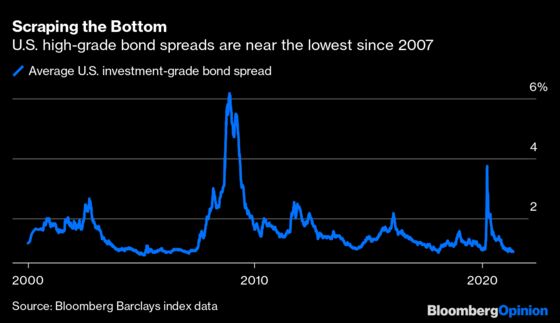 For as much as investors may fear and loathe the current level of investment-grade bond spreads, it's hard to see why debt from blue-chip companies wouldn't make a run at that 16-year record. Sure, equity markets are off their highs, but that's being driven primarily by losses in shares of some of the frothiest growth companies, not the likes of General Electric Co., CVS Health Corp. and the largest U.S. banks that headline the corporate-bond index along with AT&T. Meanwhile, investment-grade funds experienced a healthy $1.84 billion inflow in the week through May 12, according to Refinitiv Lipper. While that was the smallest since the period through March 31, it still indicates that not even a combination of the worst quarter for credit since 2008, the prospect of rising inflation and ever-tighter spreads is enough to chase away cash. 
Make no mistake: AT&T is far from a perfect company. As my Bloomberg Opinion colleague Tara Lachapelle wrote, it's effectively unwinding $170 billion in failed deals, part of CEO John Stankey's push to trim down the sprawling company and focus on the core business of being a telecommunications provider. It certainly looks like a lot of wasted time, effort and money over the past several years. The fact that AT&T's shares quickly pared their advance on Monday wasn't exactly a ringing endorsement of its outlook.
Still, this episode is further proof that a company like AT&T, which traces its roots back to Alexander Graham Bell and the invention of the telephone almost 150 years ago, can survive such missteps, however large they may seem in dollar terms. That kind of resilience is music to the ears of its debt investors, who care first and foremost about getting paid principal and interest over the life of their securities. AT&T was able to break away from entertainment business without much to show for it but without any devastating damage, either. Perhaps now the company can finally move on, and one of the most-watched balance sheets in the bond market can start to finally slim down in earnest. 
This column does not necessarily reflect the opinion of the editorial board or Bloomberg LP and its owners.
Brian Chappatta is a Bloomberg Opinion columnist covering debt markets. He previously covered bonds for Bloomberg News. He is also a CFA charterholder.