U.K. Assets Are Rationally Exuberant, for Now
(Bloomberg Opinion) -- U.K. Plc is off to a roaring start to the year. Its currency, bonds and shares are all topping the charts. So a lot is riding on the government's accelerated plan to get the economy out of lockdown, both societally and financially. The risks associated with any misstep are high — and rising.
After botching its initial response to the pandemic, Prime Minister Boris Johnson's government has been swift to take advantage of its successful procurement and rollout of Covid vaccines. With almost 27% of the population already inoculated with a first dose, Johnson announced this week that schools will start reopening from March 8, followed by a gradual easing of restrictions that would see all forms of social contact allowed by June 21 at the earliest.
Dan Hanson of Bloomberg Economics reckons the plan to reopen the economy could produce a bigger than expected boost to growth in the second quarter. After what he expects to be a 4.5% contraction in the first three months of the year, the April-June rebound could be as much as 7%, if everything goes as planned. That compares with the 6% he previously anticipated.
So U.K. assets are currently riding high. The pound is the best performer so far this year of the 16 major currencies Bloomberg tracks versus the dollar. Against the euro, sterling is enjoying its best winning streak since 2015 with nine consecutive days of gains. And, for a change, it's not just dollar weakness boosting the pound. Against a basket of currencies of Britain's major trading partners, the pound has reached its highest level since December 2019, after concern about how badly the Brexit negotiations were going whacked it for much of last year.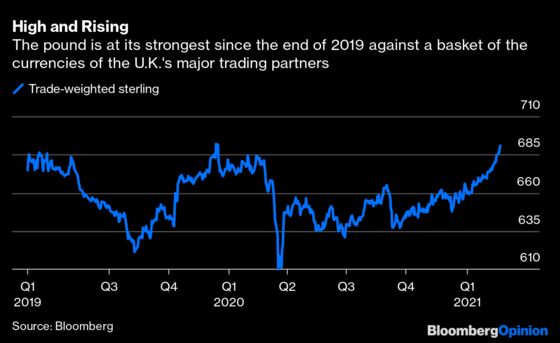 U.K. equities are also on a tear. Measured in dollars, the FTSE 100 index is the one of the best performing major stock markets in the world, with gains so far this year of about 6.4%, eclipsing the S&P 500's 4% increase and the Euro Stoxx 50's 3.6% rise. In euros, the picture is even better, with the U.K. benchmark up by 7%, compared with 4.6% for its U.S. peer and 4.3% in Europe. So overseas investors who've backed Britain have benefited.
In the bond market, rising U.S. Treasury yields have spurred higher government borrowing costs everywhere. But with the tailwind of its world-beating vaccination program stirring expectations for the U.K. to recover more swiftly than its peers, the corresponding surge in 10-year gilt yields has driven the gap with German bunds to more than a full percentage point, the widest in more than a year.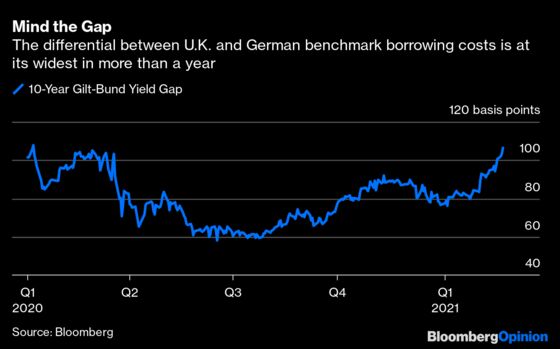 All of this eases the pressure on the Bank of England to drive its official interest rate, currently at a record low 0.1%, below zero. The government's schedule for lifting restrictions remains "broadly consistent" with the central bank's projections for how growth will recover in the coming quarters, Governor Andrew Bailey said on Wednesday.
While U.K. assets are currently in vogue, investors allocate money on a relative basis. And as my colleague Therese Raphael argued a few weeks ago, many of the contributing factors to the U.K.'s vaccination success are replicable elsewhere. Many countries will hopefully catch up with Britain sooner rather than later.
But the virus isn't beaten until it is overpowered everywhere, and potential setbacks abound. A rush back to business as usual before inoculations have sufficiently halted disease transmission, virus mutations that resist the current vaccines or a failure by other countries to reopen their economies could all dim Britain's economic outlook. For now, though, investors can remain rationally, though cautiously, exuberant about U.K. assets.
This column does not necessarily reflect the opinion of the editorial board or Bloomberg LP and its owners.
Mark Gilbert is a Bloomberg Opinion columnist covering asset management. He previously was the London bureau chief for Bloomberg News. He is also the author of "Complicit: How Greed and Collusion Made the Credit Crisis Unstoppable."