There's No Easing Into the New Year for the ECB
(Bloomberg Opinion) -- Italy is out of the traps fast in 2022 with a new 30-year syndicated bond. It's a bold move as European yields have increased substantially in recent weeks in conjunction with the selloff in U.S. Treasuries. Investor appetite is still strong with over 43 billion euros ($49 billion) of orders for what is an expected 7 billion euro issue — priced attractively at just over 2.1%. That's 30 basis points in extra yield since mid-December.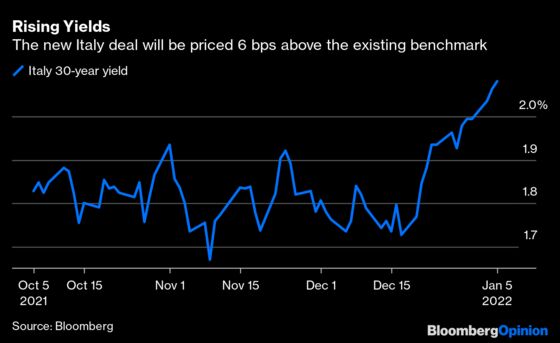 For Italy, it still makes sense to raise large clips of money via long duration bonds now to get ahead of its annual funding schedule. That's because the European Central Bank will terminate its 1.85 trillion-euro Pandemic QE bond-buying program, known as the PEPP, at the end of this quarter. Slovenia is also in the market with four- and 40-year tranches. The supply schedule is likely to be rapidly filled by other European nations and the European Union itself which is likely to issue around 100 billion euros this year to fund its NextGeneration recovery program.  
While the ECB will continue to buy a significant amount of debt for the foreseeable future, its intended direction of travel is clear: to wean the euro-denominated debt market off gargantuan monetary stimulus. This comes at a tricky time because political risk is rising. Italian Prime Minister Mario Draghi could step aside for the presidency later this month. This would present a challenging handover and possibly trigger a general election. The French presidential elections follow in April.
Neither of these events need to seriously rattle the well-ordered euro government bond market which the ECB has spent trillions of euros keeping contained at super-low yields. Bunds have the lowest free-float of any major government bond market globally. But that depends on how proactive the ECB is while it still has the full firepower of the PEPP — up to 80 billion euros monthly, if needed.
It is important for the ECB not just to control how much peripheral European countries' yields gain (as well as their spread above benchmark German bunds) but also to keep that reference lodestar pegged. The 10-year bund yield has been negative for nearly three years but is once again nearing the 0% level. At -0.09%, it is one bad trading session away from turning positive. The knock-on effect would likely be greater for the rest of European government debt. It risks an unravelling of the very expensive and hard work the ECB has done since the euro crisis a decade ago.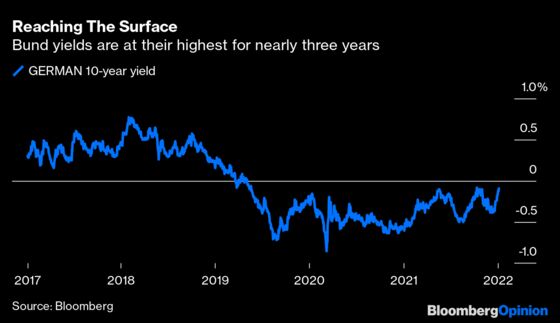 Perhaps even more important is the two-year German yield, which has been more negative in returns than the official ECB deposit rate of -0.5% since early 2016. At -0.62%, it is not in the danger zone yet, but if it were to cross that -50 basis point Rubicon, then it would be a clear sign that the market was pricing in interest rate rises. That time will come eventually but, when it does, the ECB has to make sure it's of the central bank's own volition and does not precipitate another mini-crisis.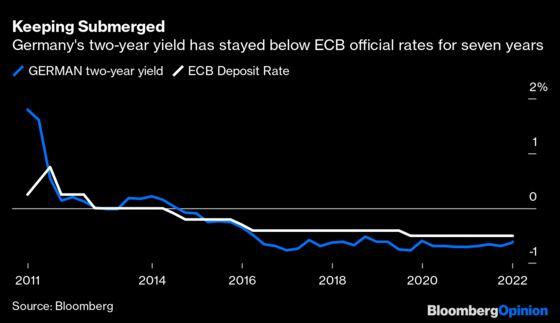 Sovereign issuance has gone swiftly out of the gate in the new year — and so must an active QE bond-buying approach to soak up any slack. That would reinforce investor confidence that euro yields are going nowhere fast. Prevention is better than cure.
More From This Writer and Others at Bloomberg Opinion:
This column does not necessarily reflect the opinion of the editorial board or Bloomberg LP and its owners.
Marcus Ashworth is a Bloomberg Opinion columnist covering European markets. He spent three decades in the banking industry, most recently as chief markets strategist at Haitong Securities in London.