Trump Flunked His Own Economics Test
(Bloomberg Opinion) -- Even before the Covid-19 pandemic devastated global growth in 2020, the U.S. economic boom that Donald Trump described in campaign pledges and presidential claims was mostly a mirage.
From trade deficits to manufacturing, coal-mining to oil and gas and auto industry jobs, Trump exits the White House close to the bottom among his six predecessors in the yardsticks of economic performance by which he proposed to be measured. Even the booming stock market, which Trump extolled as his unique accomplishment, remains a distant also-ran to equities under President Bill Clinton.
When the economic statistics of the past four years are tabulated, Trump will have presided over the worst calamity since President Herbert Hoover left the White House in 1933: More than 400,000 American deaths from the coronavirus, soon to exceed the military and civilian fatalities of World War II; a jobless rate that was 3.2 percentage points higher at the end of his term than at the beginning; almost 30 million citizens short of food and more than 17 million having little or no confidence in their ability to pay next month's rent.
Trump boasted that his "America First" policies of tariffs on Canadian, Chinese and European goods and services, alongside tax cuts and evisceration of environmental regulations, would bring record growth in manufacturing employment, trade and fossil fuel industries. His first impeachment notwithstanding, he was poised to be re-elected on the seemingly robust economy with 12 months left in his term.
Except it wasn't so muscular. When the first three pre-pandemic years of the Trump administration are compared to the same period of every president since Jimmy Carter, manufacturing growth of 12% under Trump is dwarfed by Carter's 41%, Ronald Reagan's 19% and Clinton's 16%, according to data compiled by Bloomberg. Manufacturing during those Trump years did substantially better than it had in the same period under George H. W. Bush, 9%, and Barack Obama, 4%, who inherited the worst recession since the Great Depression from George W. Bush (minus 2%). When Trump took office, the Obama economy had improved more than all but Clinton's among six predecessors and was the only developed economy with record gross domestic product eight years after the financial crisis.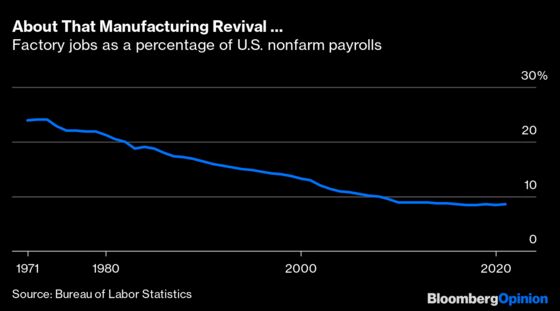 Trump vowed to bring back factory jobs, but by the end of 2019, only 8.46% of nonfarm payrolls were in manufacturing, the lowest percentage of the past seven presidents. Americans not only were finding fewer jobs in manufacturing compared to other industries during the first three years of the Trump administration, but the proportion of factory jobs in the workforce fell to an all-time low, according to data compiled by Bloomberg. Since Trump was inaugurated, the percentage of oil, gas and coal jobs in total nonfarm payrolls declined to a record low of 0.13%. That helps explain why the market value of U.S. oil companies depreciated 18% during the first three years of the Trump presidency, the industry's worst stock performance since data was compiled in 1989.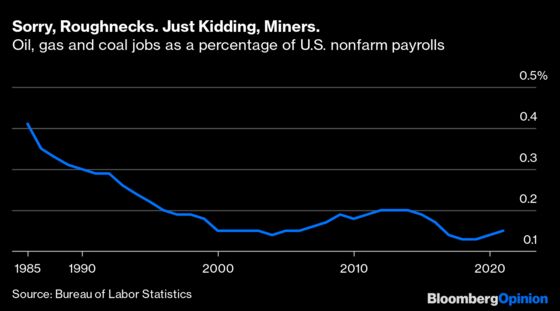 For all of his bombast against globalization, including the 1994 North American Free Trade Agreement which was modestly updated in 2018 as the U.S.-Mexico-Canada Agreement, Trump was unable to revive Midwest manufacturing with his tariffs. To save face with his staunchest supporters, he delivered billions of dollars in subsidies to American farmers as compensation for lost business from his trade war with China.
During his first three years as president, the trade deficit climbed to a record $1.67 trillion, surpassing similar-period deficits of $1.45 trillion under Obama, $1.27 trillion under George W. Bush and $265 billion under Clinton, according to U.S. Census Bureau data. By the end of Trump's term, manufacturing jobs had declined 3.9%, a dubious outcome exceeded only by the decline of 4.2% under George W. Bush, among seven presidents. The simultaneous 3.2-percentage-point rise in unemployment over four years also put Trump at the bottom by comparison to his six predecessors, according to data compiled by Bloomberg.
With his tax cuts, regulation rollbacks and drilling incentives, jobs in the oil and gas industry increased 15.8% during the Trump presidency. But even this apparent achievement was surpassed by Obama, 19%, and Carter, 29%, according to data compiled by Bloomberg.
To be sure, Trump refused to take seriously or manage the impact of Covid-19 in the U.S., where the coronavirus accounted for more than a fifth of the world's deaths from the pandemic.
"We have it totally under control," Trump declared last January, a month after Covid-19 was discovered in Wuhan, China. "It's one person coming from China. We have it under control. It's going to be just fine."
Trump's aides and allies have said they're sure that Covid-19 defeated their man. They may well be right. But the seeds of U.S. economic mediocrity were planted before the virus arrived, and Trump's negligence and mismanagement let them grow out of control.
This column does not necessarily reflect the opinion of the editorial board or Bloomberg LP and its owners.
Matthew A. Winkler is Co-founder of Bloomberg News (1990) and Editor-in-Chief Emeritus; Bloomberg Opinion Columnist since 2015; Co-founder of Bloomberg Business Journalism Diversity Program in 2017. During his 25 years as Editor-in-Chief, Bloomberg News was a three-time finalist and winner of the Pulitzer Prize for Explanatory Reporting and received numerous George Polk, Gerald Loeb, Overseas Press Club and Society of Professional Journalists and Editors (Sabew) awards.