Even the Essential Industries Aren't Adding That Many Jobs
(Bloomberg Opinion) -- Amid the worst jobs report in the history of jobs reports, a few industries actually added jobs from mid-March to mid-April.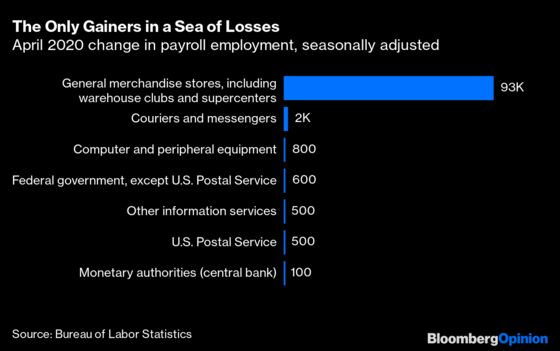 "General merchandise stores including warehouse clubs and supercenters" is the North American Industry Classification System category for Walmarts, Targets, Dollar Trees, Sam's Clubs, Costcos and such. It seems likely that supermarkets also saw job gains, but for them and most other industry subcategories employment is reported with a one month lag, so we won't know until the next jobs report. Food and beverage stores, the supersector that includes supermarkets, saw a 42,000-job seasonally adjusted decline in employment in April.
Among the other job-gaining sectors, "other information services" may require some explanation. About 80% of its jobs are at "Internet publishing and broadcasting and web search portals," which covers the likes of Google, Facebook and Twitter. The remainder are at other digital information providers such as, well, the publisher of Bloomberg Opinion. "Couriers and messengers" is FedEx, United Parcel Service and their ilk.
One thing that stands out here is that the job gains are really, really tiny compared with the 20.5 million jobs lost. We may well see a more significant shift of employment into pandemic-resistant or pandemic-fighting sectors in the coming months, but that takes a while. And given that the shifts in demand that have had everybody lining up at Costco for toilet paper are not (one hopes) permanent, such companies are unlikely to go overboard with hiring.
Another thing that stands out is that a lot of sectors that would seem to be quite essential in a pandemic nonetheless shed jobs. I've listed a selection here, ranked by percentage job losses rather than the absolute numbers because that seemed more informative.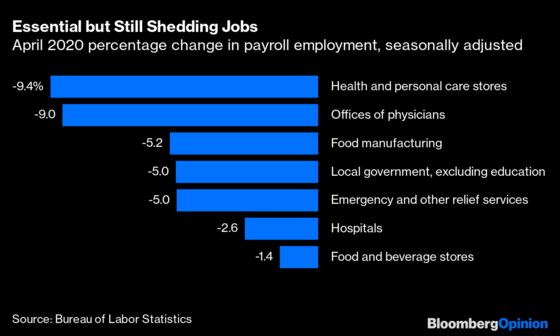 Other health-care sectors were even harder hit as almost all non-coronavirus-related care was put on hold for the month, with employment down 15.2% at ambulatory health-care services and 52.5% at dentists' offices. Then again, a lot of those jobs ought to return quickly as well, although things are definitely going to be tough for dentists and dental hygienists, whose work probably entails more intense coronavirus risk than any other.
The bigger message here may just be that a U.S. economy that is pared down to "essentials" isn't much of an economy. Here's hoping we all start doing a lot more nonessential (but also non-virus-spreading) things soon.
This column does not necessarily reflect the opinion of the editorial board or Bloomberg LP and its owners.
Justin Fox is a Bloomberg Opinion columnist covering business. He was the editorial director of Harvard Business Review and wrote for Time, Fortune and American Banker. He is the author of "The Myth of the Rational Market."