Approving Biogen's Alzheimer's Drug Is a Big Mistake
(Bloomberg Opinion) -- "Follow the science" has been a consistent refrain during the pandemic, and it's usually a core mandate of the Food and Drug Administration in evaluating medicines. But when it came to one of the agency's most consequential decisions — the approval Monday of Biogen Inc.'s controversial Alzheimer's drug aducanumab — science took a back seat.
Alzheimer's is a devastating illness with no treatments that do anything but ease symptoms. Biogen's drug is the first said to slow decline. If there was good evidence that it did so, it'd be a breakthrough, but the data is inconclusive at best. And while the FDA is and should be flexible when patients have no options, this decision does more than bend standards — it shatters them.
For Biogen investors, the approval is a huge victory, setting the stage for a blockbuster drug worth billions in sales and added market value for the company; already, after an initial halt the stock surged 50% on Monday's news. For everyone else, it's a mistake; the FDA's blessing threatens to harm the agency's reputation, America's health budget and the quality of drug research, including for Alzheimer's.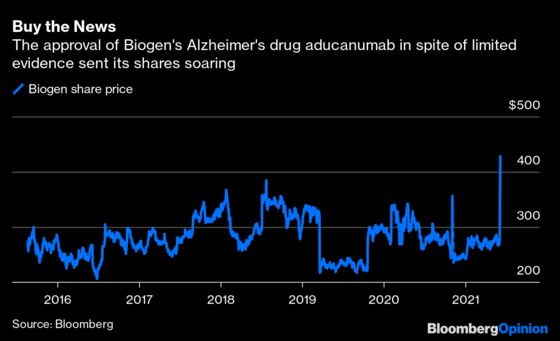 Here's  the issue: Biogen started two identical studies in 2015 to test whether the drug slowed early Alzheimer's. However, the company halted them in March 2019 after an early analysis suggested a low chance of success. It was the presumptive end for the medicine until Biogen popped up a few months later with the shocking announcement that one of the two trials showed a benefit — once it added new data — and that it planned to file for approval.
The early halt was problematic. Biogen collected a fraction of the patient data it wanted, introducing statistical uncertainty. But the biggest issue is that the second study failed, and it wasn't close. The FDA's desired standard for approval in Alzheimer's is evidence from two positive studies. There are good reasons to want a high bar and duplication. It's much harder to objectively measure mental decline than the size of a tumor, making definitive evidence especially critical.
The FDA ducked this standard by giving the drug a so-called accelerated approval, using a regulatory pathway that lets the agency accept different types of evidence in areas where patients lack options. That doesn't make the decision more defensible. In this case, the approval centers on aducanumab's ability to remove amyloid brain plaques believed to play a role in Alzheimer's. Biogen's drug (which it will market under the brand name Aduhelm at a hefty price of about $56,000 a year) cuts plaque, but the resulting patient benefit in even the positive trial is so modest that it may not be significant. 
Many other medicines have targeted amyloid. Unfortunately, all failed to help patients, leading scientists to question whether removing the plaque does anything. Biogen's opposing results only add to the uncertainty about the role of amyloid; they don't make it acceptable as the basis for a multibillion-dollar approval. What is certain is that removing the plaque causes sometimes serious side effects, including brain swelling. 
Biogen has explanations for the failed trial, blaming insufficient dosing and a few rapidly declining patients. But, unfortunately, this is what's known as post-hoc analysis, or less politely cherry-picking, and it is fundamentally and irrevocably biased. Good scientists use such methods to generate ideas for future tests, not as tentpoles for generationally significant drug approvals.
You'd expect the FDA to push back. But, in this case, a part of the agency not only shifted its standards but collaborated with Biogen through an approval process in which it was so cozy with Biogen that consumer advocacy group Public Citizen has asked the government to investigate. That's even as an independent panel of experts convened by the FDA to evaluate the drug universally advised against approval in November. Moreover, the regulator's own statistical expert was highly critical of the evidence presented in a briefing packet presented as part of the November review. And on June 2, the American Geriatrics Society, a group of health professionals dedicated to older adults, wrote directly to the FDA's interim commissioner advising against approval. 
The FDA seems to have yielded to the pressure to give hope to patients, even if it may be false, despite the consequences. And there are many. If the agency approves drugs with middling evidence, that's what it will get. Companies will be more likely to seek approval or advance programs based on weak results, wasting time and research dollars and the health of patients who participate in clinical trials. As for Alzheimer's, future drugs may be badly delayed. With an approved treatment available, it will likely become harder to recruit people to participate in trials. And now that the FDA has validated amyloid as a target, companies may focus on it at the expense of other potentially more fruitful avenues. 
The price of the drug is just the beginning of the financial damage. Getting it will require doctor's visits and scans to establish eligibility and monitor side effects, creating significant additional costs for Medicare, patients and their caregivers. Multiply those costs by even a fraction of the millions of Americans with Alzheimer's, and you have a budget crisis. 
The FDA will make Biogen conduct another trial to confirm, or in this case establish, Aduhelm's benefit. But that's just expensively kicking the can down the road. The medicine will be on the market meanwhile, and companies often drag their feet on confirmatory trials that could take profitable drugs off the shelves if they fail. Running such a trial will be extremely difficult in this case because few will volunteer to take a placebo. Had the agency demanded another trial in 2019, we might know whether the drug works sometime soon. Instead, an answer is years away, if we ever get one, and America is set to spend vast sums on what might be a placebo with side effects.
The world badly needs an Alzheimer's drug. But letting one reach the market based on weak data isn't the answer.
This column does not necessarily reflect the opinion of the editorial board or Bloomberg LP and its owners.
Max Nisen is a Bloomberg Opinion columnist covering biotech, pharma and health care. He previously wrote about management and corporate strategy for Quartz and Business Insider.