This Apple Supplier Is Splashing Billions to Find New Business
(Bloomberg Opinion) -- Becoming an iPhone supplier these days isn't quite the blessing it once was. Stagnating smartphone sales mean companies can't just hitch themselves to Apple Inc.'s mast and hang on for the ride.
So it's fair enough that Lumentum Holdings Inc., a maker of laser components used in the 3-D sensors of Apple Inc.'s Face ID, is seeking alternative ways to grow. But it looks like it's overpaying to acquire Coherent Inc., a firm that makes lasers used in chipmaking. It's agreed to splash $5.7 billion in cash and stock, a hefty 79% premium to Coherent's average share price in the 100 days before the announcement.
Coherent shareholders are getting the better end of the deal. The Santa Clara, California-based company is extracting a rich price from the fact that it's currently the only maker of a laser tool that is essential to manufacture OLED displays, the crisp, energy-efficient technology used increasingly in smartphones and monitors.
Lumentum is following a play that its rivals have pioneered at a greater pace.
When reports first emerged that Apple planned to introduce 3-D sensors to the 2017 iPhone, laser suppliers enjoyed a boost. But plateauing iPhone sales meant that the supply agreements didn't guarantee sustained revenue growth. So in an effort to make their businesses more resilient to the vicissitudes of the smartphone market, those companies expanded into adjacent markets through takeovers: Manufacturer II-VI Inc. acquired rival Finisar Corp. for $3.2 billion, while AMS AG bought Osram Licht AG for $3.5 billion.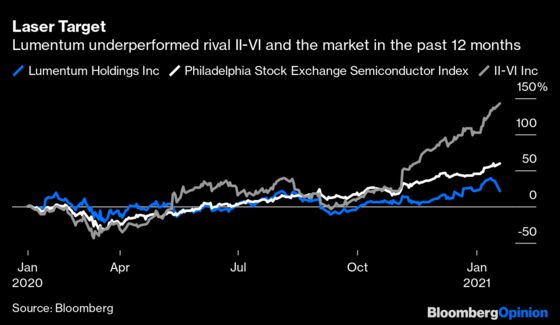 The acquisition of Coherent will similarly reduce Lumentum's dependence on Apple, which Bloomberg supply chain analysis suggests currently accounts for about a quarter of revenue. But Chief Executive Officer Alan Lowe will struggle to cover the target's cost of capital in the next three years, even after taking into account an ambitious cost-savings goal of $150 million. He'll likely need to generate at least the same amount in profit from additional sales for the combination to even start paying off. Analysts currently predict Coherent will have operating profit of just $358 million in 2023.
Those additional sales won't be easy to achieve, given that the two companies supply different customers: Lumentum's components go into smartphones and other devices, whereas Coherent supplies the machines used to build components.
In other words, investors will need to be patient. Some have already indicated their unwillingness to stick it out: Lumentum's stock fell as much as 14% in early trading in New York. Even for a deal involving a lot of stock issuance, that's a sign of skepticism.
That's not to say there isn't a long-term strategic rationale — there is. Lumentum's best-performing rival is II-VI, another supplier of Face ID components. Reducing its dependence on Apple, which now contributes just 4% of sales, has boosted II-VI's valuation to 25 times forward earnings. Lumentum trades at just 15 times expected earnings.
Lowe's management team has been able to successfully integrate a smaller acquisition: its $1.3 billion takeover of Oclaro Inc. in 2018. Its stock has nevertheless lagged the Philadelphia Semiconductor index since that deal's announcement. And not only is the sticker price for Coherent higher, Lowe is offering a much larger premium. He's also paying a far higher multiple than AMS did last year to acquire Osram.
In terms of transformational dealmaking, Lumentum looks a little late to the party. Lowe will need a laser focus to make it work.
This column does not necessarily reflect the opinion of the editorial board or Bloomberg LP and its owners.
Alex Webb is a Bloomberg Opinion columnist covering Europe's technology, media and communications industries. He previously covered Apple and other technology companies for Bloomberg News in San Francisco.