Apple and Ahrendts Have Excellent Timing
(Bloomberg Opinion) -- It's perhaps auspicious that Apple Inc. announced retail chief Angela Ahrendts's resignation on the first day of the Chinese New Year.
Her five years running the iPhone-maker's retail operations have largely been a success. But she's leaving as the company is confronted by tumbling sales in Asia's biggest economy — her departure comes a month after Apple cut its sales forecast for the first time in almost two decades, citing weakness in China. It might have been time for a fresh start.
The timing looks fortuitous for Ahrendts — her role could have easily become one of managing decline. She'll be replaced by human resources head Deirdre O'Brien, who will handle both roles concurrently.
Ahrendts's achievements at Apple shouldn't be sniffed at. She helped boost average sales per square foot by 21 percent to $5,637 during her tenure, according to eMarketer research. Given that retail rental prices hit $680 per square foot in Manhattan at the end of last year, according to CBRE, that suggests a hefty profit contribution.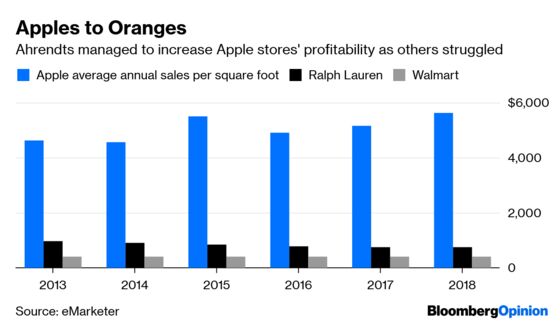 And that growth doesn't take into account the greater emphasis she put on sales that take place outside of shops. For example, in 2015 she introduced the iPhone Upgrade Program, which lets users pay a monthly fee rather than a single lump sum, and upgrade their handset once a year. In theory, at least, that made it easier to match supply to demand at the launch of each new device, and reduce costly backlogs of inventory. Sales also shifted online.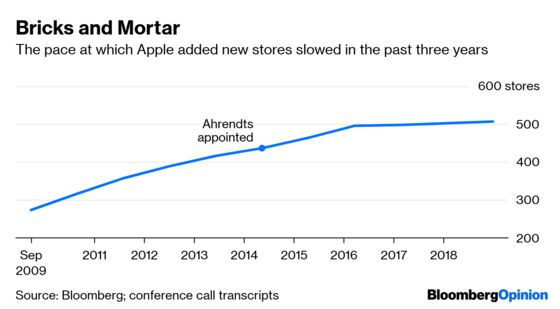 There are a bevy of factors behind Apple's problems in China, not least that it charges significantly more than local rivals. But Ahrendts must bear some responsibility for dropping the ball on the retail front. That's not to say she neglected the country: About half of the 70-odd stores opened during her tenure were in what Apple calls Greater China, which includes Taiwan and Hong Kong. But those efforts clearly missed the mark. Local rivals Oppo and Vivo aggressively targeted electronics stores in Chinese second-tier cities, whereas Apple focused too much on glitzy locations in major urban centers. It's time for a new approach.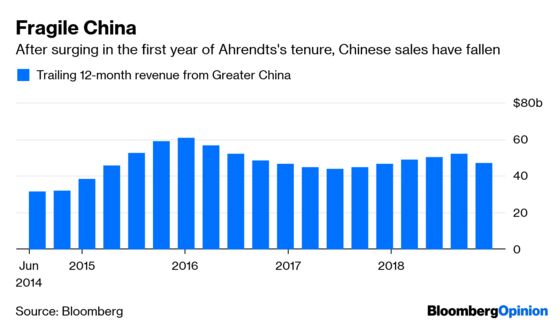 As for what Ahrendts does next, she has plenty of options. She joined the company from Burberry Group Plc, where she was chief executive officer, so she could easily choose a role back in fashion.
She is a non-executive director of Ralph Lauren Corp., so would be well placed to succeed the founder if he ever decided to step down as chairman and chief creative officer. The top job isn't available, since Patrice Louvet was appointed CEO in 2017.
Calvin Klein Inc. is another possibility, as parent PVH Corp. seeks to revitalize the brand after parting ways with creative director Raf Simons in December.
Or she could stay in Silicon Valley. A lower-profile path might be non-executive roles, as a consultant to big brands or a venture capitalist. That's a tried and tested route for former tech executives. Erstwhile Apple software chief Scott Forstall advises Snap Inc., while former General Electric Co. CEO Jeff Immelt joined VC firm New Enterprise Associates as a partner last year. Snap's former chief financial officer, Imran Khan, is meanwhile building an online shopping startup which he's likely to unveil this year.
Whichever way she jumps, she'll have deep pockets to support her landing: She made more than $172 million in her time at Apple, according to public filings. Last year she was in the top 100 earning executives at publicly traded U.S. firms, and was the company's third best-paid manager, according to the Bloomberg Pay Index.
And the company itself missed an opportunity. Apple is losing its most senior female executive, and in an era where companies are keen to highlight their commitment to gender diversity, she could have been given much more prominence. As for Ahrendts, there seems significantly more upside in leaving now than later.
This column does not necessarily reflect the opinion of the editorial board or Bloomberg LP and its owners.
Alex Webb is a Bloomberg Opinion columnist covering Europe's technology, media and communications industries. He previously covered Apple and other technology companies for Bloomberg News in San Francisco.
Andrea Felsted is a Bloomberg Opinion columnist covering the consumer and retail industries. She previously worked at the Financial Times.