Apple Must Embrace This Word in Tackling Climate Change
(Bloomberg Opinion) -- As global leaders thrash out plans to cut carbon emissions and corporate chieftains tout renewable energy, the world's biggest tech companies need to be uttering one word much more often: reuse.
Major gadget makers like Apple Inc., Lenovo Group Ltd. and Samsung Electronics Co. want to be taken seriously about climate change, announcing progress in acquiring sources of green electricity at company-owned facilities and through their supply chains. Apple has among the most impressive track records when it comes to setting and executing bold targets. 
But even the iPhone maker continues to suffer from the same problem as its peers — focusing heavily on cutting energy demand through greater supply chain efficiency, but not doing enough to reduce greenhouse gas emissions in more direct ways.
Policies for environmental protection can be roughly distilled down to three words: reduce, reuse and recycle. And that's their order of efficacy. While recycling does help lower waste and emissions, reusing a device or its components is better. The most powerful way to cut demand for resources is simply to use less. 

In their environment, social and governance reports, Apple, Lenovo and Samsung write about reduction efforts that include less product packaging and being more sparing in the way they use energy to make and ship devices. Numerous competitors are doing the same, and it's a laudable goal.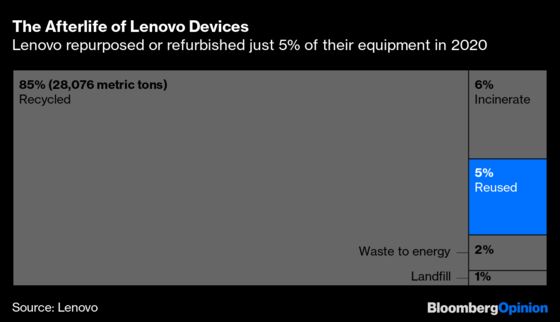 They're also moving rapidly to fund sources of clean energy. In 2017, Apple had invested in 500 megawatts of solar and wind power in China and Japan. By 2020, its renewable commitments had climbed to 8,000MW worldwide. By contrast, Lenovo had 16MW of solar capacity and a near-term target of 30MW. Samsung hit 100% use of renewables in China, the U.S. and Europe and tripled its use of alternative power sources between 2018 and 2020.
Such efforts at Apple are the reason why it's often rated among the greenest technology companies. Four years ago, Greenpeace ranked the Cupertino firm second (with a B-minus grade), behind Dutch electronics maker Fairphone. That report, the 19th and most recent edition of the organization's "Guide to Greener Electronics," gave Apple high marks for renewable energy commitment and advocacy. It's the part of the company's environmental campaign that gets the most attention.
Yet Apple is notable for falling short in ways to prolong the life of its devices, either as finished or the components from which they're built. The same applies to the byproducts that come from the manufacturing process. It got a D grade for designing gadgets that were hard to fix and an F for sustainable advocacy for opposing "Right to Repair" legislation across the U.S.
The result is that while Apple has cut direct greenhouse gas emissions from electricity use to zero, 71% of the 22.6 million tons of carbon dioxide it contributed to the atmosphere last year came from manufacturing the smartphones, tablets, computers and accessories it churns out from factories around the world. Supply efficiencies it implemented managed to cut that figure by only 900,000 tons last year, or just 6%, according to its own data.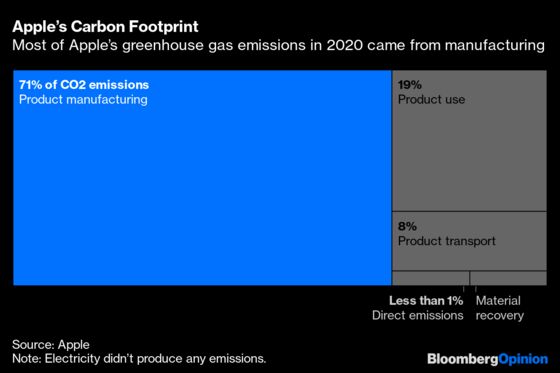 A key reason for this struggle to cut emissions is that instead of reuse, the second-most effective way of minimizing environmental impact, Apple has favored recycling. That largely means crushing returned devices into dust and reconstituting them into new products. Lenovo takes a similar approach, with 86% of the equipment it took back last year being recycled as materials, compared to just 5% being reused as products or parts.
This means that the industry has barely moved the needle in reducing the demand for fresh resources dug up from the ground. 
In its 2021 Environmental Progress report, Apple noted that 12% of the materials that went into its products were from recycled or renewable content. There's good reason to encourage this practice. Using recycled aluminum, for example, consumes around 5% of the energy of making it from mined sources. Yet it isn't entirely clean and uses potentially carcinogenic compounds, prompting the European Union to phase out chemicals such as hexachloroethane, which some studies have linked to tumors. Reusing would be preferable and reduction ideal.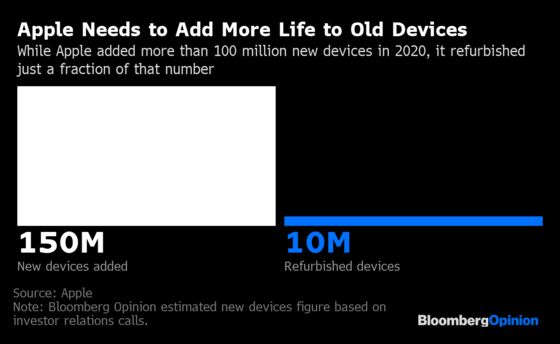 To that end, the company started its Independent Repair Provider program two years ago, offering external companies access to genuine Apple parts, tools and training, with over 1,500 signed on globally to add capacity beyond the 5,000 Apple Authorized Service Providers. It's also expanded the range of parts in an iPhone that can be repaired or replaced, instead of requiring the device to be trashed. More importantly, the firm is trying to increase the number of devices it takes back, repairs and resells. 
But that's still insufficient. Apple refurbished 10.4 million devices in 2020, down from 11.1 million in 2019. It comes out to a mere 7% of the approximately 150 million new devices the company added to the market, which means close to 140 million fresh iPhones, iPads, Macs and AirPods were made from scratch, largely from fresh materials, many of them recently extracted from the earth.
Global technology giants have made massive investments in renewable energy. They have the money to do so. They now need to be inventive and push for the reduction and reuse of the products to which their fortunes are tied.
This column does not necessarily reflect the opinion of the editorial board or Bloomberg LP and its owners.
Tim Culpan is a Bloomberg Opinion columnist covering technology. He previously covered technology for Bloomberg News.