A Musk Bromance Is No Way to Win Friends at VW
(Bloomberg Opinion) -- Customers opt for a Volkswagen vehicle because everything tends to gel nicely together: top engineering, a clean design and high-quality finish.
In contrast, VW shareholders get a far less harmonious package: a maddening melange of family, trade union and political interests that often ends in internal bust-ups and disappointing performance.
It's easier to think of VW not as a company but a small country: VW has more than 600,000 employees; the politics are complicated and so's the constitution. Besides the standard 50% share of supervisory board seats occupied by labor representatives, the worker-friendly federal state of Lower Saxony holds a 20% voting stake. The Porsche and Piech families control VW via Porsche Automobil Holding SE. Both Porsche SE and VW have two classes of shares. Byzantine is a polite description.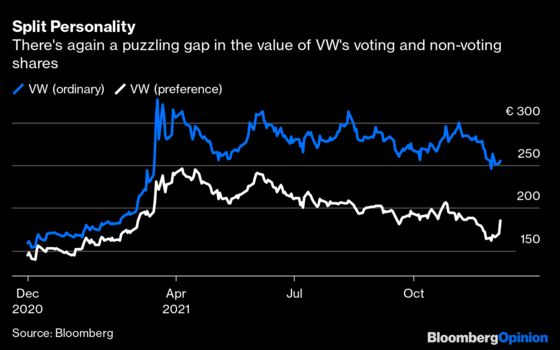 Though less concrete, there are signs, too, that VW is preparing to list its very profitable Porsche car unit, a sensible idea to lift the group's value and potentially raise a gob of capital to fund electrification and software investments.
Unfortunately, good sense tends to take a back seat at VW to Shakespearean histrionics. It's hard to make the case you're leading the electric revolution when the dinosaurs are still butting heads at the Wolfsburg headquarters. It needs to stop.
Strategically, Diess has done a fantastic job: Six years after dieselgate, VW now has a convincing electric-vehicle plan. Shareholders admire the former BMW executive because he's open about VW's bloated costs and has the dogged temperament to do something about them.
Operationally, his record is more mixed: Semiconductor shortages have held VW back; the performance in China has been lackluster, and VW's first electric vehicles haven't sparked huge excitement.  
Politically, Diess has been a disaster: He's constantly talking about Tesla's superior software and productivity. While he may have a point, it's probably not the way to endear yourself to German engineers. Workers don't seem fond of his bromance with Tesla's boss, Elon Musk, who's built a factory outside Berlin in double-quick time but isn't an admirer of trade unions.  
More importantly, Diess angered them by raising the possibility of massive German job cuts. Unsurprisingly, grabbing the third rail of VW politics contrived to upset nearly everyone: Cue weeks of unnecessary discussion about his future.
The matter will likely be resolved later this week by rejigging VW's upper management with more minders to keep Diess in line, according to German press reports.  
What a farce. VW faces an epochal challenge to stop selling combustion-engine vehicles. There's no time to waste on internal squabbles, and I doubt these will be the last.
However, the board probably couldn't have fired Diess because the shares would have plunged. And right now, the Porsche and Piech families have a particular reason to care about the stock price.
According to Handelsblatt, they may seek to sell a portion of their VW voting stake so they can buy a bigger stake in the Porsche car unit, their pride and joy, if and when it's eventually listed on the stock exchange.  
It's not clear how VW and the family shareholders would decide on an appropriate valuation for Porsche. If their desire is to purchase more Porsche shares, in theory the family has an interest in a low valuation, whereas VW should want the opposite.
Back of the envelope, Porsche could be worth around 80 billion euros, or around 70% of VW's current market capitalization.

It wouldn't be the first time such conflicts have arisen. The reason the families no longer directly control Porsche's luxury-car operations is due to a controversial attempt more than a decade ago to have the much smaller Porsche take over the VW leviathan.
Hedge funds who'd bet the wrong way lost billions when the extent of Porsche's secret financial interest in VW was revealed. The result was a huge short-squeeze that briefly made VW the world's most valuable company. Legal claims against the Porsche holding arising from these events are still making their way through the courts, though so far without much success. The takeover attempt almost bankrupted it, and VW ended up acquiring the Porsche sportscar operations instead.

In theory, a listing may help address several lingering valuation oddities. First: VW is worth less than the some of its parts. Second, the plan may help erase some of the family holding company discount (on paper Porsche SE's economic interest in VW is worth far more than its own market capitalization). Finally, there's the yawning gap between the value of VW's ordinary (voting shares) and the (non-voting, more liquid) preference shares.
I expect hedge funds will now try to bet on some of these gaps closing. But VW management often sends mixed messages about the chances of a Porsche listing and investors have been burned several times in the past by VW politics. So they'd be well advised to tread carefully this time.
More from other writers at Bloomberg:
Porsche IPO Worth $100 Billion to VW on Tesla or Ferrari Metrics: Bloomberg Intelligence

Ask Rivian and Ford What It Takes to Make an EV: Anjani Trivedi

Investor Pressure Will Speed Arrival of Electric Cars: Conor Sen
Porsche generates more than 4 billion euros of annual operating profit. For argument's sake I've applied a 20 times multiple, a chunky discount to where Ferrari trades.
This column does not necessarily reflect the opinion of the editorial board or Bloomberg LP and its owners.
Chris Bryant is a Bloomberg Opinion columnist covering industrial companies. He previously worked for the Financial Times.