No, Amtrak Isn't About to Turn a Profit
(Bloomberg Opinion) -- Earlier this month, Amtrak announced a smallest-ever "adjusted operating loss" of $29.8 million in the 2019 fiscal year, which ended in September, and said it is on a "path to achieve operational breakeven in fiscal year 2020." Along with the news that Amtrak ridership had hit an all-time high of 32.5 million, this garnered some nice headlines.
There are some other, less-impressive numbers, though, that the government-owned passenger railroad disclosed this week with no fanfare. Amtrak's net loss according to Generally Accepted Accounting Principles was $874.8 million, up from $817.2 million in FY 2018. Amtrak also reported receiving $234 million in support from the governments of states through which some of its trains run; without that money, losses would have been well over $1 billion.
These results did not, as "anti-transit transit expert" Randal O'Toole suggested with tongue somewhat in cheek before they were even released, amount to "securities fraud." Amtrak is not a publicly traded corporation, plus there's no secret as to what accounts for the difference between net loss and operating loss: depreciation of assets and spending on new capital projects. Amtrak management is also up-front about an infrastructure investment backlog that it pegs at somewhere around $40 billion. The shrinking operating loss, says Amtrak, merely "represents ... cash funding needs and is a reasonable proxy for Federal Operating Support needed."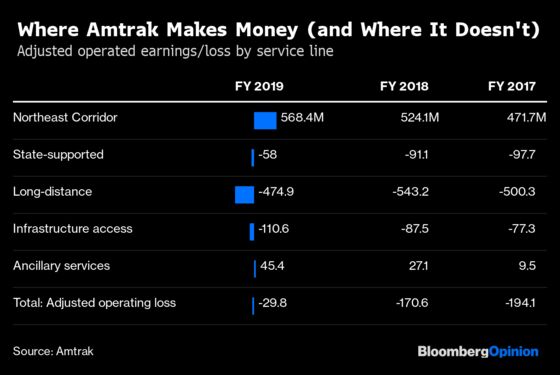 From the looks of it, the Northeast Corridor — especially the high(ish)-speed Acela, which had an operating profit of $334 million on $662 million in revenue in FY 2019 — is doing great, and the state-supported services such as the Pacific Surfliner in Southern California and the Hiawatha between Chicago and Milwaukee are doing OK, thanks in large part to that $234 million in state support. The overnight long-distance trains, on the other hand, appear to be kind of a disaster.
Amtrak Chief Executive Officer Richard Anderson, previously the CEO of Delta Air Lines, has been addressing these long-distance woes with an unheard-of aggressiveness, and Devin Leonard has a highly entertaining and illuminating article in the new Bloomberg Businessweek about all the feathers that's ruffling. But as I learned when I wrote a column about Amtrak's financial situation in July (after a mostly wonderful but much-delayed trip across the country on the California Zephyr and Lakeshore Limited), there are those who believe Amtrak's adjusted operating numbers give an entirely misleading picture of where its strengths and weaknesses lie.
One issue, the Rail Passengers Association argued in a 37-page white paper issued last year, is that Amtrak's method for allocating operating costs allows it "to continue its false narrative that the NEC is more 'profitable' than it is and that the long-distance trains cost more than they do."  The World Bank's 2017 "Toolkit for Improving Railway Sector Performance" recommends using long-run variable costs, aka avoidable costs, as the metric for guiding railway commercial decisions. In other words: How much would shutting down a money-losing service save you? Well, in May 2017 then-Amtrak-CEO Charles "Wick" Moorman responded to a proposal by President Donald Trump's Office of Management and Budget to zero out federal funding for long-distance trains with an estimate that eliminating the service "would result in an additional cost of approximately $423 million in FY 2018 alone." So it sure doesn't seem like the long-distance operating loss of $543 million that Amtrak subsequently reported for FY 2018 really reflects avoidable costs.
That said, a lot of that $423 million in shutdown costs would presumably be one-time expenses. In Asia and Europe, high-frequency, high-speed passenger trains between big cities are reliably more profitable than low-frequency, low-speed trains through rural areas. So while better accounting might reduce the operating-results disparity between the Northeast Corridor and the long-distance trains, that disparity surely wouldn't go away.
There's another financial issue, though, that is harder to get one's head around and probably more important to understanding the challenges facing U.S. passenger rail. Amtrak was created in 1971 out of the passenger operations of the country's private railroads, which Congress simultaneously released from the obligation to carry people as well as freight. The plan was that Amtrak trains would travel on tracks owned and maintained by the freight railroads, and in most of the country they do. But a rash of railroad bankruptcies in the Northeast and Midwest in the 1970s, followed by the nationalization and reorganization of some of those railroads, gave Amtrak possession of 363 of the 457 miles of track its trains use between Boston and New York (the states of Connecticut and Massachusetts own most of the rest) and control of an even larger portion, with the main exception being the stretch between New York and New Haven that is managed by Metro North.
Because it controls the tracks and the dispatching, Amtrak can run trains at much higher frequency and speed along the Northeast Corridor than it does anywhere else in the country, and compete effectively with airlines (cars are still the dominant mode of intercity travel in the region). Yet ownership leaves Amtrak on the hook for upkeep. And because much of the crucial infrastructure along the Northeast Corridor is more than a century old, and was already being neglected by its struggling owners long before Amtrak took over, there's a big backlog of needed capital investments. For example:
The 1910 swing-span drawbridge over the Hackensack River near Secaucus station in New Jersey is said to be the busiest rail bridge in the Western hemisphere, but workers sometimes have to smack it with a sledgehammer after it's been opened to get the rails back in place. The price tag in Amtrak's FY 2020 funding request for replacing it with a taller bridge that wouldn't need to be opened for passing boats: $1.8 billion.
The rail tunnels under the city of Baltimore south of the Amtrak station were built in 1873 (!) and have curves and a grade that necessitate slow train speeds. Estimated cost of a straighter, flatter replacement: $5 billion.
The two tunnels under the Hudson River that Amtrak and commuter trains use to travel between New Jersey and New York City have been in use since 1910, were damaged by flooding from Hurricane Sandy in 2012 and may not be usable for much longer without major repairs. The latest estimate of the cost to fix them and dig a new tunnel to allow trains to keep rolling during the repairs and add capacity when they're done is $11.3 billion.
The Hudson tunnel project is of course something of a legend by this point. New Jersey's then-Governor Chris Christie derailed it in 2010, saying it was going to cost his state too much. Now the Trump administration is holding it up, possibly out of presidential pique. The bill for the tunnel would be footed mostly by state and federal taxpayers. But it and the rest of the infrastructure spending backlog are part of the overall financial picture for the Northeast Corridor that Amtrak's operating numbers ignore. "If you followed a GAAP or more GAAP-like approach, the Northeast Corridor would be showing a deficit of more than a billion a year," asserts Andrew Selden, a retired Minneapolis lawyer and frequent Amtrak critic.
Almost all of Amtrak's other routes, as noted, run on tracks that freight railroads are responsible for maintaining. Amtrak has to pay for this privilege, but not much. A bigger issue is that although the freight railroads are supposed to give passenger trains priority, there's been no practical way to force them to do so (federal courts partially thwarted a 2008 Congressional attempt to remedy this). Frequent delays are the result. Also, most freight tracks are built to a standard that limits passenger train speeds to no more than 80 miles an hour. It's not an optimal situation! Still, if your goal was to minimize taxpayer spending on passenger railroads, you'd shut down the Northeast Corridor, not the routes that run on tracks owned by freight railroads.
That doesn't seem like the right goal at all, of course. Passenger trains bring with them positive externalities such as reduced road traffic and pollution, and more livable, pedestrian-oriented cities. Along the Northeast Corridor they're crucial to the functioning of a regional economy that accounts for 25% of U.S. gross domestic product.  More, faster and in some cases entirely new train services along other densely populated corridors in California, Texas, Florida, the Great Lakes, the Southeast and elsewhere could be an economic and environmental boon. That will take a lot of investment. Some may come from private sources, and private train operators may be a better choice than Amtrak for many of the routes. But the evidence from around the world — the bullet-train services on the Japanese main island of Honshu seem to be the lone major exception — is that continued public infrastructure investment is required to make passenger rail work.
Amtrak's infrastructure access service line provides "access to Amtrak-owned or controlled infrastructure and facilities" for "rail operators and other public and private sector entities," while its ancillary services involve providing passenger transportation, maintenance and other services to commuter rail agencies and freight operators, as well as real estate activities.
I included Virginia's GDP in that accounting, because it seemed like the right thing to do.
This column does not necessarily reflect the opinion of the editorial board or Bloomberg LP and its owners.
Justin Fox is a Bloomberg Opinion columnist covering business. He was the editorial director of Harvard Business Review and wrote for Time, Fortune and American Banker. He is the author of "The Myth of the Rational Market."