Brits Shouldn't Get Too Excited About Beloved M&S Just Yet
(Bloomberg Opinion) -- Steve Rowe, chief executive officer of Marks & Spencer Group Plc, was canny enough to note the British retailer's past stumbles as he unveiled the second upgrade to its profit forecast in three months.
"Given the history of M&S we've been clear that we won't over-claim our progress," he said.
Investors appeared to ignore his note of caution, pushing the shares up as much as much as 21% in early trading on Wednesday.
Even the stock's more modest closing gain at 16% still looks like an over-reaction. As Rowe acknowledged, M&S has been here many times before. Past CEOs have declared success in turning around the British high street fixture, only to see victory soon snatched away. Rowe and Chairman Archie Norman don't want to make the same mistake, particularly as the consumer sector is set to get tougher next year.
First, the good news. M&S said it now expected pre-tax profit before one-time charges to be about 500 million pounds ($675 million) in the year to March 2022, up from its previous forecast of more than 350 million pounds.
The retailer is making progress on many fronts, with food revenue continuing to soar and clothing and home furnishing sales above pre-pandemic levels in the three months to October 2. Most importantly, it seems that M&S, once known for its stodgy decision making, is becoming a much more agile business that's focusing on e-commerce as well as its traditional stores.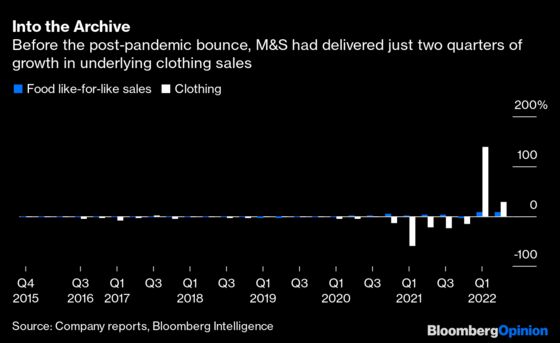 In fashion, M&S has narrowed its product range and bought more of its best-sellers. It has also ended its addiction to discounting, with full-price clothing and home furnishing sales up 17.3% in the six months to October 2. And it has introduced third-party labels, such as Phase Eight, Hobbs and Joules. This means more choice for consumers, but also another route to market for clothing brands, which have seen traditional sales outlets in the U.K. such as Debenhams disappear, and others, such as the John Lewis Partnership, close stores.
The company's move to acquire 50% of online grocer Ocado's retail business in 2019 is also paying off. This has not only added another income stream, as Ocado Retail contributed 28.1 million pounds in the six months to August 29, but has broadened the reach of M&S food. Measures to make its bread, meat and prepared meals cheaper and appeal to more customers have also boosted food sales.
M&S said trading in the past four weeks was consistent with growth seen in the second quarter, and better than anticipated. Rowe also expects Christmas to be strong as consumers make up for last year — good news for sales of pajamas, party food and Percy Pig gift sets.
And yet, the company acknowledges that it has benefited from pent-up demand, as the economy recovered from the pandemic, as well as the demise of stores including Debenhams and Arcadia.
Rival Next warned last week that consumer conditions may become more challenging in 2022, as the boost from pandemic savings fades and higher food and fuel prices take their toll on households' spending power. Shoppers may also be facing the first interest rate rise in three years, which could spark a reluctance to spend as they adjust to higher borrowing costs.
These forces may help the discount end of the market, if people trade down to cheaper goods, but the mid-market, where M&S sits, may find things more difficult.
Although it has put a big focus on value in both its clothing and grocery businesses, M&S's more expensive food and clothing may be vulnerable if shoppers have to pull in their purse strings. Fashion company Jaeger, which it acquired earlier this year and launched recently, is pushing price points well above those typically found in M&S. It says the response from customers has been "encouraging," but it's not yet clear whether they will be willing to pay up to about 400 pounds for a coat, silk maxi dress or leather culottes.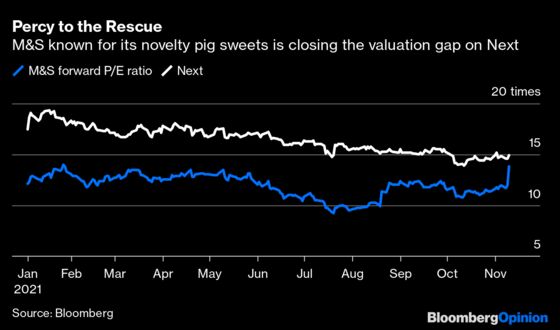 Still, M&S shares are up about 65% since the start of this year and trading on 13.5 times earnings, narrowing the gap with more consistent rival Next, which trades at about 15 times.
This valuation implies that Norman and Rowe are doing well steering M&S's recovery. If they can avoid the strategic and operational missteps that derailed previous turnaround attempts, then it really will be a break with the past. 
This column does not necessarily reflect the opinion of the editorial board or Bloomberg LP and its owners.
Andrea Felsted is a Bloomberg Opinion columnist covering the consumer and retail industries. She previously worked at the Financial Times.