There Are No AMC Cinemas on the Moon
(Bloomberg Opinion) -- Day traders caught up in the AMC movie-theater meme-stock phenomenon were celebrating Wednesday evening after they pushed the share price from $30 to above $60 purely on collective faith and fantasy. "My AMC" was even trending on Twitter while the cult following counted its winnings. But over in Leawood, Kansas, at the company called AMC Entertainment Holdings Inc. — which employs more than 3,000 people and runs nearly 1,000 cinemas — the lights have dimmed and the real show is about to begin.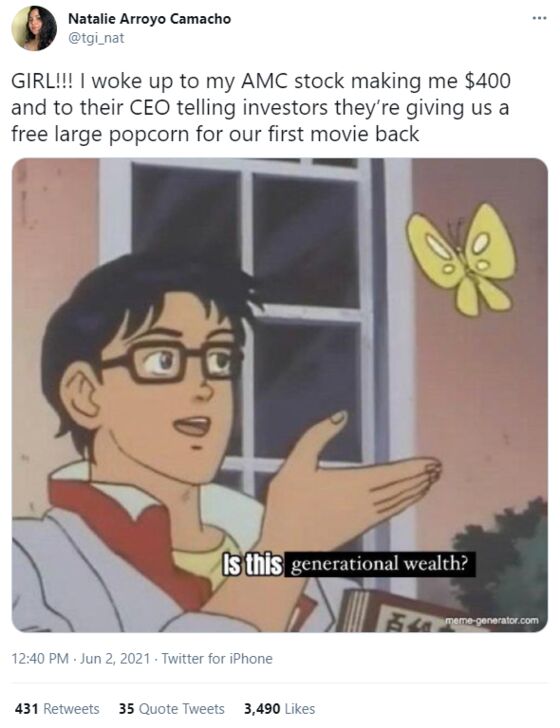 The group of retail investors who call themselves apes have rallied behind AMC Chief Executive Officer Adam Aron, a man they affectionately appointed the silverback gorilla. And it is a role he has wholeheartedly embraced. But they don't seem to appreciate the enormous task awaiting him: to turn around a business that wasn't looking so hot even before the Covid-19 pandemic. Some of the traders posting memes with Aron's face superimposed on movie posters such as "The Godfather" are also sharing technical analysis of the stock price to support their case for AMC to go perpetually higher. But what appears to be missing is any discussion of the actual business — its future cash flows, debt and how on earth AMC prospers in the 2020s. There are no cinemas on the moon.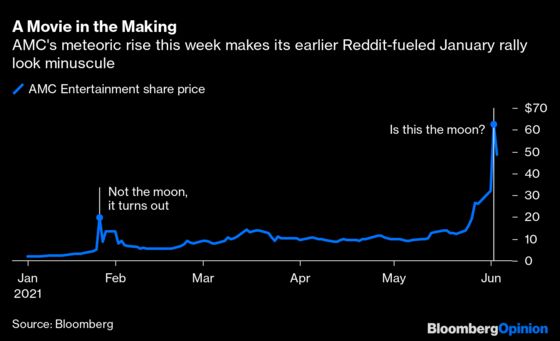 It's no surprise that by Thursday morning AMC had filed to sell yet another batch of shares  — worth about $500 million at current prices — to shore up its finances. That halted the stock's space mission, if only temporarily. Aron keeps testing how much further he can dilute shareholders and rely on his band of gorillas to keep the price from falling back to earth. At the last minute, AMC pushed back its May annual meeting to July to allow more retail investors to vote on matters including a potential proposal to authorize additional shares. The company already raised $250 million on Monday by selling shares to Mudrick Capital. (And in perhaps the most extraordinary, idiosyncratic trade of 2021, Mudrick turned around and immediately dumped all of those shares once the price surged.) It previously issued nearly $1 billion worth of equity and debt in January to stave off bankruptcy after raising about $1 billion during the pandemic last year.
The stock is still up 2,000% this year. And yet this is a business that almost ran out of cash a few months ago. I can't tell you what AMC shares are valued at relative to earnings because analysts don't project any. But AMC's market value is now $23 billion — double the entire domestic box office in a normal year for moviegoing. 
Aron has said that AMC was the most profitable theater operator in the world before the virus, though that's a tad misleading. The company is known to have relied on heavily adjusted metrics, with Aron even introducing what he called "adjusted free cash flow" in 2019. AMC suffered a net loss that year as interest expense on its debt continued to exceed what the operations earned.
The company has more than $5 billion in debt and $5 billion in operating lease liabilities. Much of that comes from an aggressive growth strategy that began when Aron took the helm in 2016, buying AMC's U.S. rival Carmike Cinemas and European chains Odeon & UCI and Nordic Cinemas. He also directed a mass renovation initiative across the theater circuit while simultaneously undertaking buybacks and a special dividend. Capital expenditures ballooned, debt ballooned and between 2016 and 2019, AMC's stock slumped 70%. And that, of course, was all before Covid. 
The return to pre-pandemic normal doesn't mean new riches for this industry, at least in the U.S. market. Attendance had been in a slow and steady decline for years, forcing companies like AMC to raise ticket prices, offer more enticing food and drink options and push loyalty programs. Aron, who said he was an inventor of frequent-flier programs, immediately got to work on enhancing AMC's Stubs rewards club when he joined the company. But he has to contend with Hollywood behemoths such as Walt Disney Co., which is such a power in the industry that it can almost singlehandedly determine AMC's fate. Its Marvel and Star Wars blockbusters are cinemas' main draw these days. At the same time, Disney is plowing its financial and creative resources into Disney+. It would be silly to think this won't affect on its box-office plans.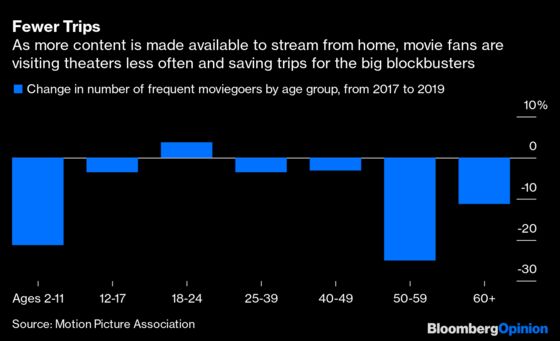 The average price of a movie ticket in the U.S. is now about $10 — the same price as HBO Max's new monthly streaming plan introduced this week. And for $5 more, HBO Max subscribers can get all new Warner Bros. features the same day they hit theaters. Aron likes to say that radio, TV, VCRs and DVDs all were once wrongly billed as theater killers and that streaming will be no different. But this is the first time theatrical films are being made available online on their release date and at a cheaper rate than theaters. It's not that consumers will always choose that method; it's that not enough will opt for the cinema treatment to support the industry at this size and cost. And increasingly exhibitors will be negotiating not with the generations-old studios they know so well, but with streaming and tech giants. Amazon.com Inc. acquiring MGM is only the start.
"I don't think it's a good idea to bet against movie theaters. I certainly don't think it's a good idea to bet against AMC. And I'd like to think it's not a good idea to bet against Adam Aron either," Aron said on a retail investor's YouTube channel in April. Maybe he's quietly devising how to modernize AMC and have it work more closely work with the companies poised to lead in streaming. But if he's just desperately raising money to keep AMC afloat so it can continue on the same path as before, he's living in the same fantasy as the meme-stock traders.
This column does not necessarily reflect the opinion of the editorial board or Bloomberg LP and its owners.
Tara Lachapelle is a Bloomberg Opinion columnist covering the business of entertainment and telecommunications, as well as broader deals. She previously wrote an M&A column for Bloomberg News.