Amazon Spends Billions on R&D. Just Don't Call It That.
(Bloomberg Opinion) -- Along with the news that founder and long-time Chief Executive Officer Jeff Bezos "will transition to the role of Executive Chair in the third quarter of 2021," Amazon.com Inc.'s fourth-quarter earnings release included the remarkable if not exactly surprising disclosure that the company had spent $42.7 billion on "technology and content" in 2020, up 19% from the year before and up 242% from just five years earlier.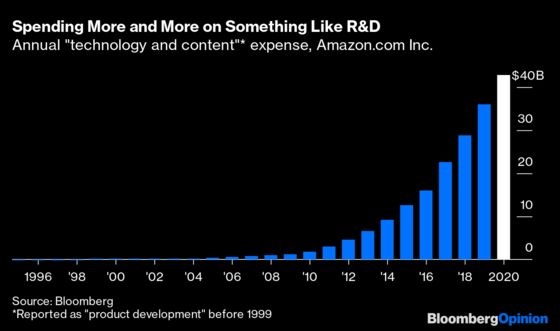 Technology and content is the line item in the company's consolidated statement of operations that encompasses research and development, and Amazon's spending on it is generally reported in the media and elsewhere as R&D. It's not the same, however, as what other companies report as R&D. In the 10-K annual report Amazon filed with the Securities and Exchange Commission last week, the company defined technology and content as:
payroll and related expenses for employees involved in the research and development of new and existing products and services, development, design, and maintenance of our stores, curation and display of products and services made available in our online stores, and infrastructure costs. Infrastructure costs include servers, networking equipment, and data center related depreciation and amortization, rent, utilities, and other expenses necessary to support AWS and other Amazon businesses.
AWS is Amazon Web Services, the company's market-leading cloud services provider, the head of which, Andrew Jassy, is slated to succeed Bezos as company CEO. AWS operating expenses, Amazon discloses elsewhere in the report, are "primarily classified" as technology and content. The other three baskets into which the company puts operating expenses are "fulfillment,"  which is where AWS payment processing and related transaction costs go, "marketing" and "general and administrative." 
AWS, which grew out of internal technology efforts to support Amazon's online retail business, had operating income of $13.5 billion (59% of the company total) on net sales of $45.4 billion in 2020. That implies $32 billion in operating expenses, some of which were what other companies would call R&D and some of which weren't, and most of which were included in the $42.7 billion technology and content total. Because I can't think of any better method I'm going to follow King Solomon's, cut the $32 billion in half and decree that $16 billion, or 37.4%, of the $42.7 billion that Amazon spent on technology and content was not R&D and $26.7 billion was.
This has the interesting result of taking Amazon's estimated R&D spending from unparalleled to neck and neck with Google parent Alphabet Inc. in the race for global No. 1. For the purposes of the following chart I have reduced Amazon's reported technology and content spending by a constant 37.4% to get an R&D estimate, which is surely wrong but what else am I supposed to do?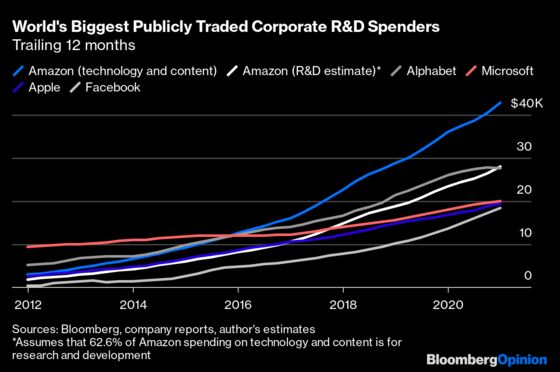 The phrase "publicly traded" is included in the above chart headline as a nod to Huawei Investment and Holding Co., the wireless-equipment giant. Huawei's shares are not traded on any exchange but it does issue audited annual reports, and the most recent said it had spent about $19 billion on R&D in 2019.
Another company that arguably belongs on the chart is Samsung Electronics Co., which as of the end of September still edged out Facebook Inc. for fifth place. Samsung's fourth-quarter R&D numbers aren't out yet, but the companies' relative spending trajectories indicate that Facebook has probably passed it since. Volkswagen AG, which had topped the R&D spending ranks for several years before Amazon arguably passed it in 2016 and Alphabet definitely did in 2017, was in seventh place at $15.5 billion through September.
Being the world's biggest corporate R&D spender is not exactly a guarantee of future success. VW is doing fine, but it doesn't seem that its R&D munificence in the early to mid-2010s catapulted it past its competitors. Before VW, Merck & Co. was No. 1 in 2010, Roche Holding AG in 2009, Nokia Oyj in 2008 and General Motors Co. in 2007, according to data compiled by Bloomberg . Those last two have of course struggled mightily since taking the R&D spending crown, with GM filing for bankruptcy in 2009 and Nokia getting out of its once-core mobile-phone business in 2013 (it still makes wireless network equipment).
The most famous corporate R&D operation of all time was AT&T Inc.'s Bell Labs, which lives on today as Nokia Bell Labs but is not what it once was. During its glory years from the mid-1930s through mid-1970s, Bell Labs was the birthplace, or at least a birthplace, of transistors, cellular telephony, solar cells and a host of crucial computing-related innovations. That AT&T did not end up dominating any of those fields can perhaps be attributed in part to the 1982 consent decree that broke it into pieces, but even before then the free-wheeling innovators of Bell Labs — aka "The Idea Factory" — were generating tons of ideas that its telco-monopoly parent wasn't best suited to take advantage of. The societal benefits were huge, the return on investment for AT&T less so.
It is Alphabet's R&D efforts, in particular the facility now known as X Development LLC, aka "the Moonshot Factory," that most often evoke comparisons to Bell Labs today. This is a mixed blessing: Alphabet's "Other Bets" segment, which includes X Development and several entities that have been spun off from it, such as self-driving-car technology provider Waymo and life-sciences company Verily, had an operating loss of $4.5 billion on revenue of $657 million in 2020. Google Cloud, a cloud-services provider that grew out of Google's technology infrastructure and competes with Amazon's AWS, had an operating loss of $5.6 billion on revenue of $13.1 billion. All of the company's $40.3 billion in net income in 2020 came from its original business of selling ads against internet searches and variants thereof, plus the YouTube video streaming business it bought in 2006. The billions of dollars Alphabet puts into its "bets" each year will surely have some payoff for the world at large, but whether Alphabet shareholders in particular will benefit remains uncertain.
At Amazon, on the other hand, AWS has gone from side bet to chief profit center. It's the kind of thing a company might trumpet as a huge R&D success, except that Amazon doesn't see things that way. "All the effort we put into technology might not matter that much if we kept technology off to the side in some sort of R&D department, but we don't take that approach" Bezos wrote in his 2010 letter to shareholders. When it went public in 1997 the company's financial reports included a line item for "product development" but not R&D. In its 1999 annual report it switched to the "technology and content" description it has used ever since.
For years, the Securities and Exchange Commission allowed this without comment. Lots of publicly traded companies don't report any R&D expense, after all. But in 2017, with Amazon's technology and content spending higher than what any other company on earth reported spending on R&D, the SEC decided the time had come to ask the company to "please disclose a break out of research and development expense by project, activity or in whatever fashion you believe will provide more transparency as to the magnitude and direction of your research and development activities."
What followed was a fascinating exchange, which I already described in some detail in a 2018 column, that consisted of Amazon saying 'no' again and again until the SEC finally gave up. R&D was defined by accounting standards-setters back in the 1970s as activities aimed at developing new products, services or processes, or making major improvements to existing ones, but not "routine or periodic alterations." Amazon executives said they couldn't separate the new and improved from the routine. "Our business model encourages the simultaneous research, design, development, and maintenance of both new and existing products and services," wrote vice president and worldwide controller Shelly Reynolds, and these "are not easily distinguishable operationally."
during the past three years we received only one question regarding research and development costs during our earnings calls. Notably, on that one occasion, the question reflected an incorrect assumption that research and development costs would trail off and eventually lead to higher operating margins.
I honestly don't know whether Amazon truly has found a new and better way to think about and organize investment in its future than the standard R&D model, or if it's just being kind of obnoxious here. But it's found a way to be probably the world's biggest corporate R&D spender without telling anybody — and possibly without even knowing — what it spends on R&D, which is an accomplishment in itself.
This column does not necessarily reflect the opinion of the editorial board or Bloomberg LP and its owners.
Justin Fox is a Bloomberg Opinion columnist covering business. He was the editorial director of Harvard Business Review and wrote for Time, Fortune and American Banker. He is the author of "The Myth of the Rational Market."