Amazon's Prime-Day Change Is a Caution Flag Amid Profit Win
(Bloomberg Opinion) -- Earlier this week, Amazon.com Inc. announced that it would pull forward a pay hike and give more than 500,000 employees an increase of 50 cents to $3 an hour. The timing of the magnanimous gesture just before a big earnings report was curious, with some saying it could be a way for the e-commerce giant to inoculate itself against criticism for another embarrassingly profitable performance. Well, they were right: Late Thursday, Amazon reported first-quarter earnings per share of $15.79, beating the $9.69 Bloomberg consensus. The company's $108.5 billion of revenue in the quarter was 44% higher than a year earlier. For the current period, Amazon projects revenue growth of 24% to 30%.
It was a strong report for sure, but the results and guidance reflect conditions that likely won't be repeated. The latest quarter's earnings were helped by the unprecedented amount of government stimulus payments made in the period. As for guidance, Amazon said in its press release that its annual deals-bonanza Prime Day is now scheduled for the current June quarter instead of the typical July timeframe. This means that without the inclusion of Prime Day, its projections would have been lower. Beyond that, though, there  is a bigger problem: second-half comparisons likely won't have this kind of extra help and so won't be as easy to beat.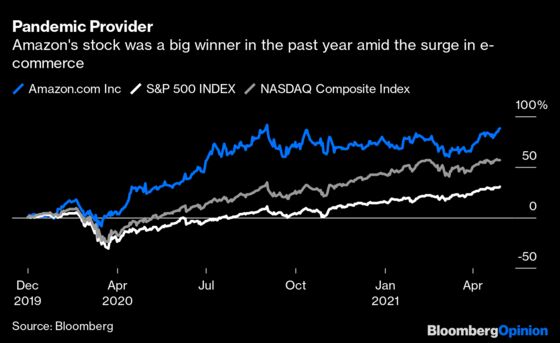 The fact is, Amazon's 2020 performance was extraordinary. It was one of the biggest beneficiaries of the shifts in consumer behavior caused by the pandemic. With many physical stores closed, shoppers increasingly bought goods online. Meanwhile, the rising demand for digital internet services — from videoconferencing software to streaming video — boosted its Amazon Web Services cloud-computing business. These trends will likely lose some steam as life returns to normal.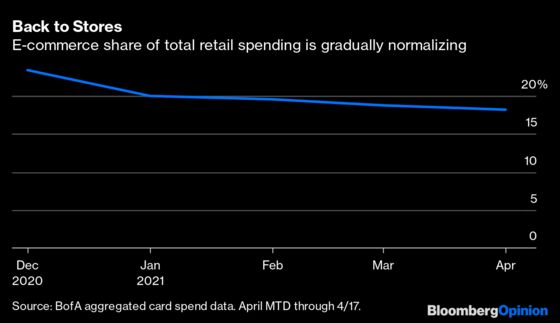 Already, there are signs that the surge in e-commerce may be decelerating. According to Bank of America credit-card data, online sales' share of retail spending has been declining since December. In addition, the bank's numbers show the category's sales growth so far in April is only up 21% compared to the prior year — significantly below the 62% growth figure in the March quarter. The slowdown may explain why Amazon decided to pull forward its Prime Day this year. 
The other big thing to watch for Amazon is regulatory developments. Governments around the world have been investigating the company's anticompetitive behavior, regarding its use of internal seller data to launch private-label products. Congress is also looking at allegations over mistreatment of its third-party partners, including forcing them to use its bundled services to get better placement on product pages. And the Biden administration is signaling it is going to take antitrust reform seriously with the nomination of Lina Khan to the Federal Trade Commission. Khan gained prominence for her seminal 2017 Yale Law Journal article titled "Amazon's Antitrust Paradox," in which she alleges Amazon abused the monopoly power of its platforms to hurt its competitors. 
Investors are cognizant of Amazon's potential pitfalls. After a stellar performance in 2020, its share price has failed to keep up with its peers or the general market so far this year. With its forward sales multiple trading at a 20% premium to its five-year historical average, there isn't much room for error either. 
Perhaps the biggest issue for the company is that sometime later this year its founder Jeff Bezos with step down from his leadership role as chief executive officer. When he announced the news 
earlier this year
, Bezos said Amazon was firing on all cylinders. But with a multitude of challenges ahead, investors may wish the storied entrepreneur remains in charge. 
This column does not necessarily reflect the opinion of the editorial board or Bloomberg LP and its owners.
Tae Kim is a Bloomberg Opinion columnist covering technology. He previously covered technology for Barron's, following an earlier career as an equity analyst.