Is Amazon's MGM Deal a Game Changer?
(Bloomberg Opinion) -- Is MGM just another Whole Foods? Amazon.com Inc.'s biggest acquisition is a lesson that the technology giant doesn't always live up to the terror — or hysteria — that its seemingly limitless ambitions tend to inspire.
Amazon is reportedly close to announcing a $9 billion takeover of MGM Holdings, the parent of the movie studio behind the James Bond franchise and the television studio that produced the "Handmaid's Tale" series for Hulu. This will add a lot of well-known titles to Amazon's Prime Video catalog and perhaps increase the app's output of new content. That, in turn, may give Prime shoppers who pay $119 a year for perks such as fast free shipping more of a reason to indulge in its streaming service. The substantial overlap in Prime members and Netflix Inc. subscribers suggests Amazon isn't cutting it for TV fans.
The deal certainly ups the ante for the TV-entertainment industry and will likely drive other studios and cable programmers into the arms of larger rivals, such as Apple Inc. and Walt Disney Co. As I wrote last week, the streaming wars are turning into the takeover wars, and no buyer causes more of a brouhaha than Amazon as it hahas all the way to the bank. Amazon's operations generated $66 billion of cash last year, eight times more than Disney's did. And so each step it takes into new territory hits like an earthquake.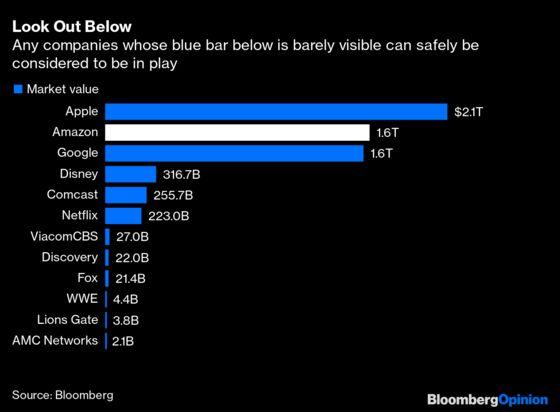 In that way, the MGM deal is reminiscent of Amazon's $13.7 billion takeover of Whole Foods Market Inc. in mid-2017, which sent the prices of grocery-affiliated stocks reeling in the days that followed. The assumption, per news articles at the time, was that the e-commerce company would crush competitors and that its deal would be a game changer for the industry. But that's not how it played out. In the four years since the deal was struck, shares of Walmart Inc. and Costco Wholesale Corp. have more than doubled in price, while Target Corp.'s 380% return actually beats Amazon's 229% gain. Only Kroger Co. has trailed the broader market, rising just 80%.
Other than cheaper avocados and similarly small discounts for Prime members, Amazon's ownership of Whole Foods hasn't brought any notable changes to the chain's strategy or competitive positioning. And it hasn't done much to integrate Whole Foods with the e-commerce site. Amazon's revenue from physical stores — which primarily represents Whole Foods — has fallen on a year-over-year basis for four consecutive quarters. Bloomberg Opinion columnist Sarah Halzack noted in October that the business has lagged behind other grocery chains during the pandemic and that it seems to have become an afterthought for Amazon and its shareholders. "On Amazon earnings calls, no one has asked a Whole Foods-focused question in more than a year," she wrote.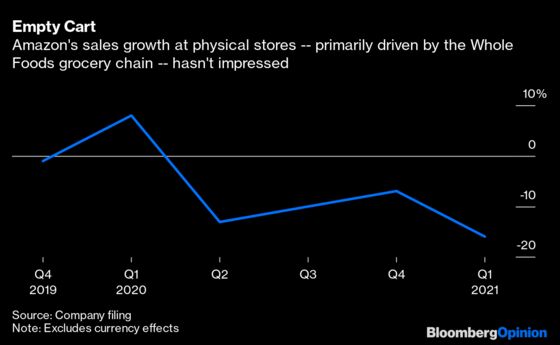 "The biggest mistake of Jeff Bezos's career was buying Whole Foods," Bill Smead, chief investment officer of Smead Capital Management, which oversees $2.7 billion, said in a phone interview last week. The deal "scared the daylights out of anybody that's got anything to do with the grocery business. But then what happened? Bezos awoke the two sleeping giants," he said, referring to Target and Walmart.
Then again, if the deal was a mistake, it's entirely undetectable in Amazon's stock price or Bezos's unmatched fortune.
It may be that buying Whole Foods allowed Amazon to study the grocery industry and informed its strategy for introducing Amazon Fresh and Amazon Go stores. Or maybe that's a generous view of a deal that didn't obviously accomplish a whole lot. Whatever the case, it hasn't been a grocery killer by any stretch of the imagination.
Smead's firm owns shares of Discovery Inc., which last week announced the streaming industry's other big merger — with HBO Max parent WarnerMedia, owned by AT&T Inc. His view is that Amazon may be making another mistake by picking a target that appeals to older generations, compared with the perhaps broader appeal of HBO's premium series and Discovery's reality-TV shows. "Millennials just eat that stuff up," Smead said, and viewership data largely support that notion. "The problem for Amazon is that when you get mixed up in Hollywood as a tech company, for the most part all you get is a divorce and a girlfriend."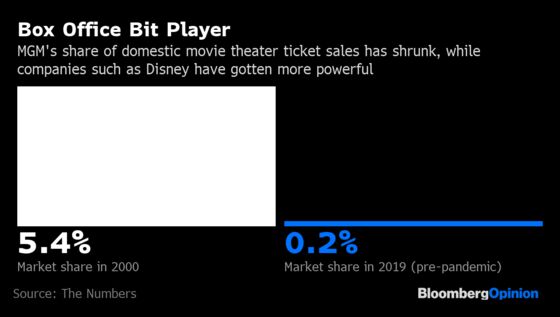 Still, there's clear logic to the transaction, and it follows Amazon Prime Video's historic $1 billion-a-year contract for the exclusive rights to the National Football League's "Thursday Night Football" games. But it also wouldn't matter if buying MGM made not an ounce of sense, which gets at the root of Big Tech's antitrust problem. Companies like Amazon can outbid virtually everyone else for any assets they want and have done so historically with regulatory impunity and without the pressure to actually make use of the assets. That said, value destruction is a common thread of megamergers in every industry. And Amazon is no AT&T, as Tim O'Brien noted last week.
This column does not necessarily reflect the opinion of the editorial board or Bloomberg LP and its owners.
Tara Lachapelle is a Bloomberg Opinion columnist covering the business of entertainment and telecommunications, as well as broader deals. She previously wrote an M&A column for Bloomberg News.