Amazon Investors Are Panicky. Stores Aren't the Answer.
(Bloomberg Opinion) -- It has been a rough few weeks for Amazon.com Inc. shareholders. Since the company's disappointing July earnings report, its share price has fallen by a double-digit percentage and its market value has dropped by a couple hundred billion dollars. Investors are worried about slowing e-commerce sales growth and profitability pressures at its key Amazon Web Services cloud-computing unit. And the benefit of the doubt that shareholders granted founder Jeff Bezos for so many years has apparently started to vanish now that he's off to other adventures.
So what is the internet giant looking to do next to get its business back on track? Expand more into physical stores. Really?
On Thursday, the Wall Street Journal reported that Amazon plans to open several brick-and-mortar retail locations similar in size to smaller-sized department stores. According to the report, the stores will be around 30,000 square feet and are expected to offer products such as apparel, electronics and consumer goods while also facilitating exchanges. It says the plans are not settled and could change.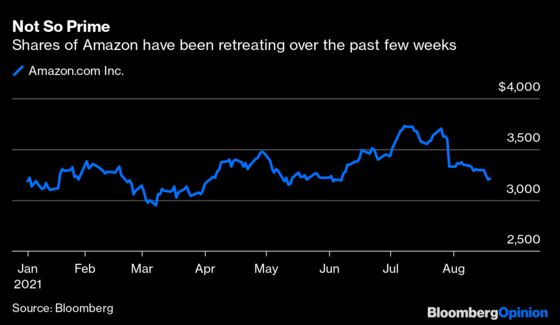 At first blush, the larger stores do make sense for certain types of items that could benefit from more touch and feel. For example, it would be easier for consumers to try on clothing for fitting purposes compared with purchasing it online. Furniture is another area where the in-person shopping experience can add value. And more distribution for Amazon's growing array of private label goods, along with its Kindle e-readers and Alexa devices, could help on the margin. Beyond that, I'm skeptical about the need for Amazon to have a larger omnichannel presence. Some say the stores may make the e-commerce return process easier. But returning orders is already extremely convenient. Any Amazon customer can just bring items to a local shipping store without even packaging it.
Physical retailing is difficult and Amazon's success in this possible venture is far from assured. In a recent interview, hedge fund manager Steve Mandel — a former prominent Wall Street retail analyst — explained the secret to merchandising success is product curation. And unlike online commerce, you can't just put everything up for sale. It requires a different level of specialized expertise.
Amazon's track record in this area has been poor. When the e-commerce giant bought Whole Foods in 2017, analysts were excited about the potential for the company to disrupt and innovate in brick-and-mortar retailing. That failed to materialize. No big changes have been made at Whole Foods, and the chain's sales have faltered. Revenue from Amazon's physical store segment — which is dominated by Whole Foods — have been down or flat each of the past two calendar years. The internet giant has also opened a number of smaller store formats such as its book stores, mall pop-up stores, convenience and grocery stores. None of them have taken off beyond a few dozen locations either.
When Amazon acquired Whole Foods four years ago, Wall Street hammered the share prices of the entire retail sector — including Costco Wholesale Corp., Walmart Inc. and Target Corp. But the stock prices all bounced back after it became clear there wasn't much of a strategy with the grocery chain purchase. Similarly, its latest foray will most likely turn out be another modest experiment rather than anything truly game-changing.
The timing couldn't be worse. Last month, Bezos stepped down as chief executive officer, so there is uncertainty about how his successor, Andy Jassy, will be able to keep the company's momentum going. And things aren't off to a good start. In its latest quarter, the company said revenue growth for the September quarter would be 10% to 16%, markedly lower than its prior quarters. The financial numbers exposed rising challenges in its two main businesses: e-commerce and cloud-computing services. Management predicted the big slowdown in online sales will last for a while after last year's pandemic boom. And for Amazon Web Services, an executive admitted the unit was experiencing pricing pressure as evidenced by the nearly 3% percentage point year-over-year drop in its operating profit margin for the business. There's no wonder investors are feeling anxious.

Another tentative foray into retailing isn't going to alleviate that. Perhaps it would be better for Amazon to focus on its core businesses or true innovation rather than another distraction.
This column does not necessarily reflect the opinion of the editorial board or Bloomberg LP and its owners.
Tae Kim is a Bloomberg Opinion columnist covering technology. He previously covered technology for Barron's, following an earlier career as an equity analyst.