Amazon and UPS Are Kingmakers in EV Bubble
(Bloomberg Opinion) -- The bubble in electric-vehicle stocks isn't all about cars. Richly valued startups such as Rivian Automotive Inc., Arrival Ltd. and Canoo Inc. are working on battery-powered delivery vans, a segment dominated until now by practical but decidedly unsexy gasoline-fueled vehicles like the Ford Transit, Ram ProMaster and Mercedes-Benz Sprinter. Electrification and the e-commerce boom have given this former sideshow a new cache, and for the upstarts, there's no faster ticket to a supersized valuation than a contract with one of the package-delivery giants. Amazon.com Inc., United Parcel Service Inc., FedEx Corp. — and even the U.S. Postal Service — are the automotive kingmakers now.
It's easy to see why logistics has emerged as a key automotive battleground and why investors are waking up to its attractions: Delivery trucks cover relatively predictable and similar distances each day, make frequent stops and return each night to a depot, qualities that make them ideally suited for the capabilities of current generation battery technology. There's growing demand, too: The top U.S. delivery companies handled a record 3 billion-plus parcels between them during the most recent peak holiday season, according to shipping-data analytics company ShipMatrix. And with an eye toward potential windfalls in maintenance and operating savings as well as a need to reduce carbon emisions, the big players in logistics are willing to spend on electrification in a way that consumers haven't yet. 
No clear leader has emerged. Leading commercial van manufacturers such as Ford Motor Co., Stellantis NV (the new name for Fiat Chrysler and Peugeot) and Mercedes-Benz were initially slow to develop electric options. Frustrated by the lack of available opportunities, Deutsche Post AG even ventured to build its own electric last-mile delivery van; the loss-making StreetScooter subsidiary is now being wound down. The newer entrants have generated plenty of buzz but have little in the way of revenue or actual cars on the road to show for it just yet. Meeting the delivery industry's demanding reliability and performance standards won't be smooth sailing, and many programs are running behind schedule. And the incumbents like Ford have now upped their game and won't be easily shoved aside. 
Investors don't appear overly concerned: Arrival, which plans to go public by merging with special purpose acquisition company CIIG Merger Corp., sports a valuation of about $17 billion, roughly a third of Ford's market capitalization. Rivian is reportedly considering a public offering as soon as this fall that would value it at more than $50 billion (the company is also building an electric pickup and sport-utility vehicle). The delivery companies themselves have invested in automotive startups directly and therefore stand to benefit financially if they pick a winner. But none of them are all-in on a single manufacturer.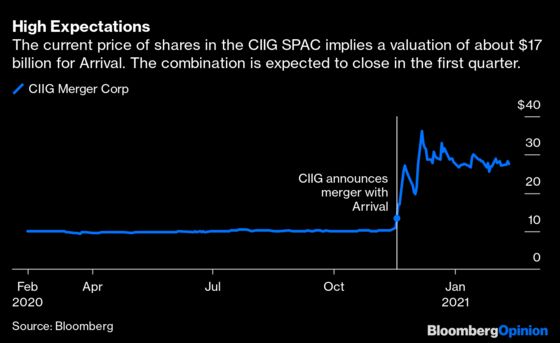 Amazon has made the biggest bet: It placed a blockbuster order for 100,000 electric vans from Rivian. Amazon is an investor in the startup, along with Ford, but the e-commerce giant has also struck a smaller electric deal with Mercedes-Benz. FedEx, meanwhile, is the launch customer for General Motors Co.'s new BrightDrop battery-powered last-mile delivery unit, part of a broader electric and autonomous driving offensive that's boosted GM's shares about 50% in the past year. FedEx has also committed to purchasing 100 electric vehicles from Chanje Energy Inc. and leasing 900 more of the startup's vans through Ryder System Inc. UPS has electric vehicle deals with Arrival, Workhorse Group Inc. and Tesla Inc.
For UPS, FedEx and Amazon, the main goal is a fleet of electric vehicles that not only works but makes their businesses better and more profitable. So the parcel carriers are spreading their bets around and using their market heft to drive the development process in a direction that best serves their unique needs. This means getting more for their money than just compliance with tailpipe emissions regulations; the shift toward electrification provides an opportunity to reassess everything about a vehicle, from its design to safety features, and to use connectivity to improve the way employees drive and maintain the vehicles. Delivery fleet operators "want a vehicle that meets regulations, but it's not why we buy it," Scott Phillippi, senior director for fleet maintenance and engineering at UPS, said in an interview. We want "a vehicle that's so technologically attractive we had to buy it."

In UPS's experience, startups are more willing to rethink what's possible than legacy automakers, which are encumbered with vast factory networks and a more diverse client base. Case in point: The 10,000 electric vans it ordered from Arrival are purpose-built to UPS's specifications, a reflection of more than five years of collaboration between the two companies. Production is set to commence in 2022. UPS also owns a stake in Arrival but hasn't disclosed the size. The company believes in Arrival's technology, but its order — equivalent to about 10% of its delivery fleet — was "also a shot across the bow," Phillippi said. "I don't think we necessarily want to be the kingmaker, but we definitely wanted to get the coronation process started. From a standpoint of who that king is going to be, I don't know."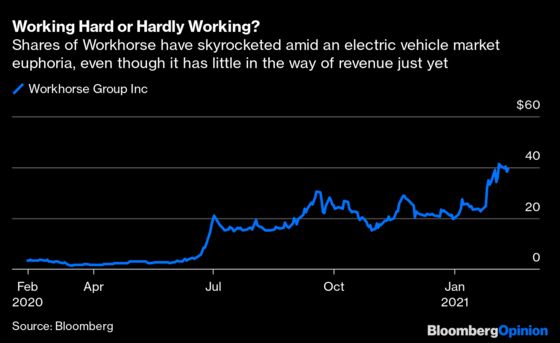 UPS also placed a 1,000 electric delivery van order in 2018 with Workhorse. Shares of that automotive startup have gained about 1,000% in the past year, resulting in a valuation of $4.4 billion. Workhorse is in the running for a U.S. Postal Service contract worth more than $6 billion, but it has only 150 employees and almost no revenue. It's also a lesson in some of the challenges new entrants face. Supply-chain snarls and Covid-19 outbreaks among employees hindered Workhorse's ability to hand over vehicles last year. 
In the end, if all goes well, the delivery giants will have plenty of options to choose from, and that works just fine for them. But for incumbents and their challengers, the commercial van market is shaping up to be quite the fight.
The e-commerce giant istestingRivian vans on routes in Los Angeles, with a plan to expand to15 more cities this year and operate a fleet of 10,000 electrical vehicles by 2022.
Those vehicles were meant to be delivered in 2020, but in an e-mailed statement, the company said it's now working out a revised timeline with Chanje due to the pandemic.
This column does not necessarily reflect the opinion of the editorial board or Bloomberg LP and its owners.
Brooke Sutherland is a Bloomberg Opinion columnist covering deals and industrial companies. She previously wrote an M&A column for Bloomberg News.
Chris Bryant is a Bloomberg Opinion columnist covering industrial companies. He previously worked for the Financial Times.