Amazon Needs Movies More Than a Multiplex
(Bloomberg Opinion) -- As Amazon.com Inc. approaches the third anniversary of its Whole Foods Market acquisition, there's speculation that the tech giant could set its sights on AMC Entertainment Inc. for its next oddball deal. But modernizing an already popular supermarket and luring shoppers with discounts on avocados isn't the same as running a movie-theater chain — that would amount to a rescue mission. If Jeff Bezos wants to deepen his Hollywood ties, why not buy a studio instead? 
Amazon is said to have studied a deal for AMC and the two sides may have held talks, according to a May 9 report in the British newspaper the Daily Mail citing unnamed sources. Deadline later contradicted the story, saying there aren't any discussions. This may turn out to be a case in which investor hope, rather than deal logic, was informing a rumor. AMC is the largest cinema operator in the U.S. and Europe, where it owns the Odeon & UCI circuit. That purchase, along with the takeover of its U.S. rival Carmike Cinemas and a costly theater renovation streak, has left AMC with a large debt burden that now threatens to topple the company as most of its cinemas remain closed due to the Covid-19 outbreak. 
The dwindling box office isn't just a temporary quarantine-related problem. A nearly doubling in the price of movie tickets over the last two decades has masked an otherwise gradual decline in patronage. After regional stay-at-home orders lift, prolonged virus fears and a continued shift toward at-home video streaming will take even more of a toll. Studios are beginning to experiment with on-demand releases that are either concurrent with theatrical debuts or skip movie houses entirely, as Universal Studios chose to do with its "Trolls World Tour" premiere last month. Though AMC does sell its own on-demand movie access through the new Theatres On Demand platform, Amazon Prime Video is already a more established destination.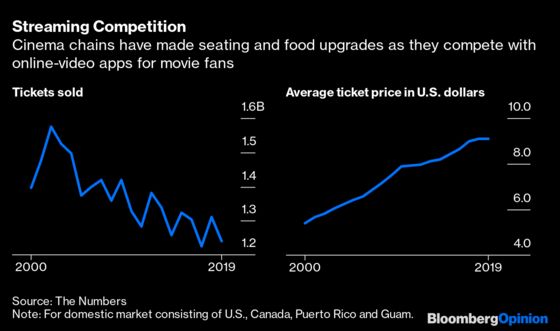 What Amazon would be buying is a heap of debt and empty auditoriums. And what in the world is Bezos going to do with 11,000 exhibition screens? If the future of entertainment is streaming content, then a company like AMC Networks — the channel known for "Breaking Bad" and "The Walking Dead" — is a much more fitting candidate than AMC theaters. But even AMC Networks, which is valued at just $1.3 billion, may still be too niche for Amazon's needs.
If Bezos truly wants to dominate in streaming entertainment, he should think about acquiring a Hollywood studio. Lions Gate Entertainment Corp., ViacomCBS Inc.'s Paramount Pictures, Sony Pictures and Metro-Goldwyn-Mayer Inc. are all options and may be willing sellers. They could help provide the must-see content that Amazon needs more of to drive interest in its Prime Video service. As of now, the "free" movies and shows available to Prime members are more of an extra feature that's nice to have, but easily forgotten about. In fact, more than three-quarters of Amazon Prime Video members still use Netflix, according to research firm MoffettNathanson LLC. The same argument can be made for Apple Inc. as it invests in the Apple TV+ service, as I wrote last year.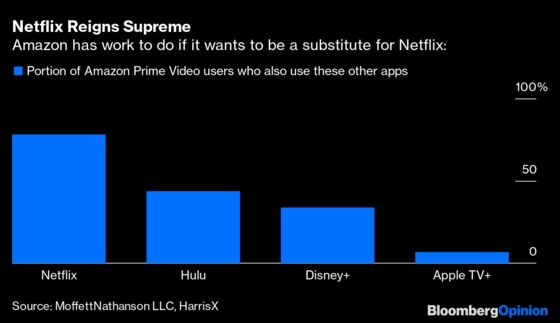 Before June 2017, no one could have predicted that Bezos, a tech mogul, would scoop up the Whole Foods grocery chain for $13.6 billion and that it would be his largest takeover ever. Even now, the affiliation with Amazon hasn't done much to change the Whole Foods shopping experience. It's possible that Bezos sees some hidden value in cinemas, but the connection is even less clear than it is with supermarkets. What's more likely is that Bezos is thinking about the future, where more is done remotely on our devices — especially TV viewing. In that case, Bezos doesn't need a whole bunch of reclining seats, he needs eyeballs and something to show them.
This column does not necessarily reflect the opinion of the editorial board or Bloomberg LP and its owners.
Tara Lachapelle is a Bloomberg Opinion columnist covering the business of entertainment and telecommunications, as well as broader deals. She previously wrote an M&A column for Bloomberg News.