Alibaba Goes Bottom Fishing But Suning Might Be a Red Herring
(Bloomberg Opinion) -- What's harder? Spotting a unicorn in a dense forest or pulling one away from the cliff? Or, in less pictorial terms, venture capital or investing in promising but distressed assets?
Alibaba Group Holding Ltd., which built a sprawling consumer tech empire through lots of equity investments, will soon find out as it increases its stake in the online retailer Suning.com Co. Ltd.
The rationale was straightforward in August 2015 when Alibaba spent 28.3 billion yuan ($4.6 billion) for a 19.99% stake in Suning.com Co. Jack Ma wanted to use the electronics retailer — which needed an infusion because of stagnant sales and thin profit margins — to beef up Alibaba's offline presence and better compete with arch rival JD.com Inc., which specialized in selling electronics.
Suning.com was a simpler company then. The Shenzhen-listed company has since evolved and expanded. In 2019, it bought 80% of supermarket operator Carrefour China and 37 outlets of Wanda Department Store, controlled by billionaire Wang Jianlin's Dalian Wanda Group Co., for 4.8 billion yuan and 2.7 billion yuan respectively. These acquisitions were paid in part by borrowing. Along with other expansions, Suning.com's net debt pile ballooned to 55.3 billion yuan as of March, from 14.6 billion yuan in 2015.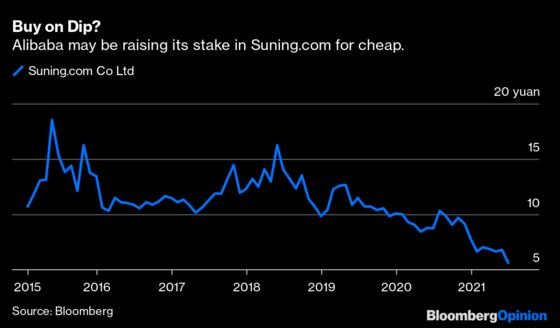 So why does Alibaba want to write big checks again? A consortium led by Ma's e-commerce giant and the provincial government of Jiangsu, where Suning is based, is nearing a deal to buy a stake in the retailer, Bloomberg News reported on Wednesday. It could be announced this week. It won't be a passive investment, either. Founder Zhang Jindong will no longer have control of Suning after this deal closes. New bosses are coming to town. 
An optimist might say Alibaba is bottom fishing as Suning.com's shares tumble with the company's problems. In June, Suning.com said a local court had frozen a stake personally owned by Zhang — leaving an apparent leadership vacuum that Alibaba may be trying to exploit. Meanwhile, Suning Appliance Group Co., another shareholder and one of Zhang's holding companies, sold some shares too, and intends to sell more. Alibaba is out to buttress its e-commerce supremacy — and getting more control of Suning.com amid its troubles may have been a no-brainer.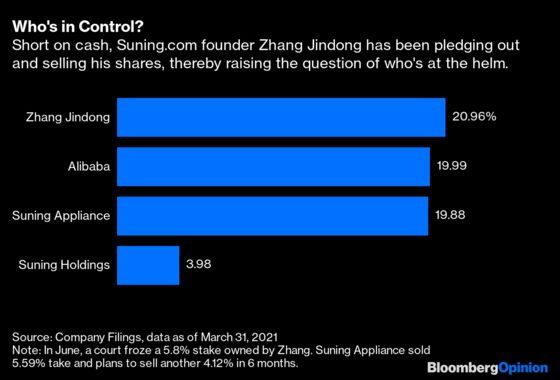 But as long-time investors in distressed assets know, things are never this simple. There's always some hidden liability with debt-laden conglomerates, which can be labyrinths of related-party transactions and local entrenched interests. And Zhang's presence may not be all that easy to erase.
Zhang held sway over Suning.com mostly in three ways. As of the end of March, he personally held just over 20%. About another 20% was held by Suning Appliance Group, which Zhang half-owns. Finally, Suning Holdings Group Co., solely owned by Zhang and his son Zhang Kangyang, owned 3.98%. This is the holding company that in 2016 grabbed headlines for buying a controlling stake in soccer club Inter Milan for 270 million euros ($320 million). It also controls a streaming service that saw a lucrative broadcasting contract cancelled last fall after failure to pay an installment for the 2019-20 season. 
Even if the consortium bought out all of Zhang's stakes, Suning.com may still have to deal with the family. According to Caixin, an influencial source of  online financial news, the retailer's most valuable segments are its logistics and financing operations. But Suning Financial Services Shanghai Co., which does micro-financing and factoring, is only 41.15% owned by Suning.com. Profits from that unit will have to be shared with the Zhang family's Suning Holdings. 
And that's just one troublesome detail. A bigger problem with this bailout is that Suning.com is the only segment in a sprawling empire that has some visibility — mostly because it's a publicly-listed entity. The rest of the apparently family-run conglomerate is opaque: Most of its borrowings came from private investors, which means there's not much public disclosure. There is a reason bond traders do not like conglomerates.
By comparison, unicorn start-ups are much easier to understand. At worst, they make outlandish growth projections, which experienced venture capitalists like Alibaba can easily spot. 
But maybe Alibaba knows to be cautious about distressed assets. Perhaps that's why it has the Jiangsu provincial government along as a partner. Together, they can exert control. No one wants to be alone holding the bag if things goes wrong.  
This column does not necessarily reflect the opinion of the editorial board or Bloomberg LP and its owners.
Shuli Ren is a Bloomberg Opinion columnist covering Asian markets. She previously wrote on markets for Barron's, following a career as an investment banker, and is a CFA charterholder.