Summer Vacation In Greece? It's Not Impossible
(Bloomberg Opinion) -- We're all going on a summer holiday this year. Well, we're hoping.
U.K. Prime Minister Boris Johnson's Monday announcement that international travel may restart as soon as May 17 prompted a surge in bookings at TUI AG, the world's biggest package holiday company, and budget airline EasyJet Plc.
But the government's rules were only one obstacle keeping Brits from their favorite vacation spots. European countries are still discouraging or restricting foreign travelers. It's far from clear when they'll fully open their borders to holidaymakers again.
Right now, Brits are betting they will be welcomed back in time for summer. TUI said U.K. bookings were up 500% after the prime minister spoke compared with a week ago. Greece, Turkey and the Balearic Islands were the most popular destinations.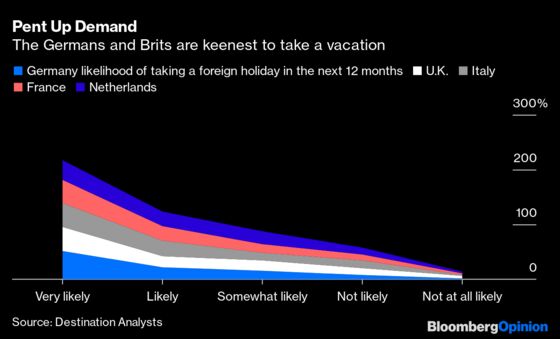 The upswing underlines just how much pent-up demand there is for a week or two in the sun. There was a similar rush to get away when European travel briefly opened up last summer. And if you look at the U.S., which hasn't endured the same kind of second wave lockdowns, leisure travel to warm spots like Miami has held steady.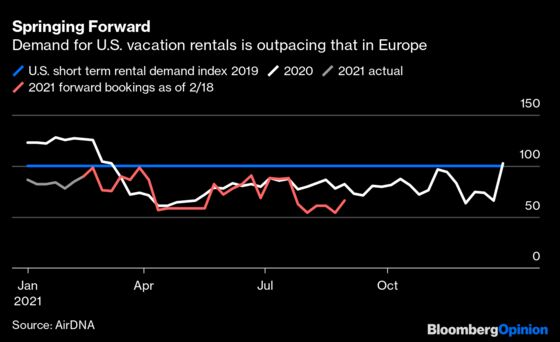 Now a proper holiday is even higher up on Brits' priorities lists. Add in the fact that remote workers have amassed considerable savings since last March, and it's no wonder that demand is looking stronger for luxury hotels and all-inclusive resorts in sunny locations. Indeed, if travel does open up this summer, upscale hotels with the most exposure to international tourists will benefit tremendously.
Brits also seem to be looking abroad because of the limited supply of holiday cottages and hotel capacity at home. The price of some staycations at domestic resorts has skyrocketed. Richard Clarke, analyst at Bernstein, estimates there may be a supply of 31-44 million rooms available at U.K. hotels and private rentals this August, while demand could be up to 57 million the same month. There could also be shortfalls in other big markets where people usually holiday abroad in the summer, such as Germany and Scandinavia.
Although travelers may be keen to get away, they'll need resorts to open their doors to them. That's not looking too likely on the continent right now. Restrictions are still in place in Germany and France, where the coastal cities of Cannes and Nice are under a strict lockdown, with beaches closed, for the next two weekends. The vaccine rollout has been much slower in Europe than in the U.K. too, and opposition may be particularly strong toward holidaying Brits, given concerns about the Kent strain of the virus. 
But caution may be outweighed by economic need. Countries such as Greece, Turkey, Portugal and Spain rely heavily on international tourism and have an incentive to open their borders to travelers and keep them out of quarantine.
Greece, for example, is pushing for vaccination passports to kickstart its crucial summer season. It has already struck a deal with Israel allowing people to move freely between the two countries once travel restarts. Greek tourism minister Harry Theoharis told Bloomberg News on Tuesday that this could act as a template for other accords. The country is also in talks with the U.S., UK. and Russia.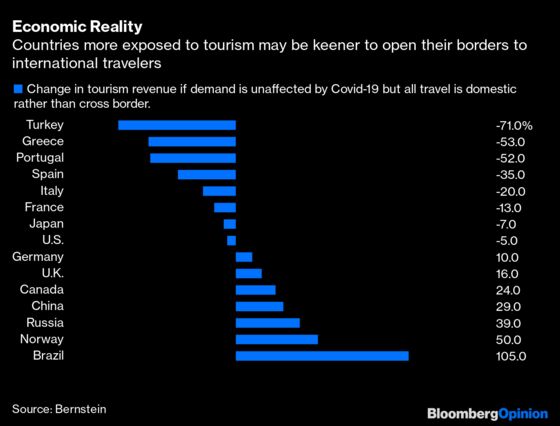 Although there are moral considerations to taking this approach, Brits could be in luck if it becomes adopted by other holiday hotspots. Boris Johnson also said on Monday that he aimed for all adults to be offered a vaccination by the end of July. The bookings coming in to TUI and EasyJet this week have been for July onwards. 
The two companies must also be relieved by the news: The U.K. is their biggest market. TUI, for whom Germany comes in second, is currently burdened by 7.2 billion euros ($8.8 billion) of net debt including lease liabilities after three bail-outs from the German government. It needs travel to resume and cash to come in, as do the broader airline and hotel sectors which have been decimated by the pandemic. 
There is a lot more riding on tourism this summer than fun in the sun. 
This column does not necessarily reflect the opinion of the editorial board or Bloomberg LP and its owners.
Andrea Felsted is a Bloomberg Opinion columnist covering the consumer and retail industries. She previously worked at the Financial Times.