It's Tesco's Chance to Turn the Screw on Private Equity
(Bloomberg Opinion) -- It's time for Britain's largest retailer to start the mother of all price wars. Tesco Plc has the perfect opportunity to slash prices on everything from milk to mushrooms — and lure customers away from competitors.
With one big rival, Asda Group Ltd, in private equity hands, and a second, Wm Morrison Supermarkets Plc, potentially following suit, Tesco Chief Executive Officer Ken Murphy suddenly has more freedom to take risks and craft a bold new strategy. 
By lowering costs for consumers, he can put pressure on debt-laden private equity-owned grocers, which can't cut prices as easily, as well as listed rival J Sainsbury Plc, which historically had the weakest finances in the sector, although it's now making strides to bolster its balance sheet.
Tesco has managed to weather the greatest crisis in its more than 100 year history — a 250 million-pound ($345 million) profit overstatement that it announced in Sept. 2014. Total debt, including store leases and the pension deficit, ballooned to 22 billion pounds by Feb. 2015. Six years later, as of Feb. 2021, this had fallen to 13 billion pounds. 
The supermarket is also raking in cash. Even in the pandemic year, it generated 1.2 billion pounds of retail cash flow.
Tesco could easily use some that to cut prices. Former CEO Dave Lewis (belatedly) made the company more competitive by introducing a series of cheaper brands and matching German discounter Aldi on hundreds of products in March 2020. These moves have helped lift sales.
But the relatively new Murphy should go further. After all, Tesco is still the U.K.'s biggest supermarket, with a 27% market share. That should allow it to get the best deals from suppliers and generate economies of scale. He's already proven capable of using Tesco's considerable clout to his advantage: In December, the company said it would repay 585 million pounds of business rates relief. By forgoing the tax break, it forced the rest of the big four U.K. grocers — Asda, Sainsbury and Morrison — to fall in line behind it.
Murphy is well poised now to repeat the trick and take a broad ax to prices — beyond the Aldi price match and targeted promotions for members of its Clubcard loyalty program. With billions of pounds worth of borrowings that need to be repaid to make their required returns, private equity-owned rivals may have less financial firepower to make similar cuts.  
What's more, Asda CEO Roger Burnley will leave next year, and the group is currently searching for a successor. The incoming CEO will need time to develop his or her strategy, potentially making it slower to respond.
To be sure, starting a price war carries risks.  
The big four supermarkets aren't just fighting amongst themselves anymore. Aldi and Lidl now have a combined market share equivalent to that of Asda. Both have a strategy to not get beaten on price. Where Tesco goes, they may well follow.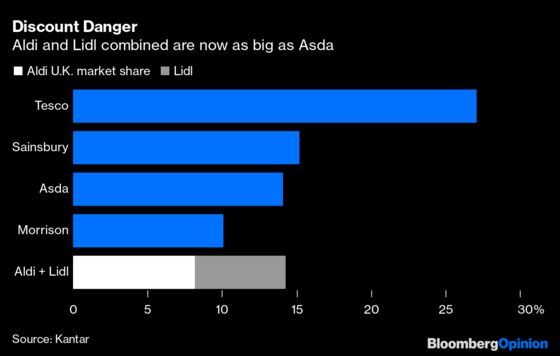 It's also possible that away from the glare of quarterly reporting, and without the requirement to pay dividends to shareholders, Asda (previously owned 100% by Walmart Inc.) and Morrison could dedicate more resources to offering discounts. Morrison, for example, has paid out and declared dividends worth more than 1.8 billion pounds since 2015, so it's pretty cash generative too.
But even the most patient private equity owners will have to make a return on their investment sooner or later. If Tesco can outlast the competition with a price assault, it should emerge with a greater market share. Although this may be costly at first, the effort could help it return to its old virtuous circle of leveraging size to generate savings and reinvesting those into lower prices.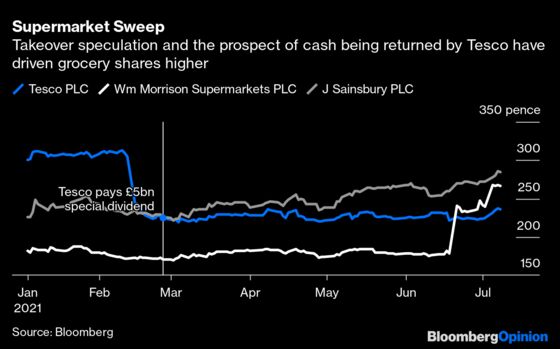 Of course, Tesco's own shareholders may have other ideas for how to use that cash. In February the supermarket paid out a 5 billion-pound special dividend from the sale of its operations in Thailand and Malaysia. Investors could be tantalized by more cash being returned to them rather than to consumers in the form of better bargains.
Consequently, they might prefer Tesco to sit back and wait for private equity's pickings. Morrison could cede market share if it becomes distracted by its potential takeover. And Asda has a management change to contend with. 
But considering this is the biggest-ever overhaul in British supermarket ownership, the market leader should go on the offensive.
When former Tesco CEO Philip Clarke succeeded longstanding leader Terry Leahy in 2011, he had the opportunity to cut prices in order to hamstring Sainsbury and stop Aldi and Lidl in their tracks. He didn't take it. Ten years later, both traditional grocers and cheaper upstarts are flourishing. Murphy shouldn't make the same mistake.
This column does not necessarily reflect the opinion of the editorial board or Bloomberg LP and its owners.
Andrea Felsted is a Bloomberg Opinion columnist covering the consumer and retail industries. She previously worked at the Financial Times.