It's Time for Walgreens to Let Its $7 Billion Boots Walk
(Bloomberg Opinion) -- Stefano Pessina, executive chairman of Walgreens Boots Alliance, Inc., is the ultimate dealmaker. He's currently exploring the prospect of offloading the historic Boots business, which would enable the drugstore giant to concentrate on U.S. healthcare. But a disposal won't be straightforward. Pessina will need all of his skills to achieve a decent price for it.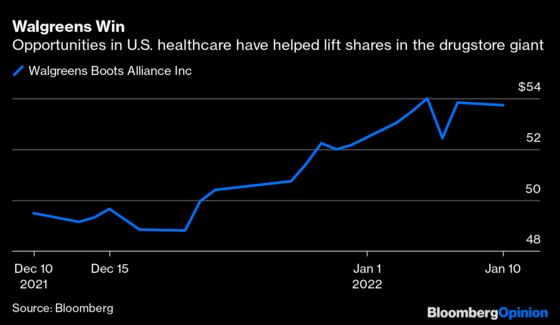 While U.K. retail has been in predators' sights over the past year, Boots lacks the extensive real estate that attracted private equity to grocer Wm Morrison Supermarkets Ltd. The majority of its 2,300 stores are leasehold. The business has also been in decline, as shopping shifted online and as A.S. Watson Holdings Ltd steered rival Superdrug into beauty and services. 
The pandemic hit particularly hard: Boots made a pre-tax loss of 287 million pounds ($390 million) in the year to August 2020, compared with a 217 million pound profit in 2019. 
So how much would Boots be worth? Assuming 600-700 million pounds of earnings before interest, tax depreciation and amortization in a normal year, and applying Tesco Plc's forward multiple of 7.4 times Ebitda (it's also a defensive brick-and-mortar retailer), that could mean an enterprise value of about 5 billion pounds ($6.8 billion) for Boots' U.K. business. But it also has operations in Ireland, Norway, the Netherlands and Thailand, as well as an optician business and a suite of private-label beauty and personal-care brands. So, depending on what is included, the valuation could be nearer to 7 billion pounds.
That's a big bite for any potential buyer. Plus, Boots will need significant investment to revive its performance. 
But there are attractions. For a food retailer, the opportunity would be to close Boots stores and bring their pharmacies into existing supermarkets. This would slash costs and fill vacant space. It's the strategy that J Sainsbury Plc pursued though its successful acquisition of Argos six years ago. An enlarged grocer would also gain more clout with manufacturers such as Unilever Plc and may be able to grab a bigger chunk of the more-profitable beauty market.  
Tesco Chief Executive Officer Ken Murphy and his counterpart at Sainsbury, Simon Roberts, were at Walgreens earlier in their careers, so they know the business well.
There could be antitrust issues, though, as Boots has big market shares in some categories. While combining a non-food retailer with a grocer might not cause as much concern as putting two big supermarkets together, it would take a brave CEO to try. The U.K. competition authorities blocked the merger of Sainsbury and Asda Group Ltd three years ago.
So private equity may be the more likely buyer. Bain Capital and CVC Capital Partners are assembling  a joint bid for Boots, Sky News reported on Tuesday. Dominic Murphy, one of the architects of Pessina and KKR & Co Inc.'s buyout of Alliance Boots in 2007, is now at CVC. Meanwhile, Fortress Investment Group LLC and Apollo Global Management Inc. lost out on earlier supermarket deals, so may be looking for a new target.
Freed from Walgreens, Boots should benefit from no longer having to fight for resources with the bigger U.S. operation. A new owner could close sites, move away from the glare of quarterly earnings and invest in what is left. Already, Boots has installed around 100 new beauty halls and offers over 100 health-care services in shops or online, such as acne treatment, period pain relief and mental health support. Amid economies reopening, this is paying off: Boots same-store retail sales rose 16.3% in the three months to Nov. 30. Pharmacy sales rose 8.8%.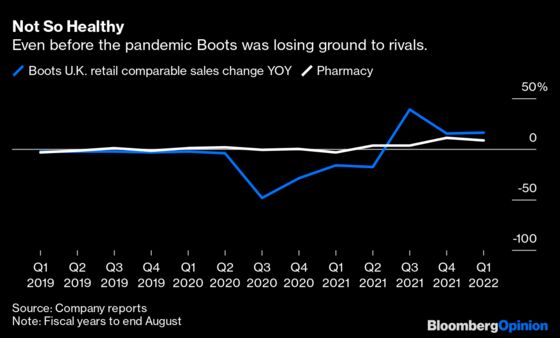 There's more opportunity on these fronts, too. Debenhams, a big player in fragrance and cosmetics, closed its high street department stores last year. There is also scope to expand Boots' own brands. Walgreens is aiming to generate $1 billion of sales from the likes of No 7 and Soap & Glory by 2023. And the pandemic has highlighted further services, from Covid testing to vaccinations, that Boots could provide. 
If a private-equity owner could achieve a complete overhaul, lifting sales and expanding Boots' already decent margins, it could then bring the business back to the public markets.
Such a transformation won't be cheap or easy, of course. But Walgreens could keep a minority stake in the business, a model adopted by Walmart Inc. when it offloaded Asda in 2020. This would reduce the price tag and maintain scale with suppliers. 
Pessina is known for playing the long-game, waiting for exactly the right moment to move. Given the complications around a sale of Boots, he'll want to unwind his empire as carefully as he built it.
More From Bloomberg Opinion: 
This column does not necessarily reflect the opinion of the editorial board or Bloomberg LP and its owners.
Andrea Felsted is a Bloomberg Opinion columnist covering the consumer and retail industries. She previously worked at the Financial Times.