Brexit Boosted One U.K. Export: Millionaire British Bankers
(Bloomberg Opinion) -- One of the biggest economic fears around Brexit was that it would curtail U.K. exports to its main trading partner. Indeed, British sales of dairy products such as milk and cheese to the continent plunged by more than 90% in the first quarter from a year earlier, as the increased costs and complexity of doing cross-border business started to bite.
But there's one valuable commodity where Britain's decision to leave the trading bloc has boosted U.K. exports: those of high-earning bankers. This is one outflow that the country can ill afford, given the nation's dependence on the finance industry for almost 7% of total economic output.
Figures just released by the European Banking Authority show that the number of U.K. bankers earning 1 million euros ($1.2 million) or more a year shrank in 2019 as the nation prepared to exit the EU after the 2016 referendum on Brexit. Correspondingly, the populations of well-paid financiers in Italy, Germany and France all increased.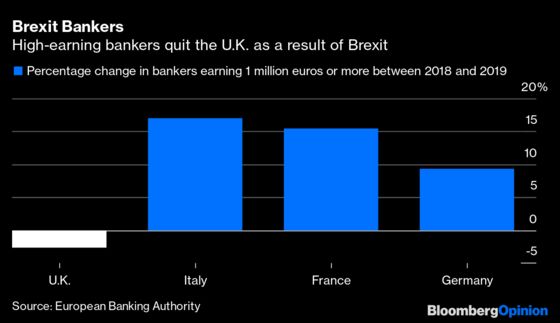 The EBA cited "the relocation of staff from the U.K. to the EU27 as part of Brexit preparations" as the key reason for the shift in fortunes, with Frankfurt, Paris and Milan gaining at the expense of London.
The U.K. remains the dominant home of well-heeled bankers, accounting for 71% of Europe's total in that upper earnings bracket. Even with their ranks shrinking to 3,519 high earners from 3,614 in 2018, Britain's dealmaking millionaires still far outnumbered the other three leading European nations combined, with Germany hosting 492, France boasting 270 and Italy home to 241 high earners. But the trend remains worrying for the City of London.
Despite all the talk of investment banking's glory days being over, the industry still mints a lot of millionaires. Almost 5,000 bank employees across the U.K. and Europe cleared the million-euro hurdle in 2019, an increase of 45% in the previous 10 years. Improved earnings across the finance industry, as well as increased severance pay as banks restructured, contributed to the overall increase, the EBA said.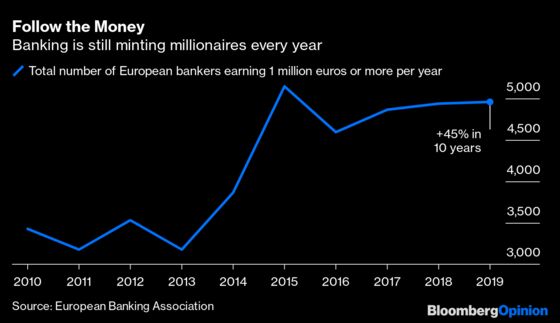 So the flight of highly remunerated financiers to the relative safety of non-U.K. financial centers will probably continue. But while next year's figures will reflect any increase in million-earners in Frankfurt or Paris, they won't capture any further diminution in London. The EBA says it won't be publishing the relevant data for the U.K. — it's yet another victim of Brexit.
This column does not necessarily reflect the opinion of the editorial board or Bloomberg LP and its owners.
Mark Gilbert is a Bloomberg Opinion columnist covering asset management. He previously was the London bureau chief for Bloomberg News. He is also the author of "Complicit: How Greed and Collusion Made the Credit Crisis Unstoppable."