Did You Buy Your Dog a Christmas Present? Join the Club
(Bloomberg Opinion) -- Santa Paws is coming to town.
Amid supply chain issues and fears that consumer confidence will crack under the weight of inflation, there is one segment expected to hold up this holiday season: gifts for our pets.
British retailer Pets at Home Group Plc has a range of about 300 presents for dogs, cats and small animals — about the same as in 2020 — but it has bought stock in greater quantities than ever before, in anticipation of more people spoiling their furry friends. After enjoying a surge in festive sales last year, German online pet product retailer Zooplus AG has added more than 100 Christmas items. In the U.S., Chewy Inc. has expanded its holiday range including its selection of personalized presents and a tie-up with the Walt Disney Company for character-themed gifts.
And it's not just pet stores betting big on bulldogs and British shorthair cats. Walmart Inc., the world's biggest retailer, is stocking hundreds more pet gifts this holiday season, while Target Corp. and Nordstrom Inc. also hope to attract indulgent owners. British high street stalwart Marks & Spencer Group Plc is carrying almost 50% more pet gifts this year.
According to the American Pet Products Association, some 51% of the U.S. pet owners it surveyed said they bought a holiday gift for their animal in 2020, up from 47% in 2019. Some 56% plan to do so this year.
Pet presents might sound like a frivolity. But there are sound reasons for retailers and manufacturers wanting a slice of this market.
Demand for animal companions spiked during lockdowns. Spending soared. Americans shelled out more than $100 billion on their pets for the first time ever in 2020, according the APPA. That included expenses for medical care, food, services and the costs of the animals themselves. This year spending is expected to reach at least about $110 billion. The pet care market is also growing in Europe and Asia, according to GlobalData.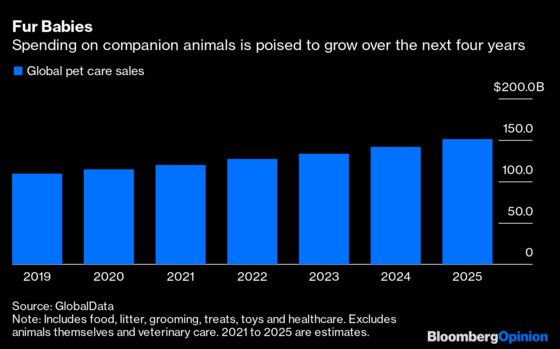 Peter Pritchard, outgoing chief executive officer of Pets at Home, has likened the influx of new dogs and cats to a "baby boom." Hence the company is selling dog toys with "My First Christmas" emblazoned on them.
But it is not just the volume of animals that is driving demand. Pets are seen as part of the family, and there is a desire to treat them like people. Owners are even looking for more upmarket ways to spoil their animals — whether that means buying them an advent calendar — a big trend in the market for gifts for humans — or taking them to the doggy day spa for a pre-holiday makeover. Pets at Home has already sold more than 70,000 advent calendars for dogs. 
Given the support that many animals provided in the pandemic, it's natural for owners to want to pamper their pets. With concerns over levels of obesity, many don't want to do that with food. Instead, they opt for treats and toys, where sales have been outstripping those of necessities.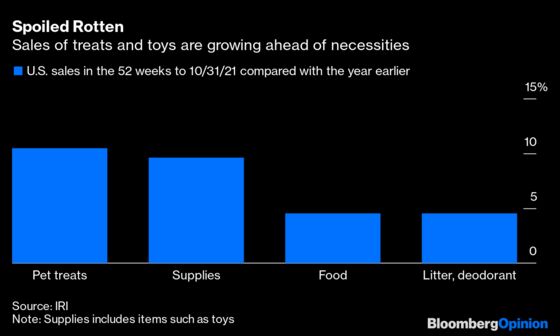 Another reason why retailers and consumer goods companies are so keen on the pets market is because it's younger, more affluent customers who tend to spend most. Marks & Spencer has found that a quarter of the transactions that included a pet product also contained womenswear, a division it is trying to revive.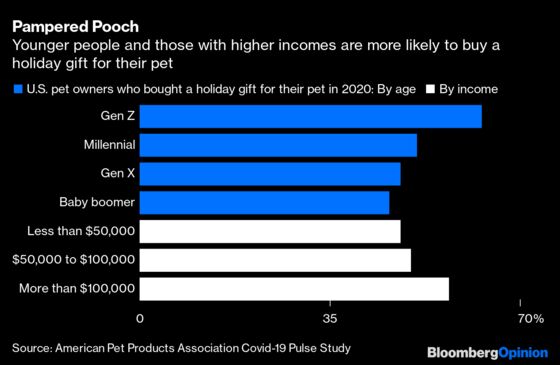 But Christmas is not all good news for companion creatures. Charities have long warned of the dangers of buying live animals as gifts. Nestle SA's Purina business emphasizes the hazards to pets from festive food, flowers and decorations. Pets at Home has made all of its outfits non-flammable.
Demand for bringing home new pets has slowed this year, according to Pets4Homes, an online platform responsible for the purchase or adoption of at least one in three puppies in the U.K. The number of buyers per advertised pet has fallen from a peak of about 400 in April 2020 to about 125 today. That could mean a smaller supply of fur babies to be spoiled in future holiday seasons.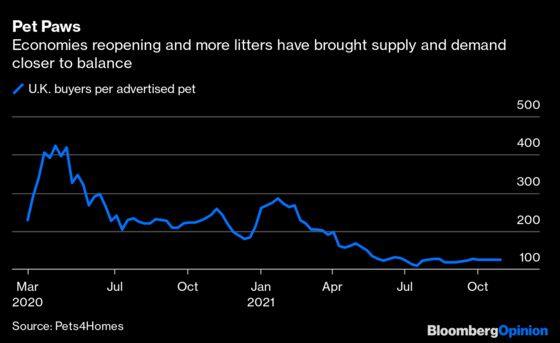 There's also a danger that as economies reopen, looking after a pet becomes more of a burden. Rising prices, putting pressure on household incomes, are another issue to contend with. That could lead to more animals being abandoned. Although some individual shelters have been overwhelmed, this hasn't happened to a large extent yet. Supply and demand normalizing at Pets4Homes has been caused by breeders supplying extra litters rather than animals being given up.
Thankfully, for most pets this holiday season, the best present will be a squeaky sprout toy or snazzy Santa outfit, not a new home.
This column does not necessarily reflect the opinion of the editorial board or Bloomberg LP and its owners.
Andrea Felsted is a Bloomberg Opinion columnist covering the consumer and retail industries. She previously worked at the Financial Times.