A Tiger Cub's $20 Billion Margin Call Means More Hedge Fund Pain Ahead
(Bloomberg Opinion) -- What do U.S. media company ViacomCBS Inc. and Chinese after-school education provider GSX Techedu Inc. have in common? Not much, other than that they were part of a massive $20 billion selling spree by Goldman Sachs Group Inc. and Morgan Stanley on Friday. That "unprecedented" block trade — as one portfolio manager described it — prompted talk that a hedge fund or a family office was in trouble and forced to sell. And that the selling may not be over.
Fingers pointed to Bill Hwang, a protege of Julian Robertson's Tiger Management, a seminal hedge fund at the end of the 20th century. He was one of the so-called Tiger cubs: With just $23 million in seed money from his mentor, Hwang and his long-short hedge fund Tiger Asia Management ended 2007 with almost $8 billion and an annualized return of over 40%. 
Hwang couldn't be reached for comment, but the liquidated positions fit his investment profile. More importantly, the exposure of many hedge funds to the same companies may mean there is more pain ahead.
The tiger cub cut his teeth by investing in East Asian companies with emphasis in growth sectors such as technology and media. Many of the positions sold off on Friday, including $6.6 billion worth of shares of New York-listed Baidu Inc., Tencent Music Entertainment Group and Vipshop Holdings Ltd., are China-based. 
The Friday sales would not be the first time Hwang was caught in a massive margin call. In late 2008, the Wall Street Journal said Tiger Asia suffered losses from shorting Volkswagen AG, a trade popular with hedge funds such as David Einhorn's Greenlight Capital and Steven Cohen's SAC Capital. Shares of the German auto maker soared 82% in one day after Porsche Automobil Holding SE said it had boosted its Volkswagen stakes. That created a powerful short squeeze and brutal pain for the hedge funds. Hwang's Tiger Asia finished down 23% in 2008. 
A market optimist might brush off Friday's massive liquidation as a one-off event — a huge stumble by a fabled player now in decline. But this is no time to be optimistic. Hwang is representative of, not distinct from, the rest of the hedge fund crowd. His bets are also their bets. He may have gotten margin calls faster because he was more leveraged. But his positioning is by no means unique — and that commonality is where trouble may lie. 
Take the trades involved. Media companies such as ViacomCBS and Discovery have net exposures that are the "highest level we have seen since 2016," according to a recent note from the prime brokerage unit at Morgan Stanley, which, alongside Goldman, managed some of the block trades on Friday. Last week, when ViacomCBS was using the steep run-up in its stock to sell new shares and bolster its balance sheet, the pressure on leveraged hedge funds must have been intense.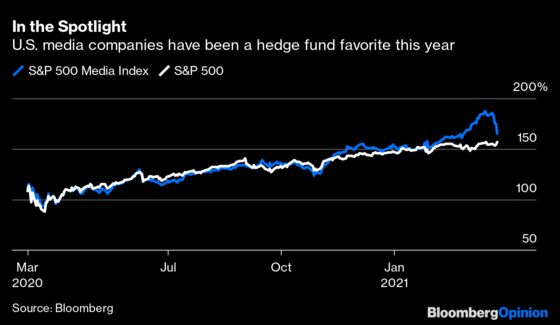 Similarly, U.S.-listed Chinese internet companies were also a favorite playground for hedge funds. But as the U.S. economy bounces back, all the hot money that flooded to Chinese equities last year is receding fast. Investors are once again worried about delisting and corporate governance risks. As a result, hedge funds that got short squeezed in January during the GameStop frenzy are making a comeback. GSX Techedu— alleged by Muddy Waters Research last May of faking up to 80% of its sales — started to see its shares tumble in mid-March. This time, Hwang got caught on the long side. 
Long-short hedge funds are having a tough month. As of March 23, on average, U.S.-based funds were down 1.2% as the S&P 500 Index gained 2.7%, data compiled by Morgan Stanley's prime brokerage show. Dismal performance among the most crowded long positions contributed to their losses. U.S.-based long-short hedge funds are still 201% leveraged, only 9% lower than January's decade-high.  

It's all part of the very bad first quarter for hedge funds. In January, retail investors staged a powerful squeeze on the pros who shorted the likes of GameStop Corp. and AMC Entertainment Holdings Inc. In March, a fast rotation to value stocks is striking another sharp blow — perhaps even injuring a Tiger cub. In either case, the ultimate culprits are crowded trades, be they in short or long positions. Friday's margin call was not an isolated event. More pain is in store for those who have embraced the same strategies. 
This column does not necessarily reflect the opinion of the editorial board or Bloomberg LP and its owners.
Shuli Ren is a Bloomberg Opinion columnist covering Asian markets. She previously wrote on markets for Barron's, following a career as an investment banker, and is a CFA charterholder.