K-Drama in the C-Suite as Activist Nephew Challenges CEO Uncle
(Bloomberg Opinion) -- Family feuds are a staple of the South Korean corporate landscape, often featuring colorful characters and byzantine plots that are as lurid and compelling as the country's wildly successful TV soap operas. Activist shareholders have also become an increasingly common presence on the business stage, as they try to squeeze out extra value or prevent abuses by Korea's governance-challenged family-run conglomerates, known as chaebol. It's rare, though, to see a drama that unites both these motifs in the same protagonist.
Park Chul-whan, a senior executive and the single largest shareholder of Kumho Petrochemical Co., is mounting a challenge to the board at a shareholders' meeting to be held next week. It's a battle that pits nephew against uncle. Kumho Chairman and Co-Chief Executive Officer Park Chan-koo, 72, is the younger brother of Chul-whan's late father.
The Harvard-educated 42-year-old's plan is enough to make a U.S. hedge fund investor purr: raising dividends dramatically; separating the roles of chairman and CEO; setting up compensation and internal transaction committees; and giving more prominence to environmental, social and governance issues, or ESG, among other proposals. Park Chul-whan is nominating five directors to the 10-member board, including himself.
There's irony in the fact that his proposal, presented in a slick 34-page PowerPoint, reads like a wish list for the type of changes that activist investors such as Paul Singer's Elliott Management Corp. have been pushing in South Korea for years, often with limited success. Some of the recommendations clearly have merit. In particular, Kumho Petrochemical's dividend payout ratio does look low, relative to peers and the benchmark Kospi index. Park wants the company to pay out half of its free cash flow and his motion seeks a dividend of 11,000 won ($9.73) per share of common stock, almost three times the 4,200 won management has put forward (a figure that was already increased in response to the dissident campaign).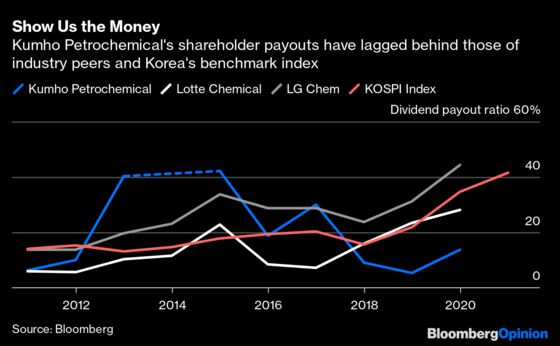 Kumho Petrochemical management has some reasonable counters. In a 37-page rebuttal dated March 9, the company points out that it has spent the past decade rebuilding its financial strength after debt and difficult market conditions brought its survival into question. (The company used to be part of the Kumho Asiana Group chaebol until being split off about a decade ago amid a post-global financial crisis liquidity crunch and — naturally  — a family dispute between Park Chan-koo and another brother.) 
The synthetic rubber maker has had a bumper year, thanks to its position as the world's biggest producer of NB latex, used in medical gloves. But who is to say how long that might last, now that vaccines are holding out the prospect of an end to the Covid pandemic? There's nothing like a near-death experience to encourage management to conserve cash.
Some of the company's other defenses are less convincing, notably its justification for buying a debt-laden condominium and golf course operator from Kumho Asiana Group. The purchase of Kumho Resort is a bone of contention for Park Chul-whan, who wants to unwind it before the deal closes. For him, Kumho Resort is emblematic of a pattern of unrelated and value-destroying investments. (Given the company's main business is petrochemicals, "business synergy or the effectiveness of portfolio diversification is expected to be limited," NICE Investors Service noted drily of the Kumho Resort purchase, in a comment highlighted in the dissident presentation.)
Park's biggest hurdle to success may be suspicion on the part of outside shareholders that the glossy corporate governance packaging is simply cover for a plain-vanilla family feud. He denies the suggestion. "This isn't a conflict between family members," Park told me in an interview last week. "This isn't a power struggle." His proposal was "reasonable and legitimate," made in good faith after long deliberation and aimed solely at enhancing long-term shareholder value, he said. 
For all that, those perusing Park's PowerPoint may feel the personal element is hard to avoid. Early on, it spends three pages on his uncle's 2014 conviction for embezzlement and breach of trust (hardly an irrelevant issue when discussing governance, to be sure). The nephew contends that Park Chan-koo is holding office illegally, after he was given a three-year prison sentence suspended for five years, upheld by Korea's Supreme Court in 2018. The uncle argues he should be allowed to serve and is challenging through the courts the Ministry of Justice's refusal to grant him approval.
The March 26 meeting may be a close-run thing. Kumho Petrochemical shares surged after the dissident made his intentions clear in late January, though have languished for the past few weeks. They remain up more than 50% in 2021, giving the company a market value of almost $6 billion.
Proxy adviser Institutional Shareholder Services Inc. declined to back the dissident program, saying that while Park Chul-whan had pointed to some obvious issues, "his proposals might be too aggressive." But on Wednesday, Glass Lewis & Co., another proxy advisory firm, came down on his side, praising what it called a "well-rounded" campaign.
Kumho Petrochemical is widely held, so everything's still in play. Park Chul-whan can certainly talk the talk of the shareholder value-focused global executive. Can he walk the walk, too? Showtime is coming.
This column does not necessarily reflect the opinion of the editorial board or Bloomberg LP and its owners.
Matthew Brooker is an editor with Bloomberg Opinion. He previously was a columnist, editor and bureau chief for Bloomberg News. Before joining Bloomberg, he worked for the South China Morning Post. He is a CFA charterholder.