Inflation This Year Will Help Tame It in 2022
(Bloomberg Opinion) -- Dallas Federal Reserve President Robert Kaplan this week became the first Fed official to say that he anticipates a rate increase in 2022. Lots of investors agree, convinced that the passage of the latest pandemic relief package and a gradual reopening of the economy will heat up inflation later this year, which is part of why longer-term interest rates have been rising.
I see it differently. It's because the rate of inflation is likely to increase this year — coupled with the Fed's focus on year-over-year changes in prices — that we'll probably see less inflation and lower odds of a rate hike next year. It's strange to say, but the most dovish scenario for the Fed in 2022 is for certain products and services to get their Covid-19-recovery price surges out of the way in 2021.
A good example of the impact of pandemic-related pricing effects can be found in the used vehicle market. Last spring as lockdowns were going into effect, factories shuttered and auto demand plunged while households sheltered in place. But then, as we saw in many industries, demand started recovering faster than production. New-vehicle inventory on auto dealer lots started to dwindle and used-vehicle prices skyrocketed.
More recently, the global shortage of semiconductors that go into automobiles has led to additional constraints on production, which has kept used-vehicle pricing strong. This can be seen in the Manheim US Used Vehicle Value index below. The used vehicle component of the consumer price index also shows strong year-over-year growth.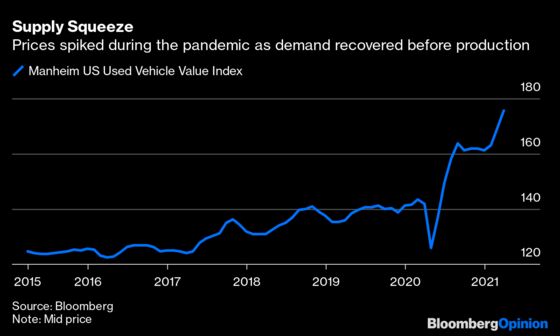 Other industries that focus on the production of physical goods have gone through a similar cycle: shutdowns last spring, and then price increases as demand recovered more quickly than output, boosted by trillions of dollars of fiscal relief passed by Congress. Lumber demand soared as households spent money on their homes or bought new ones, causing the price of lumber to nearly triple over the past year. The price of copper has nearly doubled. While companies might absorb part of those increases, some get passed on to consumers via higher prices, which then push up measures of inflation.
The same dynamic could happen in the services industry this year. Perhaps a surge in summer travel as vaccinated consumers again take to the roads and skies will mean a jump in airfare prices and lodging rates as companies seize the chance to make up for some of last year's heavy losses.
For those who hate to see high levels of inflation, the worst-case scenario for 2021 might be that it takes the whole year for producers of automobiles, new homes, lumber, copper and electronics to catch up to demand, keeping those prices elevated. And at the same time, the services industry sees its own historic price growth in response to pent-up demand and consumers flush with fiscal stimulus money.
But what we know is that the Fed will largely look past any price increases this year. Even if inflation were to accelerate enough to concern them, Chairman Jerome Powell has said that before the Fed raises rates, it would need to slow down asset purchases, and before that it would give the public plenty of notice. So there won't be a rate hike in 2021.
And that means it's inflation in 2022 that will determine whether or not we get an interest rate increase. Merely maintaining elevated 2021 prices wouldn't be enough — it would require additional price increases to reach a concerning rise in the rate inflation. But there's a reasonable chance that as auto production catches up to demand, used vehicle prices will fall. Sawmills will have time to ramp up, putting downward pressure on lumber, and so on.
Even in a scenario where 2022 economic growth remains robust, the dynamic of production catching up to consumer demand would lead to slowing price growth on a year-over-year basis — and that's true even if price increases look strong on a trailing two or three-year basis.
It might take until 2023 to get past these pandemic-related pricing math quirks, making that the year inflation could become more of an issue should vigorous expansion continue. It may depend more on how the numbers get calculated, but the cycle should keep measures of inflation in check while the Fed evaluates the state of the expansion in 2022.
This column does not necessarily reflect the opinion of the editorial board or Bloomberg LP and its owners.
Conor Sen is a Bloomberg Opinion columnist and the founder of Peachtree Creek Investments. He's been a contributor to the Atlantic and Business Insider and resides in Atlanta.