AOL and Yahoo Are Too '90s for 5G
(Bloomberg Opinion) -- As Verizon Communications Inc. seeks to unload its AOL and Yahoo business, investors may be Googling — not Yahooing, which is kind of the point — how much 5G wireless spectrum $5 billion can buy. 
On Wednesday, the Wall Street Journal and Bloomberg News reported that the wireless giant is exploring a sale of its media assets, a collection that also includes TechCrunch and other advertising-supported digital properties that went by various overarching names over the years. At one point, the division was known as Oath, a testament to the diminished value of the once high-flying AOL and Yahoo brands. Instead of the iconic "You've got mail," what Verizon wants to tell customers is, "You've got 5G."
The next generation of wireless service is a costly endeavor that the company is betting will pay off far better than buying two artifacts from the 1990s did. When Verizon scooped up AOL and Yahoo between 2015 and 2017, the combined acquisition prices came to about $9 billion. Verizon had to write down roughly half their value in late 2018 as the business lost share in the online ad market. (Meanwhile, Google parent Alphabet Inc.'s ad sales growth is accelerating.) Now, the assets may reportedly fetch $4 billion to $5 billion in a sale, with the likeliest buyers hailing from the private equity world, such as Apollo Global Management Inc. To put that in perspective, AOL and Yahoo were valued in their heyday two decades ago at more than $300 billion combined.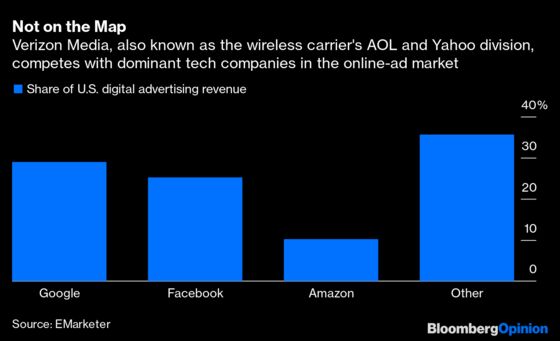 Verizon and its competitors are in a race to offer their customers faster 5G service. Unlike AT&T Inc., which made a $109 billion bet that acquiring a media company (ironically, AOL's ill-fated onetime merger partner Time Warner) and entering the streaming-TV landscape would improve its profits and industry standing, Verizon has been almost singularly focused on its network and 5G. Still, that didn't stop T-Mobile US Inc., at one time the underdog, from pulling ahead of the pack thanks to highly desirable spectrum that it gained through its takeover of Sprint Corp. last year. In contrast, Verizon had been focused on millimeter-wave spectrum, which produces the type of ultra-fast connections envisaged by 5G proponents but doesn't travel far or penetrate obstacles well, making it impractical for some uses. That left the company to play catchup. 
Verizon was notably the top bidder — spending a total of $53 billion — in the U.S. Federal Communications Commission's recent auction of airwave licenses for the so-called C-band, a form of mid-band spectrum that would help round out Verizon's set. As a result, the carrier has been on a borrowing binge, selling $25 billion of bonds in March for the largest bond sale of the year and signing a $25 billion delayed-draw term loan in February. It also sold debt in Canadian and Australian dollars and euros. 
Investors' reaction to the news of it putting the AOL and Yahoo business up for sale? Unfazed. The stock price was unchanged in after-hours trading, an anticlimactic final chapter for a former media behemoth and dot-com darling. Some might have forgotten Verizon even owned it. 
This column does not necessarily reflect the opinion of the editorial board or Bloomberg LP and its owners.
Tara Lachapelle is a Bloomberg Opinion columnist covering the business of entertainment and telecommunications, as well as broader deals. She previously wrote an M&A column for Bloomberg News.