3M Finds a Business It's Willing to Part With
(Bloomberg Opinion) -- It turns out the adhesive that is supposed to bind 3M Co.'s sprawling business model isn't that sticky after all.
The industrial giant announced on Tuesday that it was combining its food safety division with Neogen Corp. through a tax-efficient reverse Morris trust transaction. The deal values the 3M business — which sells allergen testing tools, yeast count measurers and hygiene monitoring systems to food processors and manufacturers — at about $5.3 billion, including $1 billion of new debt that will be issued. It's 3M's largest divestiture, surpassing the $1 billion sale of its billboard advertising operations in 1997 and the 1996 spinoff of its floppy-disk unit. And yet, before today, it would be a pretty safe bet that most 3M investors were only dimly aware that the company even had a food safety unit. The business is the smallest subdivision of 3M's larger health-care operations, and its results are reported in the appendix of the company's earnings presentations. 
Therein lies the rub. This divestiture makes sense. It's hard to argue that 3M was getting much credit for the food safety business in its stock price. The company has been one of the worst performers in the S&P 500 Industrial Index since Michael Roman was named chief executive officer in March 2018. Before Tuesday's news, the shares were essentially flat in 2021 despite a 24% rally in the broader benchmark. But in some ways, the transaction serves to underscore just how complex and dense 3M truly is when most other industrial conglomerates have taken significant steps to slim down. A single divestiture — even one as large as this — isn't going to fix what ails the company.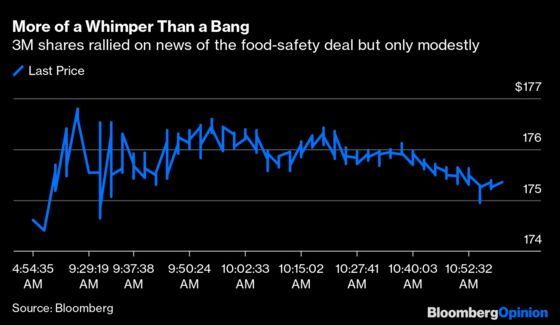 3M shares weren't floundering because investors underappreciated the food safety business. The company is struggling because of a potentially mammoth but still undefined liability tied to its legacy manufacturing of per- and polyfluoroalkyl substances (PFAS) — certain types of which are known as forever chemicals because they accumulate in the body and break down slowly in the environment — and because of a troubling string of earnings disappointments. Analysts have speculated that the company is overly bureaucratic, too complex, paying the price for making widgets in an increasingly software-focused world, spending its innovation dollars in the wrong places or having to fight harder to simply stand still amid increased competition. 3M's management team is one of the more cryptic messengers in the industrial space, so no one quite knows for sure what's going wrong, but the rut the company is stuck in is undeniable. 
3M has been exploring a divestiture of the food safety business since at least the fall of 2020. This unit has no overlap with the rest of the health-care operations, Mojdeh Poul, who serves as president of that division at 3M, said on a call Tuesday to discuss the transaction. It doesn't appear to have much in common with other parts of the company, either. This is fairly unique within 3M; the historical argument for keeping such outwardly disparate businesses together has been that they are linked by material science innovations, allowing for greater sharing of research and development output, manufacturing assets and marketing resources among the divisions. Even so, 3M's willingness to divest the food safety business does chip away at the idea that the company is impervious to the breakup trend sweeping the industrial sector.
The company sold its drug-delivery systems business (another sub-segment of the health-care division) last year for $650 million and parted with a gas and flame detection unit in 2019 for $230 million. Dozens of smaller assets like that within 3M could wind up on the chopping block, but there are also some chunkier deal possibilities similar to the food safety divestiture. 3M previously weighed a sale of its software-oriented health information systems operations before doubling down on the business instead with the $1 billion acquisition of M*Modal in 2019. That is another part of the company that seems to have less overlap with the rest. The consumer unit — which sells everything from Scotch tape to laminators — also stands out because most of 3M's industrial peers have chosen to focus on selling to other manufacturers. Another option is to think outside the lines of 3M's organizational chart and consider divesting entire material science categories — for example, all adhesives from automotive tape to medical tape.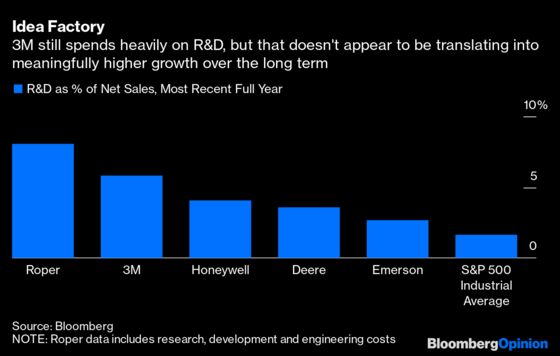 The limiting factor on any breakup remains the PFAS liability and 3M's myriad other legal challenges. Barclays Plc analyst Julian Mitchell estimates 3M may be on the hook for about $10 billion in cleanup costs and legal settlements in connection with PFAS. Earlier this month, a federal jury awarded $22.5 million to a U.S. army veteran who contended that flaws in 3M's combat earplugs caused hearing loss. The large award raises the risks of bigger liabilities and higher legal costs from the earplug issue, something that most analysts don't yet account for in their estimates. 3M has to ensure it has enough balance-sheet power to cover these legal and environmental obligations, whatever the final cost ends up being. (The company has defended its environmental stewardship with regard to PFAS and has said the earplugs were safe and effective.)
The company said Tuesday that it plans to use the $1 billion it will receive as part of the food safety divestiture to fund its dividend and pay down debt. This was a bit weird. The dividend is one of 3M's capital allocation priorities, and Poul said the move was in line with existing strategy. But it's unusual for a company to flag an intention to use deal proceeds for dividends because it raises the obvious question of whether there was enough money to fund it without the influx. That may be one reason 3M shares had a muted reaction to the divestiture news; they were up less than 1% as of mid-morning in New York. 
It's encouraging that 3M finally seems to be thinking more seriously about what it wants its identity to be. But the company has a long way to go to reclaim the narrative around the stock. 
More from other writers at Bloomberg Opinion:
This column does not necessarily reflect the opinion of the editorial board or Bloomberg LP and its owners.
Brooke Sutherland is a Bloomberg Opinion columnist covering deals and industrial companies. She previously wrote an M&A column for Bloomberg News.