30-Year Treasuries at 2% Are Just a Distraction
(Bloomberg Opinion) -- The world's biggest bond market has hit another round-number milestone. The 30-year U.S. Treasury yield reached 2% on Monday for the first time in almost a year, before the Covid-19 pandemic sent markets into a whirlwind.
As far as psychological levels go, this is somewhat exciting for the $21 trillion Treasury market, arguably on par with when the benchmark 10-year yield reached 1% in early January. In both cases, yields jumped higher for clear fundamental reasons. The 10-year note breached 1% after a Democratic sweep of the Georgia Senate runoff races, which gave the party ever-so-slight control of the chamber and therefore boosted the chances of a unified government pushing through additional fiscal stimulus. The 30-year bond eclipsed 2% in no small part thanks to that outcome, with Vice President Kamala Harris casting the tiebreaking vote last week that progressed President Joe Biden's $1.9 trillion relief package.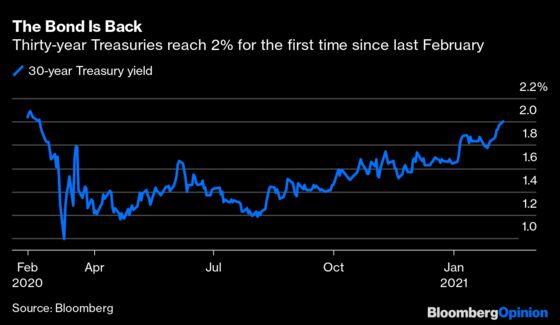 It's tempting to place heavy significance on 30-year yields reaching 2% because it's the same as the Federal Reserve's inflation target. Yes, the central bank has recently adopted "flexible average inflation targeting" to allow for periods of overshooting 2% to make up for persistent misses. But it's still effectively the guidepost for the Fed's price-stability mandate, even if it's more of a moving target than before.
Yet when looking at the entire U.S. Treasury market, including inflation-linked securities, it's clear that a more significant 2% threshold was cleared weeks ago by a range of maturities that are arguably more telling about the economic outlook than the nominal 30-year bond.
For instance, the 10-year breakeven rate, which reflects the difference between 10-year Treasuries and their inflation-protected counterparts, touched 2.216% on Monday, the highest since August 2014. It first crossed 2% on Jan. 4, even before the Georgia runoffs tilted the calculus around fiscal stimulus. While the latest move is partially a reflection of rising crude oil prices — a big component of the consumer price index to which Treasury Inflation Protected Securities are linked — the trend higher has been practically nonstop for the past nine months.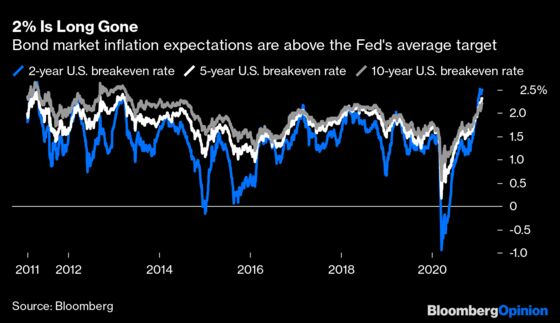 As the bond market's 10-year inflation expectations have climbed, the benchmark nominal 10-year Treasury yield has kept pace. It reached as high as 1.198% on Monday, the highest since a burst of volatility sent yields soaring in March. This kind of parallel move is normal, even if the real yield is still historically low around -1%.
What's happening in shorter-maturity Treasuries, by contrast, is anything but typical. As I've laid out before, the simple equation that represents the connection between nominal yields, real yields and breakeven rates is the following:
Real Yield = Nominal Yield - Breakeven Rate  
Since Nov. 10, the five-year Treasury yield has increased by less than 2 basis points to 0.472% from 0.454%. During that same period, the five-year breakeven rate has surged 64 basis points to 2.326% from 1.686%. Per the above equation, that quashed the inflation-adjusted real yield; at -1.895%, it's at an all-time low. 
Two-year real yields are also at a stunning record low of -2.466%. Not only are inflation expectations picking up for the next 24 months, but nominal two-year yields have tumbled to record lows in recent weeks, including hitting 0.1012% on Monday because of a confluence of technical factors at the front end of the yield curve that have sent investors scrambling for a place to park extra cash.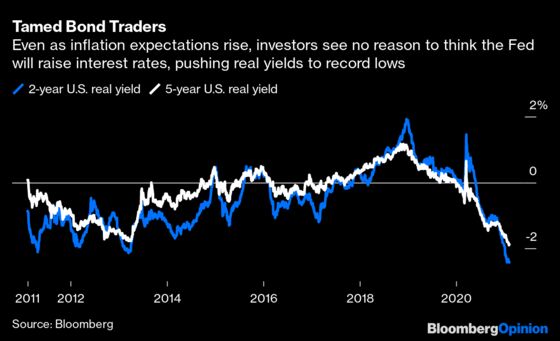 So, to summarize, the bond market is indicating that inflation will run at almost 2.5% on average over the next two years and 2.32% over the next five. And yet nominal Treasuries with those maturities aren't budging, locking any buyers into even more negative expected returns when adjusting for expected inflation. What gives?
Simply put, this behavior should confirm to Federal Reserve officials that bond traders have received their message loud and clear about the central bank's commitment to unanchor inflation expectations and keep an accommodative monetary policy stance until it sees clear evidence of price growth exceeding 2% and the labor market approaching full employment. For months now, even as inflation expectations have soared, investors have simply refused to price in more than one full rate increase through 2026. That's a telling shift in how markets interpret this Fed's reaction function.
All the ups and downs of the 30-year yield, by comparison, can arguably be written off as mostly a distraction. After all, does anyone truly know the precise expected return on a bond backed by the U.S. government that doesn't mature for three decades? Thirty-year Treasuries span multiple economic cycles and are subject to structural forces that don't just change overnight or even with one administration. 
So instead of scrutinizing the long bond, watch the interplay between inflation expectations for the coming years and nominal Treasury yields. The Labor Department will release January CPI data on Wednesday, with a median estimate of 1.5% year-over-year growth in a Bloomberg survey. That would be a 10-month high, though well below the Fed's target (and it prefers a different gauge anyway). Still, Fed Chair Jerome Powell has sought to head off any narrative of resurgent price growth, noting at a press conference last month that the coming months' rise in inflation will be transient.
Judging by breakeven rates, bond traders aren't too sure about that. But they're also not about to test Powell's resolve to keep interest rates near zero for as long as it takes. As captivating as it is to watch long-term nominal yields rise from record lows, the persistent decline in short-term real yields is the bigger story.
This column does not necessarily reflect the opinion of the editorial board or Bloomberg LP and its owners.
Brian Chappatta is a Bloomberg Opinion columnist covering debt markets. He previously covered bonds for Bloomberg News. He is also a CFA charterholder.