Meituan IPO Fact-Checks Mobike's Fanciful Numbers
(Bloomberg Opinion) -- A year ago the world was beset by a bicycle rental craze that resulted in piles of discarded equipment and mountains of claims about the size of each fleet's business.
I even fielded complaints from one outfit's PR representatives that I underreported its figures. (They didn't get back to me with their official numbers.)
Now, thanks to securities law and Meituan Dianping's Hong Kong IPO today, I can shed some light on these claims.
Meituan bought one of these bike-sharing startups, Mobike, on April 4, and gives details of its operations in the IPO prospectus. Because it's generally considered unwise to lie in an offer document, it's probably safe to assume it's a reasonably truthful account of what's happening at the bike rental business.
Compare the details in the prospectus with statements made in press releases and the divergence is striking. 
Meituan's prospectus says otherwise.
With 48.1 million Active Bike Users, 7.1 million Active Bikes and over 1.0 billion rides completed in the four months ended April 30, 2018, Mobike is a leading player in bike-sharing.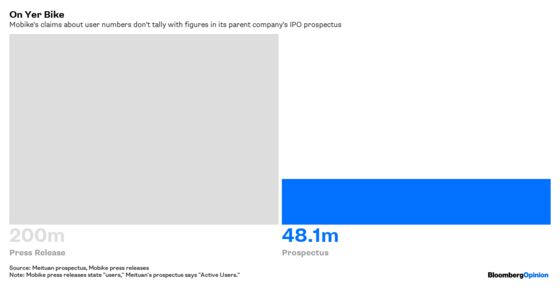 In October, Bloomberg cited Mobike's statement that it was "the clear leader in the global bikesharing industry,  supporting 30 million rides in 180 cities around the world every single day" (emphasis added). Just a month earlier it was telling the world it "supports over 20 million rides every day" (emphasis added). 
With 119 days during the period cited in Meituan's prospectus, Mobike was actually averaging 8.4 million trips daily — 70 percent fewer than it had been claiming.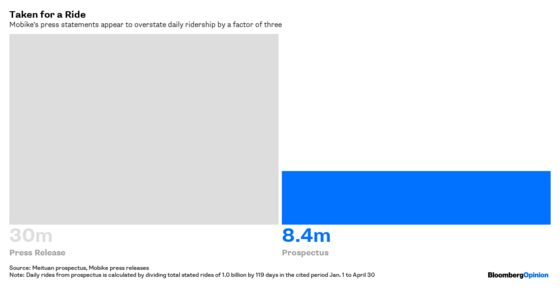 Given that Meituan's own accounting shows that Mobike lost 15.7 million yuan ($2.3 million) a day in the final three and a half weeks of April, we could believe that business fell off since the height of the bubble when those big claims were being made.
When you're a small startup fighting to raise money from VCs, you might get away with fudging the numbers a bit. But if you get bought out by a bigger company that decides to go public, be assured that sunlight will become the best disinfectant.
This column does not necessarily reflect the opinion of the editorial board or Bloomberg LP and its owners.
Tim Culpan is a Bloomberg Opinion columnist covering technology. He previously covered technology for Bloomberg News.