Snapchat Needs More Than a Self-Improvement Seminar
(Bloomberg Opinion) -- Please go read Bloomberg News reporter Sarah Frier's insightful and highly engaging glimpse inside Snapchat and how CEO Evan Spiegel is trying to recover from 18 months of mostly self-inflicted stumbles. The story is worth it just for the look at Snap Inc.'s unconventional listening sessions for employees. Imagine clutching a heart-shaped purple geode and sharing intimate family stories with your cubicle mates.
The broad picture that emerges is that of an all-powerful yet fragile CEO who is learning on the job — and that job happens to be leading a public company valued at $15 billion and with nearly 3,000 employees. It's highly unusual on-the-job training. 
Hardly anyone is born to be a CEO, of course. There's a reason Bill Campbell became a Silicon Valley icon for advising tech company chiefs. Give the 28-year-old Spiegel credit for realizing some of his shortcomings and for being willing to improve.
He took to heart Snap employee complaints that they had no idea what the company's priorities were or how to meet them. (Priority No. 5 for this year, Frier writes: building a sustainable business. Uh, that sounds too low? But it's better than the company's official goal of contributing to "human progress.") Spiegel told Frier that he's communicating more to his own staff and to outsiders to explain what the company is doing and why, and he hired a management coach as part of his self-improvement project.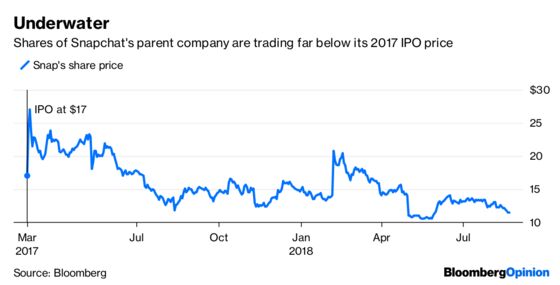 But I wouldn't blame investors for being annoyed at Spiegel learning on the job at their expense. Shares have declined by one-third since Snap's IPO in March 2017. Remember that Spiegel was pitched as a wunderkind who instinctively tapped into the desires of the world's young people.
Snapchat is a genuinely novel form of communication and beloved by tens of millions of people, but the narrative of Spiegel as a born product genius is looking ragtag. The comparisons to Picasso might have been a bit much, anyway. Snapchat users' outrage at the app's redesign — a project that appears to have been shockingly mismanaged by Spiegel himself — is proof that his instincts can fail him.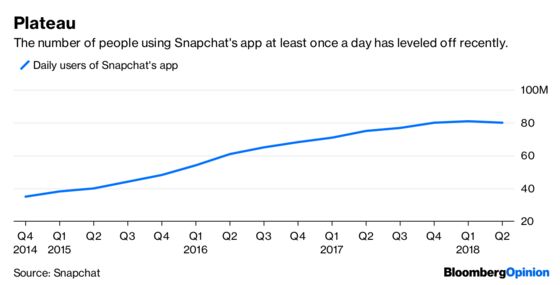 It's remarkable for Spiegel to tell Frier that he still feels shy and uncomfortable in his role as a leader to thousands. Many people thrust into positions of power feel like impostors, but Spiegel should have all the self-confidence afforded to the privileged billionaires. He grew up with every advantage in the world and then some, and Speigel had powerful people such as Google's Eric Schmidt and Hollywood honcho Michael Lynton in his corner from an early age. Spiegel may not have been forced to learn from failure before now.
Shyness also doesn't explain why the Snap boss sidelines people who challenge him and is loyal to people who don't deserve it; has repeatedly lost the trust of investors; is paranoid to the point of parody; collected an undeserved bonus valued at hundreds of millions of dollars; and presents his company as a model of technology decency when humility is more appropriate. These seem less like failures caused by a lack of self-reflection than the hallmarks of a clueless boss. 
The management failures make it all the more galling that Spiegel and co-founder Bobby Murphy have effectively insulated themselves from criticism both within Snap and without. Every buck stops with Spiegel, for better or for worse. 
Well, Spiegel is in for a real test now. His company is being challenged like never before, and Spiegel is doing it under a klieg light, not in the confines of a Stanford University classroom. As with Tesla Inc.'s Elon Musk, another visionary chief executive who has recently spoken openly about his frailties, personal candor doesn't mean much if an executive can't effectively run a large company with billions of dollars of investors' money and employees' livelihoods at stake. Talk needs to be backed up with real change and effective action.
This column does not necessarily reflect the opinion of the editorial board or Bloomberg LP and its owners.
Shira Ovide is a Bloomberg Opinion columnist covering technology. She previously was a reporter for the Wall Street Journal.