Victoria's Secret Sags, and Now Pink Sinks
(Bloomberg Opinion) -- Victoria's Secret owner L Brands Inc. was already something of a shaky retail boat, and now it looks like it has sprung another leak.
Investors on Thursday hammered shares of the parent company of the lingerie chain and others including Bath & Body Works after it slashed its full-year earnings guidance. The stock is now down about 52 percent year-to-date, making it the worst performer on the S&P 500 Index.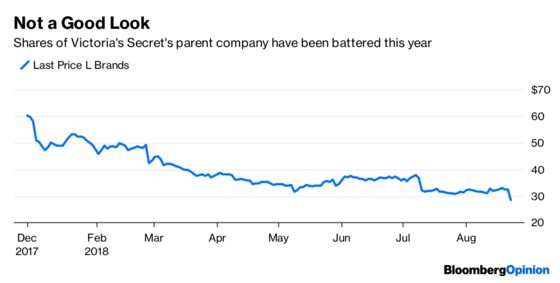 L Brands has been troubled for some time now, with most of those woes centered on its flagship, Victoria's Secret. Efforts at sweeping change there — from exiting the swimsuit business to installing a new brand CEO — have failed to make the brand meaningfully healthier or more relevant.
But now, its sister chain, Pink — aimed at the teenage and college set — isn't looking so rosy, either. Executives said comparable sales at Pink declined by "mid-single digits" from a year earlier in the second quarter. There were sales declines in some categories of both its lingerie and loungewear lineup. And this wasn't the first signal that Pink was losing some of its luster. In the previous quarter, executives had said sales fell by "low-single digits" from a year earlier in this business segment.
Performance like this makes it awfully hard to believe in the lofty ambitions the company has for this brand. In May of 2017, Chief Financial Officer Stuart Burgdoerfer said he thought Pink had "potential to literally double in North America." Not if it's not producing compelling merchandise — and these latest results suggest it isn't doing that consistently.
L Brands executives ought to be deeply troubled by the downturn at Pink. For one, it had seemed to embody the company's best shot at warding off insurgent start-ups like ThirdLove and Adore Me, and countering the increasingly aggressive challenge from Aerie, the lingerie chain owned by American Eagle Outfitters Inc.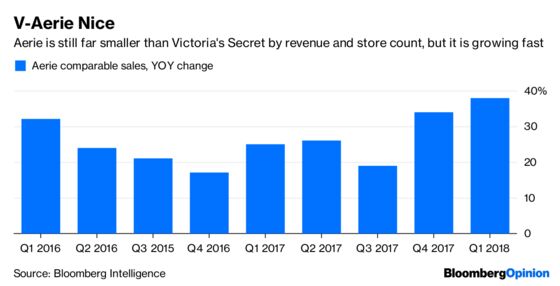 The sunny, cutesy vibe at Pink theoretically is more in step with what customers want these days than the va-va-voom vibe of the main Victoria's Secret chain. If it can't return Pink to stronger footing, I struggle to see how the entire division is going to deliver robust growth in the near- to medium-term future.
The company said Wednesday that the Pink brand is set to get new leadership. Its current head, Denise Landman, will retire at the end of this year and is to be replaced by Amy Hauk, a senior executive from the Bath & Body Works division. Clearly, she has her work cut out.
The stumble at Pink isn't the only reason I'm losing confidence that L Brands can stage a turnaround. This was the second period in a row that the company reduced its full-year guidance — something that, Simeon Siegel, a retail analyst with Nomura Instinet, points out is exceedingly rare for this company.
The two consecutive cuts suggest executives don't quite have a handle on the extent to which their turnaround efforts are getting traction, or at the very least don't understand the pace at which they are taking hold. 
The window is closing for L Brands to show it can return Victoria's Secret to glory. And that makes stakes for its back-to-school and holiday shopping seasons extremely high. 
This column does not necessarily reflect the opinion of the editorial board or Bloomberg LP and its owners.
Sarah Halzack is a Bloomberg Opinion columnist covering the consumer and retail industries. She was previously a national retail reporter for the Washington Post.