A Facebook Tax Is a Good Way to Kill Dying Newspapers
(Bloomberg Opinion) -- In the U.K., the demise of local newspapers can be broadly attributed to two forces: easy access to free online news, and advertisers shifting their spending to the web from print.
Which is why Labour Party leader Jeremy Corbyn's proposal to tax Facebook Inc. and Google parent Alphabet Inc. in order to fund "public interest journalism" identifies the problem, but is wildly amiss with the solution.
The budgets of local newspapers have dwindled with the ascent of online ads, making it harder to invest in quality reporting. Since 2005, the number of regional journalists has halved.

Much of Facebook and Google's continued revenue growth, meanwhile, comes from small and medium-sized enterprises — the sort of businesses that might typically have advertised in local newspapers. Facebook is actively targeting SMEs for its next wave of growth.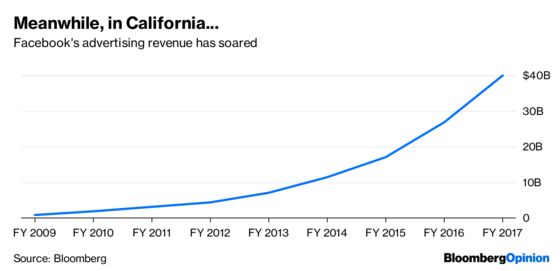 In his Thursday speech at the Edinburgh TV festival, Corbyn also outlined plans to funnel some proceeds of a tax on Google and Facebook to the British Broadcasting Corporation, and invest some in "local democracy reporters." What he doesn't seem to appreciate is that competition from the BBC is one of the causes of local papers' pain.
As the state broadcaster, the BBC collects 3.8 billion pounds ($4.9 billion) a year from a licence fee that pretty much everyone in Britain has to pay. It spends 233 million pounds of that on its local content, which includes radio and television as well as stories published online. That's already some serious competition for regional publishers.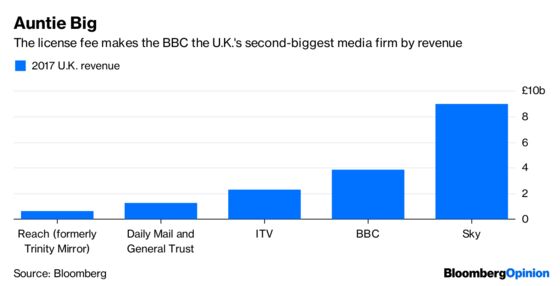 The BBC is already top of the list for Brits looking to consume news — according to an Ipsos MORI poll commissioned by the BBC, 55 percent of the nation's adults turn to it for "news you trust the most" and "accurate news coverage." Giving it plumper coffers is more likely to give it a further boost and disadvantage local newspapers than help them. 
There are far better ways to fix the funding of regional journalism. Regulators could start by compelling the digital giants to share more ad revenue with content creators.
Take Facebook, for instance. Your feed is typically peppered with news stories, and while you might digest a headline and preview, you're unlikely to click on the story itself. Yet Facebook still takes all of the revenue for the ads displayed alongside the story — the company profits from the content which someone else has created, while the content creator doesn't. Forcing Facebook to share that revenue with publishers would be an important move to give local journalism more sustainable income. The same goes for Google's news platform.
Corbyn is correct in identifying the problem. But strengthening the BBC is not the solution. A keener focus on how Google and Facebook monetize other organizations' content would be a smarter approach.
This column does not necessarily reflect the opinion of the editorial board or Bloomberg LP and its owners.
Alex Webb is a Bloomberg Opinion columnist covering Europe's technology, media and communications industries. He previously covered Apple and other technology companies for Bloomberg News in San Francisco.