Continental's Rampant Horse Gives Investors a Kicking
(Bloomberg Opinion) -- Cars have largely made horses redundant as a means of transport. Even so, Ferrari NV, Porsche AG and Continental AG all still use equine motifs that project speed and vitality.
Continental's version is known as the "rampant horse." But after Wednesday's profit warning, the second in four months, this pony is looking more panicked than powerful. The shares tumbled as much as 14 percent, erasing about 5 billion euros ($5.8 billion) of market value and bringing the decline this year to almost 30 percent.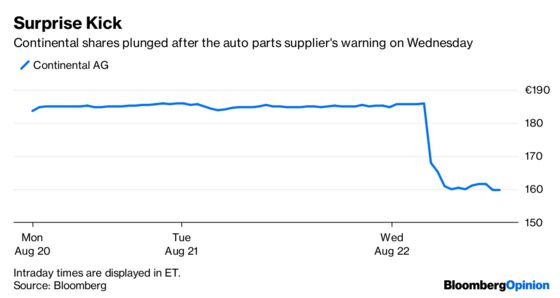 The suppliers of automotive parts should be among the winners of the next big shift in transport toward autonomous electric vehicles. Tomorrow's cars will need even more technology and gizmos, something that should play to Continental's strength. Alas, suppliers also have to contend with the problems of today, and that list just keeps growing longer.
Trade tensions, slower U.S. and China car sales, higher raw material costs, the decline of diesel, and difficulties meeting Europe's new emissions tests are just some of the challenges facing carmakers right now. Several have recently warned that profit will be lower.
If their customers are struggling, you can bet suppliers will be too: Continental expects full-year revenue will be about one billion euros lower than anticipated.
Continental offers a laundry list of excuses. Some, like negative exchange rate effects and higher warranty claims, are nothing to lose sleep over.
So why have investors reared up in such horror? For one, a second profit warning in quick succession suggests Continental has worryingly little insight into how earnings and cash flow will develop. One wonders why these issues weren't spelled out when the company reported second-quarter earnings three weeks ago.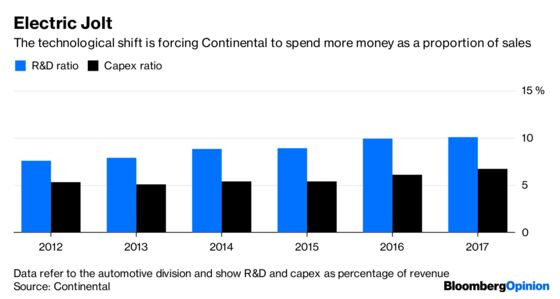 That's all the more concerning because Continental is currently spending heavily on R&D and capex, and that doesn't seem to be translating into higher sales.
Some lag is to be expected in view of the industry's long lead times. However, Continental's statement that it is "adapting" some planned investments to reflect its lower sales expectations doesn't inspire confidence.
Perhaps the share price reaction would have been less severe had Continental given investors more reasons to hold the stock beyond the hope of sales and earnings growth. After trailing a big restructuring at the start of this year, the plan management delivered in July felt a bit superficial: The drab-sounding "chassis & safety" division was renamed "autonomous driving technologies," for example.
Continental needs more than minor cosmetic change, but giving that horse a more startled expression would be a good start.
This column does not necessarily reflect the opinion of the editorial board or Bloomberg LP and its owners.
Chris Bryant is a Bloomberg Opinion columnist covering industrial companies. He previously worked for the Financial Times.