TJX and the Art of Surviving Retail Armageddon
(Bloomberg Opinion) -- The more things change, the more things stay the same. Or, at least, such has been the case for TJX Cos. — and it's a good thing.
The retail empire that includes discount chains T.J. Maxx, Marshalls and HomeGoods reported on Tuesday that comparable sales increased a robust 6 percent in the latest quarter over a year earlier. This kind of solid performance has been typical for TJX for several years now, even as many of its old-school brick-and-mortar counterparts have delivered patchy or downright lousy results as they adjust to the transformation brought on by the rise of e-commerce and fast fashion.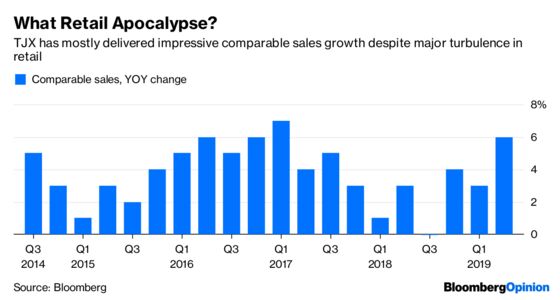 TJX shares had already been at an all-time high at Monday's close; they soared even higher in early trading Tuesday. And it makes good sense that investors would, at this moment, treat TJX as a retailer at the top of its game.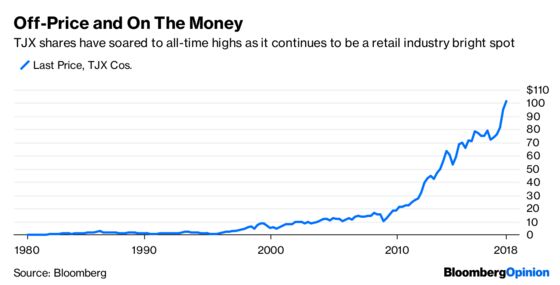 This report marked the company's 16th consecutive quarter of increases in customer traffic, no small feat as other apparel sellers have been tripped up in recent years by everything from ill-fitting garments to unseasonable weather to a stalled-out fashion cycle. TJX's strength in part reflects just how intoxicating shoppers find its oft-discussed treasure-hunt store format. But it is also a testament to the merchant firepower at TJX; its buyers clearly know how to identify and secure the right goods.
Importantly, TJX's decision to largely stay out of the digital fray hasn't prevented it from connecting with younger shoppers. According to research by Jamie Merriman, an analyst at Bernstein, both T.J. Maxx and Marshalls have grabbed market share across age groups, including millennials.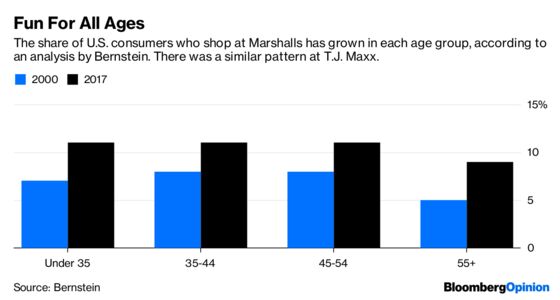 And TJX is pushing in new directions, even if it's not doing much online. I was originally skeptical about the potential of its nascent Homesense chain. I thought it was audacious of executives to think the market could sustain hundreds of locations of a concept that is similar to its existing HomeGoods, which already has 716 stores.  But the company said after last quarter's earnings that early results at Homesense are encouraging. Cannibalization from nearby HomeGoods stores has been less than expected and top line sales have been stronger than expected, suggesting they have the makings of a new vehicle for short- and medium-term growth.
Looking longer term, I still have reservations about TJX's plan to open many more locations of mature concepts such as T.J. Maxx and Marshalls. UBS's Jay Sole — the rare analyst to have a sell rating on this stock — points out that TJX's addressable market as a brick-and-mortar-centric company is going to get narrower in North America as the migration toward e-commerce continues. 
That leaves TJX with very little room for error, especially when off-price competitor Ross Stores Inc. is also on a tear with new store openings and robust sales growth.
But, in fairness to TJX, the company has shown it doesn't make many errors, and it when it does, it corrects them quickly. It was less than a year ago that its crucial Marmaxx division, which includes Marshalls and T.J. Maxx, delivered a rare decline in quarterly comparable sales that executives attributed in part to missteps in its apparel offering. Given that comparable sales in that segment returned to growth in the next quarter — and that they boomed 7 percent over a year earlier in the quarter reported Tuesday — I think it's safe to say that issue is behind it.
TJX continues to show that playing to its strengths is plenty good protection against the troubles rattling retail. 
This column does not necessarily reflect the opinion of the editorial board or Bloomberg LP and its owners.
Sarah Halzack is a Bloomberg Opinion columnist covering the consumer and retail industries. She was previously a national retail reporter for the Washington Post.