Walmart Just Put Amazon on Notice
(Bloomberg Opinion) -- Memo to Jeff Bezos: Walmart Inc. is in fighting shape.
The Bentonville, Arkansas-based big-box giant reported second-quarter results Thursday that were unambiguously impressive. Its U.S. comparable sales rose 4.5 percent over a year earlier, an increase that easily beat analysts' expectations and made for the retailer's best performance on this measure in more than a decade. And its e-commerce business — a focus point for investors amid the looming threat of Amazon.com Inc. — delivered a solid 40 percent gain in sales, making its full-year guidance for digital growth look attainable.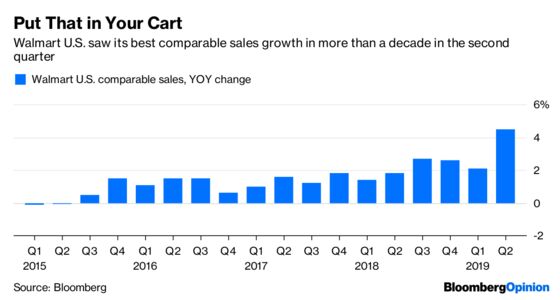 But the strongest case for Walmart's health comes from some of the other data in its report. Traffic in its U.S. business was up a robust 2.2 percent over a year earlier, meaning it's doing a better job of luring shoppers to its brick-and-mortar stores. And average ticket rose 2.3 percent over a year earlier, suggesting people are filling their carts with more stuff when they show up. Of course, that in part reflects the strong consumer sentiment that I expect will buoy many retailers this earnings season.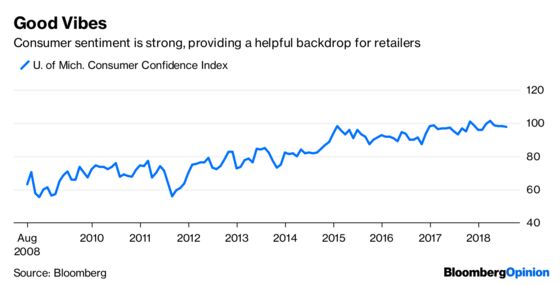 But it also shows that Walmart is reaping the rewards of initiatives such as spiffing up its private-label apparel and improving its fresh-food offerings. In fact, the retailer said its comparable sales in the grocery department were its best in nine years.
Walmart has long been making the case that its huge base of stores is not problematic in the digital era. It has envisioned a world where shoppers go online for some purchases, visit brick-and-mortar stores for others, and sometimes do a hybrid of the two, such as buying groceries online and picking them up at the store. Its second-quarter results, which showed business humming along both in stores and online, allow us to see that future more clearly.
It doesn't hurt that this report comes not long after Amazon announced it was introducing grocery pickup at certain Whole Foods Market stores — a service Walmart has had for several years and already offers from 1,800 of its locations. By joining the fray, Amazon is effectively acknowledging that Walmart's model is a good one, and that stores will be a vibrant part of the grocery ecosystem for a long time.
A note of caution: The investors who sent Walmart's stock soaring in early trading Thursday should be careful not to tune out potential challenges that could be coming in the back half of the year.
Procter & Gamble Co. told investors back in July that it is increasing prices on Pampers, Bounty, Charmin and Puffs brand products. This week, Kimberly-Clark Corp. said that it, too, is raising prices on brands such as Kleenex and Huggies as part of an effort to offset higher commodity costs. And as Bloomberg News's Matt Boyle pointed out earlier this week, actions like these leave Walmart in a tough spot.
The retailer can shoulder these higher costs itself, potentially crimping profits, or it can pass them on to the consumer. But a core part of Walmart's brand promise is its rock-bottom prices, and if suddenly it doesn't stack up as favorably against its competitors, shoppers could defect.
Walmart executives told reporters Thursday they are "working really hard" to continue to keep prices down, but didn't provide specifics about how it would address these actions by its wholesale partners. Meanwhile, a truck-driver shortage and increased fuel prices are weighing on transportation costs for all kinds of companies.
Walmart bumped up its adjusted earnings per share guidance Thursday, indicating it doesn't see these factors throwing its progress off course. But it's a part of the backdrop that shouldn't be ignored in assessing the retailer's prospects.
Results like the ones Walmart delivered Thursday, though, build a strong case for giving the retailer the benefit of the doubt.  
This column does not necessarily reflect the opinion of the editorial board or Bloomberg LP and its owners.
Sarah Halzack is a Bloomberg Opinion columnist covering the consumer and retail industries. She was previously a national retail reporter for the Washington Post.