Black Americans Get Fewer of the Job Gains Under Trump
(Bloomberg Opinion) -- White House Press Secretary Sarah Sanders appears to have been wrong in more ways than one about job gains for black Americans.
On Tuesday, she said black Americans had gained 700,000 jobs under President Donald Trump, nearly three times the gains they had in all of President Obama's two terms in office. The point was meant to refute the perception that Trump is racist.
Many people, including Sanders, have already pointed out that her numbers were off. Black Americans gained nearly 3 million jobs during Obama's two terms. Sanders's numbers were based on the first 18 months of Obama's first term — which started during a severe recession — and not his entire time in office.
Still, in her correction, Sanders implied that black Americans are nonetheless doing quite well under Trump, perhaps even better than they did under Obama. That doesn't appear to be the case either.
While it's true that the pace of job growth is faster for black Americans than it is for white ones, that was true under Obama as well, and the relative rate of job growth for black Americans has slowed compared with white Americans since Trump took office.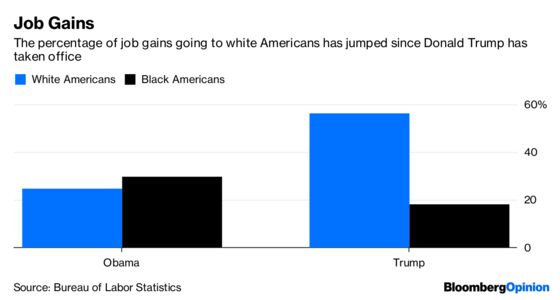 But the real reason Sanders, and Trump, shouldn't be taking any victory laps on this issue is that as a share of overall job gains, black Americans have lost ground under Trump. Under Obama, nearly one in every three jobs gained went to black Americans. Under Trump, it is less than one in five.
White workers, on the other hand, have done much better under Trump. During Obama's eight years in office, about a quarter of all job gains went to white workers. Under Trump, that percentage has risen to more than half, or 56 percent.
The reason is not entirely clear. There have been upticks in manufacturing and construction jobs under Trump — two industries in which black Americans tend to have fewer of the jobs than their portion of the population. But many of those job gains have been in the South, where black Americans make up a larger portion of the population than in the Midwest or Northwest.
Black Americans did account for a larger portion of the job losses in the Great Recession, so it makes sense that they would rebound more sharply at first. Still, if you look at the job growth policies that Trump has pushed, mainly tax cuts to large corporations, it's unclear why that would be any better for black Americans than white ones.
Of course, it's hard to ascribe specific job gains, particularly by segments of the population, to any presidential policy. But what is clear is that the numbers do not add up for the Trump administration's rosy assertions.
This column does not necessarily reflect the opinion of the editorial board or Bloomberg LP and its owners.
Stephen Gandel is a Bloomberg Opinion columnist covering banking and equity markets. He was previously a deputy digital editor for Fortune and an economics blogger at Time. He has also covered finance and the housing market.