Commodities Meet Their Wile E. Coyote Moment
(Bloomberg Opinion) -- There comes a moment in every market where traders suddenly feel the ground dropping away beneath their feet.
That seems to be what's happening in commodity markets. A savage 4 percent slump Wednesday on the London Metal Exchange drove copper into a bear market, pushing the metal often considered a proxy for economic growth below $6,000 for the first time in a year. Crude touched its lowest levels since April, while LME zinc suffered its biggest one-day drop in almost two years. Even gold, a metal that thrives in times of trouble, has tumbled below $1,200 an ounce this week. Among Bloomberg's indexes of commodities, only energy and agriculture have been (relatively) spared by the turmoil of recent weeks.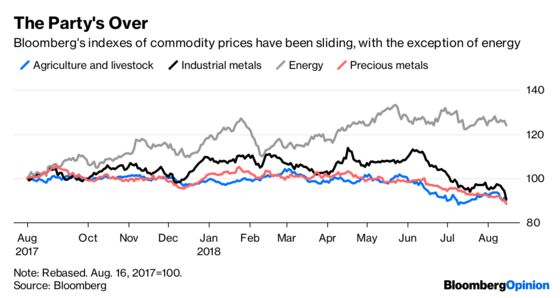 In many ways, the biggest surprise is that it's taken so long. Ever since China's post-financial investment splurge came to an official end, the metals market has been supported largely by supply problems and the strictly short-term stimulus Beijing ordered up to get the economy running hot for the political theater of last year's Communist Party Congress.
Annual growth in state and state-owned fixed-asset investments, which surged to a post-financial-crisis high of almost 25 percent in May 2016, fell to 1.33 percent in June this year, the slowest expansion since 2005. For all the signs that the country will allow fresh credit loosening and another bout of industrial stimulus to take the edge off the economic pain from the trade war with the U.S., at present there's little sign of a 2016-style reflation.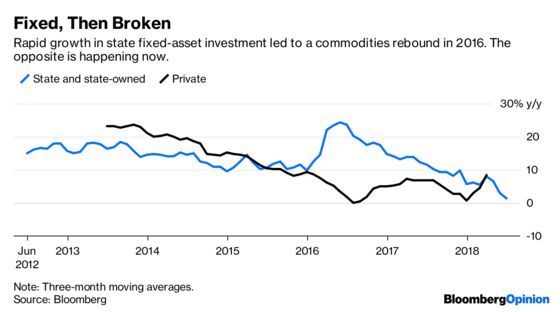 Meanwhile, the copper market has been focused on the problems of ramping up supply from some of the biggest pits, such as Grasberg (where owner-operator Freeport-McMoRan Inc. has been locked in negotiations with the Indonesian government, which wants to take a controlling stake) and Escondida and Chuquicamata in Chile, where BHP Billiton Ltd. and Corp. Nacional del Cobre de Chile have been in disputes with unions.
While those problems in the ore pits are real, conditions in the warehouses where refined copper cathode is stacked look a lot healthier. Inventory linked to the major London, Shanghai and Chicago exchanges has fallen somewhat from its peaks earlier this year, but still remains at levels not seen in years.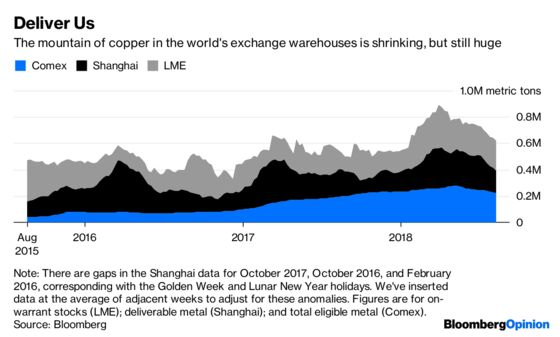 LME copper's cash-to-three-month spread, which sparked a few bullish hopes in June when it pipped up into the positive territory that normally indicates a shortage of supply, has since slumped to a negative $42.
While the general sell-off in materials-hungry emerging markets and surge in the U.S. dollar (which tends to reduce the value of dollar-denominated assets like commodities) all explain part of the weakness among metals, it's the China factor that should prompt most soul-searching.
The People's Republic accounts for about half of global consumption of most metals. As we've argued before, that's hard to square with levels of demand in comparable industrial economies, even when you strip out the effects of export trade. It's at least as probable that the numbers have been driven by the orgy of fixed-asset investments that's caused Beijing to build railways and pipelines to nowhere, the world's most sophisticated long-distance electricity transmission network, and enough copper-wire-filled homes to house half its population over the past decade.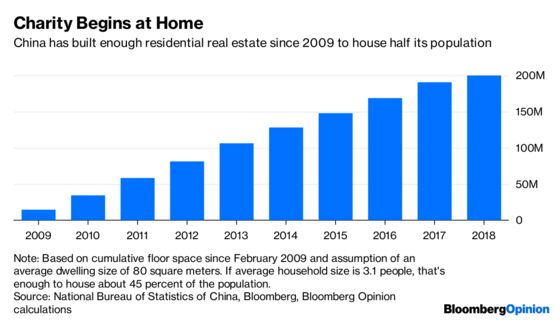 Perhaps there really is something different about China that can sustain the sort of consumption levels we've seen in recent years. In that case, the rise of copper-intensive renewable energy and electric vehicle technologies over the coming decade will ensure a bright future.
Still, while Bloomberg Intelligence analyst Andrew Cosgrove expects to see structural deficits in the copper market after 2022 because of rising demand and a shortage of new mines under development, forecast shortages in 2020 and 2021 have reversed into surpluses in recent months – a factor that's typically bearish for prices.
Copper has leaped chasms like this before to fight another day, but such a rebound shouldn't be taken for granted. Its plunge this week gives investors a glimpse of the uncertain ground they've been treading.
This column does not necessarily reflect the opinion of the editorial board or Bloomberg LP and its owners.
David Fickling is a Bloomberg Opinion columnist covering commodities, as well as industrial and consumer companies. He has been a reporter for Bloomberg News, Dow Jones, the Wall Street Journal, the Financial Times and the Guardian.