Singapore Home Prices Won't Pop Without More Migrants
(Bloomberg Opinion) -- If Sherman Kwek sounds annoyed, he has his reasons — 2.9 million square feet worth of reasons. 
That figure, equating to 270,000 square meters, is the total salable area of apartments almost ready to hit the market on the books of City Developments Ltd., the Singapore developer controlled by the family of billionaire Kwek Leng Beng, who handed the keys of his empire this year to son Sherman. 
The younger Kwek delivered strong second-quarter results last week. Sales grew 59 percent from a year earlier to S$1.36 billion ($988 million); profit surged almost 80 percent to S$205 million.
However, shares in Singapore's second-biggest developer are down 4.8 percent since then. That adds up to a 15 percent decline since July 5, when the Singaporean authorities unexpectedly imposed fresh curbs on property markets that were only stirring into life after four moribund years.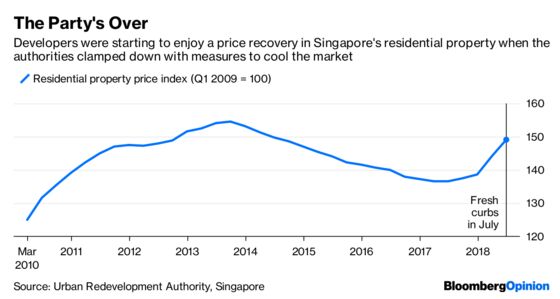 Developers typically rely on population growth to provide a market for their products. However, Singapore's fertility rate, one of the world's lowest, makes property demand highly dependent on immigration, a topic that's as controversial there as it is in Europe and the U.S.
To developers, the government's cooling measures looked like untimely overkill, but their eagerness to buy older apartments from existing owners to redevelop them was threatening to inflate a fresh bubble in the face of rising global interest rates. Homebuyers' sentiment has undoubtedly been damped by bigger stamp duties and harsher loan-to-value norms on mortgages, and the same goes for developers. Kwek plans to delay the launch of two high-end properties. While he may still go ahead and hawk mass-market apartments, he may not be getting the prices he'd have hoped for even two months ago. That's why his 2.9 million square foot launch pipeline (a figure that includes the now-delayed projects) is a problem. 
Ravi Menon, the city's monetary czar, presented the stark choices facing Singapore in a March speech. With no net immigration, the labor force will start shrinking gradually around 2022. After that, GDP growth will converge with labor productivity, which is expanding by about 1.5 percent a year at present. It is hard, as Menon said, to imagine a dynamic global city "growing at less than 2 percent, or worse still, 1.5 percent."
Singapore has to be honest about the choice facing its people: They can either have ever-growing housing wealth or fewer foreigners. Heading into a demographic cul-de-sac with revved-up property prices would be a repeat of Japan's 1980s misstep.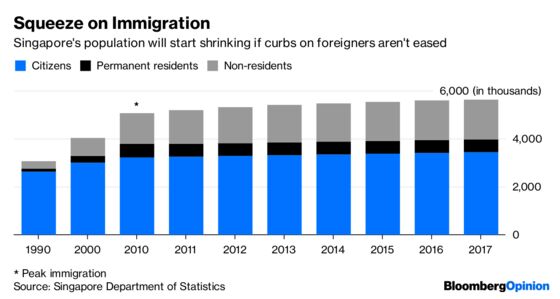 Is it once again time for Singapore to open the floodgates wide to migrants? That's what happened in 2004 when the market was down 45 percent from its 1996 peak and Kwek Leng Beng made a dazzling bet to build a 245-meter skyscraper on a patch of reclaimed land that's now the glitzy Marina Bay office district.
His son is unlikely to be as lucky. Singapore's ruling party — in charge since 1959 — paid a price for the runaway immigration of the aughts by chalking up its worst electoral performance in 2011 elections. Since then, the screws have been progressively tightened. Singapore's population, which was 5.6 million last year – including fewer than 4 million citizens – may not hit the 6 million mark by 2020. For the first time since 1990, the island-state could fail to add 1 million people to its population over a decade.
That would validate Sherman Kwek's swing toward building smaller apartmens, exemplified by City Development's decision to convert a rental property with 97 serviced apartments into 173 smaller units. Singapore jobs that were once the preserve of expatriates with large families on all-expenses-paid "hardship postings" are facing increasing scrutiny as to why multinationals won't consider Singaporeans for those positions.
In the meantime, stepping up recurring Ebitda – steady rental income, rather than development profit – by 50 percent over a decade may be a sensible insurance policy.
Still, it's possible to become too despondent. After the next general elections are out of the way – something that could come sooner than the current schedule of early 2021 – the screws on immigration will probably loosen by a notch or two.
Singapore may not want runaway property prices now, but there's no way it will settle for slower long-term GDP growth than Hong Kong, London or Sydney. Kwek's opportunity may not be as sizzling as the one his dad got in 2004. But when it comes, it won't be insignificant. 
This column does not necessarily reflect the opinion of the editorial board or Bloomberg LP and its owners.
Andy Mukherjee is a Bloomberg Opinion columnist covering industrial companies and financial services. He previously was a columnist for Reuters Breakingviews. He has also worked for the Straits Times, ET NOW and Bloomberg News.