Mike Ashley's Gucci-Sized Aspirations
(Bloomberg Opinion) -- In a stroke, Mike Ashley has gone from scourge of the warehouse to savior of Britain's high street.
The billionaire founder of Sports Direct International Plc says he wants to turn House of Fraser – think a down-at-heel British cousin of Macy's and Bloomingdale's – into the Harrods of the high street. In reality, he has several options, not all as positive as they might first appear.
Sports Direct wants to keep most of House of Fraser's stores and take them further upmarket. Liam Rowley, head of strategic investments, told Bloomberg Television that the company intends to keep at least 80 percent of House of Fraser's 59 stores open.
The purchaser has a license to occupy the stores after House of Fraser filed for administration on Friday, and is negotiating with landlords over each outlet. No doubt, Sports Direct will look to secure better rental agreements. Before its demise, House of Fraser was planning to shutter 31 locations. If he needs it, Ashley can always threaten to close some more.
The billionaire's main focus, though, will be on elevating House of Fraser stores. He has been quietly developing the more upmarket Flannels chain, which sells everything from Moncler to Gucci and now operates from 30 locations.
What's more, Four Holdings, in which Sports Direct has a 25 percent stake, also manages distribution in the U.K. for brands including Stone Island – one that would be an obvious candidate to move into a revitalized House of Fraser.
But transforming the tired department store chain would be a much bigger challenge than anything Sports Direct has achieved with Flannels. Ashley will need the buy-in of the luxury brands, which would need to be convinced that House of Fraser is the right environment for their products.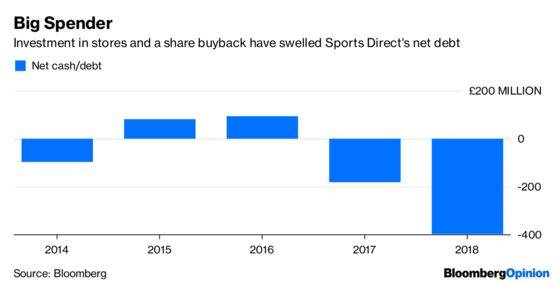 The project will also require significant investment. And Sports Direct is already spending heavily in its core chain to smarten up its traditionally pile-them-high-and-sell-them-cheap outlets.
The group's capital expenditure totaled 213 million pounds ($272 million) in the year through April, including 140 million pounds of spending on opening and relocating stores. This, together with stock buybacks, meant net debt more than doubled to almost 400 million pounds.
Even so, net debt is forecast to hit only about 1.5 times Ebitda in the current financial year, according to analysts surveyed by Bloomberg. So the company could borrow further. But House of Fraser has suffered from at least a decade of under-investment. Putting that right won't be cheap.
There is a more radical route that Sports Direct could take. It has a 28 percent stake in Debenhams Plc. There is some logic in combining the two chains: together, they would be able to bolster their online operations and negotiate better terms with suppliers.
And if things don't go to plan, Ashley has a ready-made get-out clause. He could, in theory, turn around and say that House of Fraser was in a much worse state than he expected and isn't viable. He acquired the retailer's stock as part of the deal, so he could still recoup some of his 90 million-pound outlay from offloading it.
But such a move would leave his Harrods of the high street plan in tatters, and would taint Sports Direct's own drive to move upmarket too. More significantly, Ashley would go from hero to zero once more, something he is likely to want to avoid at all costs.
This column does not necessarily reflect the opinion of the editorial board or Bloomberg LP and its owners.
Andrea Felsted is a Bloomberg Opinion columnist covering the consumer and retail industries. She previously worked at the Financial Times.