Home Depot Proves It's No Fixer-Upper
(Bloomberg Opinion) -- Home Depot Inc. returned to form in the second quarter.
The home-improvement giant reported Tuesday that its comparable sales grew 8 percent over a year earlier, a robust increase that exceeded analysts' expectations and demonstrates solid performance in its most important season of the year.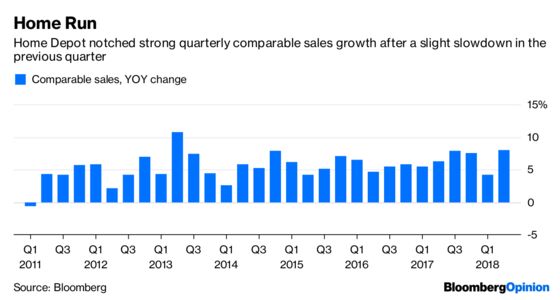 Home Depot also raised its full-year guidance based on the strong showing in the quarter. It's now calling for a 5.3 percent increase in comparable sales for the full year and diluted earnings per share of $9.42. The upbeat results pushed shares up more than 2 percent in early trading.  
The report is just what I expected we'd see from Home Depot during the spring and early summer rush, and it underscores why I was quick to defend the retailer back in May when investors got squeamish about the chain's first-quarter results. It was clear then as it is now that Home Depot remains a rare oasis of stability and strong execution in an otherwise volatile industry.
In the first quarter, Home Depot delivered a 4.2 percent increase in comparable sales over a year earlier. That was slower than analysts had expected, but the company said it largely reflected fleeting challenges — namely that cold weather had kept a lid on sales in its gardening categories, which typically account for 15 to 20 percent of the chain's first-quarter sales.  
I'm typically not a fan of stores blaming disappointing results on unseasonable weather, but in this case, Home Depot offered reason to believe that this, indeed, was a blip. Executives said back then that comparable sales growth for the month of May to date were "double-digit positive," suggesting they were indeed capturing those seasonal sales successfully, just on delay.
And that's exactly what happened in the second quarter. The company said in its press release that its seasonal business rebounded from the first quarter, contributing to strong growth overall.
Home Depot is reaping the rewards of its shrewd strategy. It has been appropriately restrained in opening new stores, has worked hard to court the so-called "pro" customer, and is investing in its e-commerce operation.
This quarter provided evidence that these efforts are working. Transactions, a figure that is viewed as a proxy for traffic, grew 3.1 percent over a year earlier. Sales per square foot were up 8.6 percent over a year earlier, a testament to the productivity of its store portfolio.
And it helps that it's doing all of this against the backdrop of a healthy housing market. Home Depot is no fixer-upper, and I expect that will continue to be true for a long while.
This column does not necessarily reflect the opinion of the editorial board or Bloomberg LP and its owners.
Sarah Halzack is a Bloomberg Opinion columnist covering the consumer and retail industries. She was previously a national retail reporter for the Washington Post.