The Bank of Japan Has Found Some Cover for Tapering
(Bloomberg Opinion) -- When a central bank feels the need to tell the world that its monetary policy is "continuous" and "powerful," you know investors will conclude that it's neither.
Bank of Japan Governor Haruhiko Kuroda has finally created some cover for stealth tapering.
The BOJ left its main stance unchanged Tuesday. It's holding the short-term policy rate (which it charges banks to park reserves at the central bank) at minus 0.1 percent and is still targeting a 10-year government bond yield at "around zero percent."
But there are tweaks, and they're significant because they represent Kuroda's face-saving way out of more than five years of an unprecedented monetary experiment that gave the bank ownership of 41 percent of Japan's government bond market and 5 percent of its stock market — far higher proportions than elsewhere.
The central bank now says that "yields may move upward and downward to some extent," effectively permitting the 10-year yield to shift beyond an unspoken 0.11 percent ceiling in place since the yield curve control program began in September 2016 — and perhaps to stay there.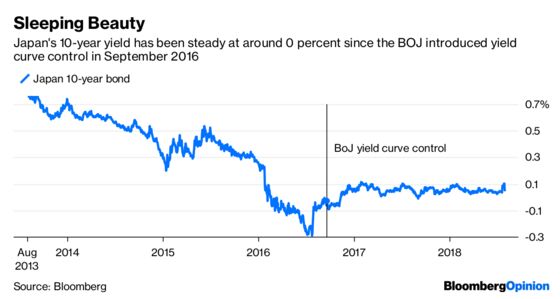 It's no secret that the BOJ's ultra-easy monetary policy has failed to instill animal spirits in Japan. Bank lending growth hasn't accelerated, and the economy is nowhere close to generating the target inflation rate of 2 percent.
As I flagged to readers last November, even Kuroda mused in public — though in Zurich, not in Japan — about the impact of a "reversal rate" on domestic banks. Unless we lost something in translation, his speech read every bit as if the governor wanted to abandon his daring experiment.
In truth, tapering quietly began some time ago. The pace of bond purchases declined to half of the original pace of 80 trillion yen ($719 billion) in 2017, and this year looks similar so far.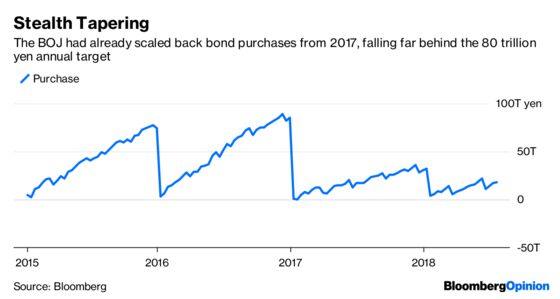 The interesting question now is how far the 10-year yield will be allowed to rise. Kuroda helped answer that: In a briefing after the decision, he said it could double from current levels — or to positive 0.2 percent from minus 0.2 percent.
Even Kuroda may not really know. He has postponed the time frame to reach 2 percent inflation six times, and the BOJ had to lower its inflation forecast on Tuesday, to 1.5 percent for fiscal 2019. This means we won't see an official normalization of policy for at least two years — and Kuroda said at the briefing that he no longer has a timetable for reaching the target.
And what's "around zero percent" anyway? Is 0.2 percent around zero? How about 0.49 percent? If U.S. rates rise sharply, this is Kuroda's easy way to be in sync with the rest of the world.
The 10-year government yield dropped 5 basis points on Tuesday, the most since June 2016, to 0.05 percent, as earlier media reports of a major policy shakeup proved incorrect. Don't be surprised, however, if Japan's bond yields soar with the U.S., because now the BOJ has the policy flexibility to let them.
The latest change may not seem like much now, but it could provide broad relief to Japan's financial sector. The BOJ's lock on the government bond market has taken a toll on JGB trading.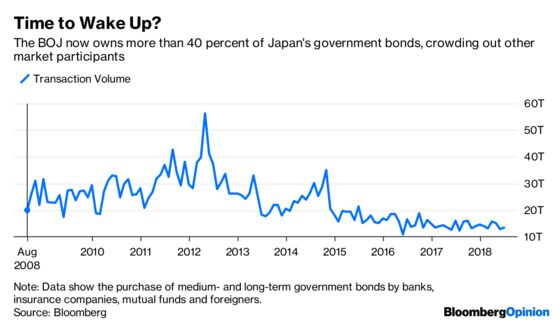 Japan's banks are now the world's cheapest on a price-to-book basis; even Chinese lenders, saddled with bad debt, trade at around book value. Investors simply do not believe financial institutions can make money in a negative rate environment. 
As the BOJ starts to tweak, bond traders will have room to trade and banks to lend. The latest statement should be widely welcomed.
This column does not necessarily reflect the opinion of the editorial board or Bloomberg LP and its owners.
Shuli Ren is a Bloomberg Opinion columnist covering Asian markets. She previously wrote on markets for Barron's, following a career as an investment banker, and is a CFA charterholder.